Is business insurance required by law?
Insurance requirements for small businesses vary from state to state. Find out what business insurance is required by law in your state, and make sure that you, your business, and your employees are protected.
Small business insurance requirements
When you own a small business, it's important to have several different kinds of insurance in place. Not only is it a good idea to protect your business, your property, and your employees, but it also may be required by law.
When it comes to having the right coverage, you must first understand the legal requirements. In certain industries, if you don't secure adequate insurance coverage, you may not be allowed to launch a new business at all. In addition, once your business is up and running, failure to comply with your state's laws can result in significant fines and penalties.
Which small business insurance policies does your state require?
Select your state to learn insurance requirements for your business.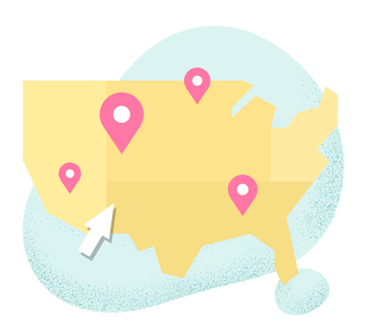 What business insurance is required by law?
Workers' compensation insurance
Most states require businesses with employees to have workers' compensation insurance. Workers' comp helps cover medical expenses and lost wages resulting from work-related injuries.
Typically, workers' comp is required as soon as your business hires its first employee. Nearly every state requires employers to carry workers' compensation coverage.
Commercial auto insurance
If your business owns and operates vehicles, you probably must also have commercial auto insurance. Commercial auto insurance can help cover medical costs and property damage if your company's vehicle is involved in an accident.
State laws determine how much commercial auto insurance coverage your business must purchase. All states except for New Hampshire and Virginia require small businesses with vehicles to purchase commercial auto coverage.
Depending on your state, other types of business insurance may also be required. Check with your TechInsurance agent and your state's department of insurance to find out if you are in compliance with local regulations.
Compare small business insurance quotes for your company
Is general liability insurance required by law?
In most cases, general liability insurance is optional. However, some clients will require you to carry this policy before they will work with you. And if you rent an office space, many property owners will require you to obtain general liability insurance prior to signing a lease.
Most small business owners choose to carry general liability insurance regardless of the business insurance requirements in their state. It's usually the first policy a small business buys.
General liability insurance helps cover the most common lawsuits. It provides protection when someone outside your company sues over bodily injury, property damage, or advertising injury.
Get free quotes and compare policies with TechInsurance
TechInsurance helps small business owners compare business insurance quotes with one easy online application. Start an application today to find the right policy at the most affordable price for your business.
Updated: September 25, 2023
RELATED POLICIES FOR YOUR BUSINESS