What types of business insurance do I need?
Some types of insurance benefit every tech business. Other types cover liabilities specific to businesses with employees, offices, or other risk factors.
Business insurance policies for all tech companies
Due to the nature of the technology industry, many tech businesses share the same risk factors. Whether you're a large firm or a home-based individual enterprise, a few key insurance policies can protect you from the common liabilities faced by almost every business in the industry.
Errors and omissions insurance (E&O) / Professional liability insurance
Errors and omissions insurance (also known as professional liability insurance) covers the cost of lawsuits filed against your business by clients who claim that your mistake or oversight cost them money. These lawsuits include disputes over the quality of your work or the details of your contract.
Clients will often ask for proof that your business has errors and omissions insurance (or professional liability insurance) before they agree to hire you. This policy shows you're able to compensate clients if someone at your business makes a professional error.
Cyber liability insurance
A data breach or cyberattack can have a devastating effect on any tech business. Not only do they negatively impact your business's finances, they also undermine your clients' trust in your business.
Cyber liability insurance coverage helps pay for client notification and other recovery costs after a data breach or cyberattack at your company. It can also cover your legal costs if a client sues your company for failing to prevent a cyberattack or data breach at their business.
This policy is often bundled with errors and omissions insurance in a package called technology errors and omissions, or tech E&O.
Compare small business insurance quotes for your company
Policies for tech businesses with employees
If your tech business has employees, it also has unique obligations and risks that it must manage. These business insurance policies will help your business comply with state regulations, and curb employee risk.
Workers' compensation insurance
Most states require that tech businesses with a certain number of employees carry workers' compensation insurance.
This policy protects the health and financial security of your employees by covering medical costs and lost wages if an employee is injured on the job.
Fidelity bonds
If your business has employees, your clients may require that you purchase a fidelity bond before they agree to hire you.
A fidelity bond compensates your client if an employee of your business steals money or assets from them while working on a project.
Employment practices liability insurance
Lawsuits filed by current or former employees are expensive and can be bad for company morale.
Employment practices liability insurance helps cover the cost of discrimination, harassment, and wrongful termination lawsuits filed by your employees against you or other employees of your business.
Policies for tech businesses with commercial offices
There are many risks that come with owning or renting commercial property, including the risk of property damage and customer injury. These business insurance policies can help your tech company manage these risks.
General liability insurance
General liability insurance helps cover your legal bills if a customer is injured at your office, or an employee accidentally breaks client property.
If you rent your office space, your landlord may require that you carry general liability insurance.
To save money on insurance for your office, purchase a business owner's policy that includes both commercial property and general liability insurance.
Commercial property insurance
Commercial property insurance covers the cost of property damage caused by unexpected events like extreme weather, fire, vandalism, or theft. Some landlords require proof of this policy before they'll rent a commercial space.
This policy often includes business interruption insurance, which protects against loss of income and other costs related to forced closure.
You may also like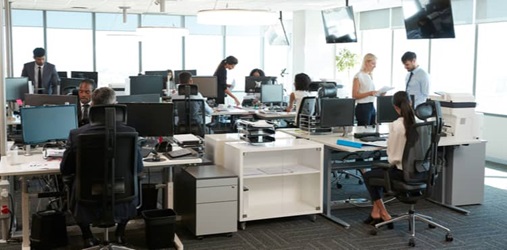 What office insurance does your small business need?
Buying or renting an office is a big step for a small company – so you'll want to make sure to protect your investment with office insurance. While commercial property insurance pays for damage to your building and belongings, you'll likely need other policies as well.
Go to article
Other policies for tech businesses
Your tech business may have additional liability risks due to the size and makeup of your organization. The following business insurance types can help you manage these specific, yet significant, risks.
Commercial auto insurance
If your business has one or more company cars, most states require that you carry commercial auto insurance. If a company car gets into an accident, this policy covers the cost of related property damage, medical bills, and lawsuits.
If you or your employees occasionally drive your own vehicle for business purposes, you might also need hired and non-owned auto insurance. This policy provides liability protection for personal vehicles used for work.
Directors and officers insurance
Directors and officers insurance protects your directors and officers from lawsuits related to employment practices and other leadership decisions.
Without this policy, your directors and officers could be directly liable. Some people may require this policy before they will join your board of directors.
Umbrella liability insurance
Umbrella liability insurance extends the policy limits of your general liability, employer's liability, or commercial auto insurance policies. With umbrella liability insurance in place, your business insurance policies will cover more expensive accidents and lawsuits.
Get free quotes and compare policies with TechInsurance
TechInsurance helps IT and tech business owners compare business insurance quotes with one easy online application. Start an application today to find the right policy at the most affordable price for your business.
Updated: August 2, 2022
RELATED POLICIES FOR YOUR BUSINESS