Why do I need business insurance?
Some business insurance policies are required by law. Others can help your small business stay afloat when property damage, a business interruption, or a lawsuit threatens to pull you under.
Why is business insurance important?
Business insurance is essential when something goes wrong.
If a client sues your tech business over a professional mistake, for example, errors and omissions insurance (also known as E&O or professional liability insurance) can help cover your legal costs.
Or if a data breach exposes sensitive customer information, cyber liability insurance can help you recover from the fallout over the cyberattack.
Some types of insurance are also important when everything's going right.
For instance, if your business is looking to add a company car, most states require commercial auto insurance. If you want to sign a commercial lease on a new office space, your landlord might require general liability insurance.
When is business insurance necessary?
Sometimes business insurance isn't optional. Let's take a closer look at the reasons your tech business might need to carry a specific type of business insurance coverage to comply with legal or contractual obligations.
State regulations require it
Most states require that tech businesses with employees carry workers' compensation insurance. This policy protects the health and security of employees by covering medical costs and lost wages after a work injury.
If your business has a company car, most states also require commercial auto insurance. This policy covers the cost of property damage, medical bills, and lawsuits related to car accidents that involve a commercial vehicle.
If you don't have a company car, but you or your employees occasionally use personal vehicles for business purposes, you can get by with hired and non-owned auto insurance instead. This policy is less expensive, and provides liability protection for personal vehicles used for work purposes.
Client contracts require it
Client contracts often require your business to carry errors and omissions insurance, which reassures the client that you have the means to pay a settlement or judgment if you or an employee makes a work mistake or oversight.
Clients may also require that you purchase a fidelity bond before they hire you. A fidelity bond compensates the client for any money or assets stolen by an employee of your business. It can also protect your business from employee theft.
Rental agreements require it
Many commercial landlords require that businesses carry general liability insurance, which pays for third-party property damage and compensates customers who are injured at your business location. This policy helps shield your landlord from liability.
Some landlords may also ask you to carry commercial property insurance to protect your own property on their premises.
To save money on these business insurance policies, bundle commercial property and general liability insurance into a business owner's policy (BOP).
Board members require it
Compare small business insurance quotes for your company
What are the benefits of business insurance?
Even if a business insurance policy isn't required by law, it can still benefit your business in a number of ways. Let's dive into the reasons your tech business might carry business insurance, even if it doesn't have to.
Protection from lawsuits
Even if your clients don't require errors and omissions insurance, this policy can protect your business from costly professional liability lawsuits filed by dissatisfied clients.
Professional liability disputes over things like contract details can cost tens of thousands of dollars if you don't have insurance.
Professional liability disputes aren't the only type of lawsuits tech businesses face.
Employment practices liability insurance can cover the cost of discrimination, harassment, and wrongful termination lawsuits filed by employees against you or other employees of your business.
You may also like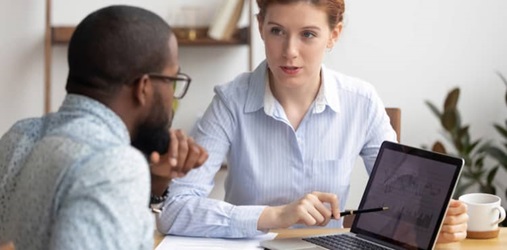 Do you need professional liability insurance?
If your business offers expert advice or provides professional services, you should strongly consider professional liability insurance to protect your company from costly lawsuits. Here's why you may need this coverage, when it's required, and how it can safeguard your business.
Go to article
Help with data breaches
Data breaches can have a devastating effect on your tech business. Not only can they result in financial loss, they can also undermine your clients' trust.
Cyber liability insurance helps your business bounce back by covering cyberextortion ransom payments, customer notification, and other related costs.
Relief during business interruptions
If a property insurance claim forces your business to close temporarily, business interruption insurance can help cover your operating costs and lost business revenue. This policy also covers employee wages and taxes, as well as rent and utility payments.
Get free quotes and compare policies with TechInsurance
TechInsurance helps IT and tech small business owners compare business insurance quotes with one easy online application. Start an application today to find the right policy at the most affordable price for your business needs.
Updated: March 21, 2022
RELATED POLICIES FOR YOUR BUSINESS