West Virginia workers' compensation insurance
Workers' compensation insurance covers the cost of work-related injuries. It's required for all West Virginia businesses that have employees, unless they are self-employed or qualify for an exemption.
Who needs workers' compensation in West Virginia?
Each state has different workers' compensation laws, and in West Virginia, workers' compensation insurance is mandatory for all employers, with a few exceptions.
You don't need to carry workers' compensation for:
Fewer than three employees who work temporary jobs that last no more than 10 days per quarter
Five or fewer agricultural employees
Employees who are domestic servants
Employees who work for a church
Professional sports athletes
Temporary employees of the state
Volunteers for emergency services
Longshore and harbor workers
Do West Virginia business owners need to carry workers' compensation?
Sole proprietors and independent contractors are not required to carry workers' compensation insurance for themselves in West Virginia.
However, you are strongly encouraged to buy workers' comp even when it's not required. If you get injured on the job, a workers' comp policy can help pay your medical expenses and provide part of the wages you lose during your temporary disability.
Your personal health insurance provider might deny your claim if your injury is related to your work, which would leave you paying these bills on your own.
How much does workers' compensation coverage cost in West Virginia?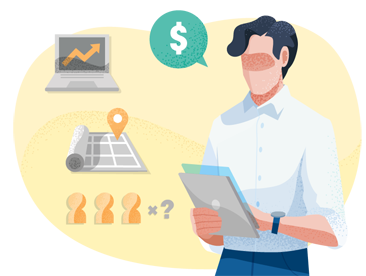 How are workers' compensation insurance rates determined?
The cost of a workers' comp policy primarily depends on the level of risk associated with different positions at your business.
Some employers will have a variety of workers' compensation class codes, depending on the work duties performed by their employees. West Virginia uses the National Council on Compensation Insurance (NCCI) classification system for these codes.
Your workers' compensation insurance company will determine your cost based on how many employees perform different jobs at your business and their exposure to risk.
How does workers' comp work in West Virginia?
Workers' compensation in West Virginia is regulated by the West Virginia Offices of the Insurance Commissioner.
When an employee is injured on the job, this policy covers the cost of medical care and provides lost wage benefits. The employer's liability insurance included in most policies protects employers from lawsuits related to workplace injuries.
Workers' compensation benefits for injured workers in West Virginia include:
Medical benefits covering the cost of medical treatment related to the injury
Permanent total disability benefits
Permanent partial disability benefits
Temporary total disability benefits
Temporary partial disability benefits
Vocational rehabilitation
For example, if an IT tech or software developer is diagnosed with carpal tunnel syndrome due to keyboard overuse, your workers' comp policy would pay for their medical bills, including long-term medication and physical therapy.
Or, if an employee at your IT consulting firm trips in the office stairwell and suffers a concussion, then your workers' comp policy would pay for their ambulance ride and emergency room visit.
Compare workers' compensation quotes for West Virginia businesses
What are the penalties for not having workers' comp in West Virginia?
If a business fails to provide records of information about workers' compensation coverage in West Virginia, it can be fined $500 or more on the first offense and up to $25,000 for subsequent offenses.
A repeat offender could be subject to imprisonment for up to two years.
If an employer doesn't pay workers' compensation contributions, there will be a late penalty of 10% of the computed tax, plus interest. This fee will be between $50 and $500. In addition, a stop-work order could be issued, which prevents the employer from continuing to do business.
Workers' compensation settlements in West Virginia
A workers' compensation settlement is an agreement between the parties that will resolve your workers' compensation claim. This benefits both the employee and the employer. A West Virginia workers' compensation settlement is usually given in a lump sum.
A settlement in a workers' compensation claim is a full and final resolution. When a settlement agreement is reached, the worker can no longer bring a claim against the employer or insurer based on that injury. Most injured employees will wait to settle a claim until they've reached maximum medical improvement, which means the condition is stable and unlikely to become worse.
The amount of a settlement will be based on the severity and nature of the injury.
Workers' compensation statute of limitations in West Virginia
The State of West Virginia requires workers' compensation claims to be filed within six months from the date of the injury. It can be within three years from the date of diagnosis of an occupational disease or illness, or three years from the employee's last exposure to the hazardous condition that caused the illness.
If an employee misses that six-month deadline, they might forfeit their right to receive benefits.
Get free quotes and compare policies with TechInsurance
If you are ready to explore workers' compensation coverage options for your
West Virginia business
, TechInsurance can help small business owners compare business insurance policy quotes with one
easy online application
. Start an application today to find the right insurance coverage at the most affordable price for your business.
Updated: July 7, 2022
RELATED POLICIES FOR YOUR BUSINESS