Pennsylvania workers' compensation insurance
Workers' compensation insurance covers the cost of work-related injuries. It's required for all Pennsylvania businesses that have employees, including part-time workers.
Who needs workers' compensation in Pennsylvania?
Each state has different workers' compensation laws, and in Pennsylvania, workers' compensation insurance is mandatory for all employers with one or more employees, including part-time employees and seasonal workers.
According to the Pennsylvania workers' compensation act, the only circumstance in which Pennsylvania employers are not required to carry workers' compensation insurance is if all employees fall into a category for someone who is exempt, such as:
Railroad workers
Longshoremen
Federal employees
Domestic workers
Exemption applications and other documentation must be filed with the Pennsylvania Department of Labor and Industry's Bureau of Workers' Compensation, which regulates the Pennsylvania workers' compensation system.
Do Pennsylvania business owners need to carry workers' compensation?
According to state law, sole proprietors and independent contractors with no employees are not required to carry workers' compensation. However, we strongly encourage you to buy workers' comp insurance, even though it's only required for employees.
Your personal health insurance company might deny a claim if the injury is related to your job. That would leave you paying medical bills out of pocket, which could be even harder if you're out of work while recovering.
Workers' compensation would pay your medical expenses, and also supply partial lost wages for the time you were unable to work.
How much does workers' compensation coverage cost in Pennsylvania?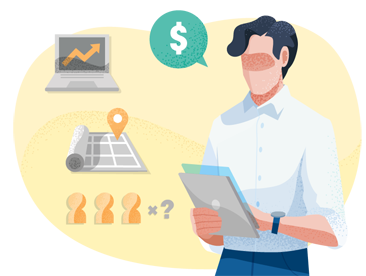 How does workers' comp work in Pennsylvania?
Workers' compensation covers the cost of medical care for workplace injuries and occupational diseases. It also provides partial wage replacement while the employee is unable to work.
Workers' compensation benefits in Pennsylvania include:
Medical benefits, including hospitalization, prescriptions, and orthopedic appliances
Wage loss benefits (usually two-thirds of the worker's average weekly wage)
Partial disability benefits, if the employee earns lower wages after the injury
Vocational rehabilitation
For example, if an IT tech or software developer is diagnosed with carpal tunnel syndrome due to keyboard overuse, your workers' comp policy would pay for their medical bills, including long-term medication and physical therapy.
Or, if an employee at your IT consulting firm trips in the office stairwell and suffers a concussion, then your workers' comp policy would pay for their ambulance ride and emergency room visit.
Most workers' compensation policies include employer's liability insurance, which can help cover legal expenses if an employee blames their employer for an injury. Additionally, the exclusive remedy [PDF] provision in most workers' comp policies prohibits an employee from suing their employer once they accept workers' comp benefits
Compare workers' compensation quotes for Pennsylvania businesses
How is workers' compensation purchased in Pennsylvania?
There are four ways to buy workers' compensation insurance in Pennsylvania:
Purchase workers' compensation insurance through an agent or broker. TechInsurance provides an online option to compare quotes from top insurers with one application.
Purchase directly from a private-sector insurance carrier.
Apply for self-insurance. This is an option for large companies that have operated for three or more years.
Obtain insurance from the State Workers' Insurance Fund.

Costs for workers' compensation insurance vary because they depend on the level of risk involved for specific employees. Different jobs have different associated hazards, which are typically classified through class codes.
What are the penalties for not having workers' compensation insurance?
Pennsylvania employers can face civil and criminal penalties for failure to have adequate workers' comp coverage [PDF].
If an employee is injured on the job and the employer is uninsured, the employee's benefits will be paid from the Uninsured Employers Guaranty Fund, and the employer will be responsible for reimbursing the fund. This would include costs, interest, penalties, and other fees.
In addition, the uninsured employer opens itself up to litigation for any injuries sustained if the employee decides to sue for damages. Often, the amount of damages awarded is more than what the employer's cost would have been for workers' compensation insurance.
If it is found that an employer failed to maintain workers' compensation coverage, each individual responsible for that lapse could also be criminally charged. That person could be found guilty of a misdemeanor, which would carry a fine up to $2,500 and up to a year in jail. If the failure to comply is intentional, it could be a felony charge with a fine of up to $15,000 and up to seven years in prison.
Criminal counts, fines, penalties, and jail time can increase for each day the employer failed to maintain workers' compensation insurance.
Workers' compensation settlements in Pennsylvania
Settlements provide an opportunity for all stakeholders to close a Pennsylvania workers' compensation claim. Typically the injured employee gives up rights to future claims in exchange for a sum of money.
The payment is often awarded as a lump sum. Some injured workers will obtain compensation benefits in the form of a structured settlement, which means that payments are made in installments over a period of time.
It's possible for an injured worker to obtain a commutation, which is when a lump sum is awarded in lieu of weekly benefits but the worker does not give up rights to future benefits like medical treatment.
Workers' compensation statute of limitations in Pennsylvania
The statute of limitations to file a claim petition for an injury sustained on the job in Pennsylvania is three years from the date of injury.
However, the claimant is required to seek treatment with an approved health care provider within 90 days after the injury. There is also a 120-day time limit for notifying employers about the injury.
Get free quotes and compare policies with TechInsurance
If you are ready to explore workers' compensation coverage options for your Pennsylvania business, TechInsurance can help small business owners compare business insurance policy quotes with one easy online application. Start an application today to find the right insurance coverage at the most affordable price for your business.
Updated: August 12, 2022
RELATED POLICIES FOR YOUR BUSINESS