North Carolina workers' compensation insurance
Workers' compensation insurance covers the cost of work-related injuries. It's required for all North Carolina businesses that have three or more employees.
Who needs workers' compensation in North Carolina?
Each state has different workers' compensation laws, and in North Carolina, workers' compensation insurance is mandatory for all employers with three or more employees, including part-time workers.
While this is the general rule, there are exceptions:
Some railroad workers are exempt because they are covered under federal policies
Casual employees (for example, those whose employment is not in the trade, business, or profession of the employer and is casual in nature)
Domestic employees of a household
Farm laborers, if the employer has fewer than 10 full-time, non-seasonal employees
Federal government employees
Commission-based sellers of agricultural products
In addition, any business that involves the presence of radiation is also required to have workers' compensation insurance, even if the business has less than three employees.
Do North Carolina business owners need to carry workers' compensation?
It's always a good idea to buy workers' comp, even if it's just for yourself. Health insurance providers can deny claims for work-related injuries, which is why even sole proprietors may choose to carry coverage. It'll also supply part of the wages you'd otherwise miss out on while recovering from a work injury.
As for when it's required, sole proprietors who have no employees, members of limited liability companies (LLCs), and partners are not counted as employees and are not required to have workers' compensation coverage.
Officers of a corporation might choose to be excluded from coverage but are still counted toward the three-employee minimum. Executive officers or directors or committee members of a nonprofit are not counted under some circumstances.
Independent contractors are not required to have coverage, but several factors affect whether a person is an independent contractor for the purposes of workers' compensation. North Carolina law has specific criteria for determining if someone is an independent contractor.
How much does workers' compensation coverage cost in North Carolina?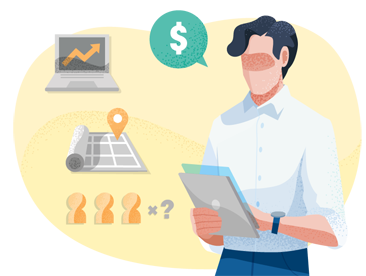 Workers' compensation rates are based on class codes
Each state is different when it comes to workers' compensation costs. North Carolina is a competitive rating state, which means that the market can affect price quotes.
However, the North Carolina Industrial Commission does have set minimums and maximums by occupation. To determine costs for workers' compensation insurance in North Carolina, each employee has a class code based on the level of risk for a particular job.
In some cases, different employees at the same company would have different levels of risk, depending on their specific roles. For example, a receptionist with a desk job would have a lower risk category than a landscaper who trims trees.
How does workers' comp work in North Carolina?
Workers' compensation insurance covers the cost of medical treatment when an employee suffers a workplace injury or develops an occupational disease. This policy also provides compensation for lost wages, typically two-thirds of the employee's average weekly wage, until they return to work.
In North Carolina, workers' compensation benefits include:
Medical care by a provider chosen by the employer or insurer
Reimbursement for travel related to medical treatment
Temporary total disability or partial disability benefits until the employee recovers
Permanent partial disability benefits for lasting impairment, such as a back injury
Permanent total disability benefits for employees who are unable to return to work
Vocational rehabilitation services
For example, if an IT tech or software developer is diagnosed with carpal tunnel syndrome due to keyboard overuse, your workers' comp policy would pay for their medical bills, including long-term medication and physical therapy.
Or, if an employee at your IT consulting firm trips in the office stairwell and suffers a concussion, then your workers' comp policy would pay for their ambulance ride and emergency room visit.
Most workers' comp policies include employer's liability insurance, which can help cover legal expenses if an employee blames their employer for an injury. However, the exclusive remedy provision in most workers' comp policies prohibits an employee from suing their employer if they accept workers' comp benefits.
Compare workers' compensation quotes for North Carolina businesses
What are the penalties for not having workers' comp insurance in North Carolina?
There are strict penalties for failure to comply with North Carolina workers' compensation law, including fines and possible criminal prosecution.
The North Carolina Industrial Commission imposes a fine of one dollar per employee per day for failure to secure coverage. This penalty carries a $50 per day minimum and a $100 per day maximum, regardless of the number of employees. To put it in perspective, if an employer fails to carry coverage for one year, it would face a fine between $18,250 and $36,500
If the failure to secure coverage is found to be "willful," the employer could be charged with a felony. If the failure is neglectful, it could be ruled a misdemeanor. Any person whose job it is to maintain workers' compensation insurance for an employer can be held personally liable for the compensation owed to an injured worker. That person could also face criminal charges
If an injury occurs, the employer would be responsible for medical treatment costs and wage replacement benefits, even if it did not carry the required insurance. Therefore, the protection that a workers' compensation settlement would offer to an employer would not exist
A settlement provides full closure to any claim, which means that the employee would never be able to bring additional litigation or request additional financial help. If there is no coverage, then the employee can sue the employer for damages, which would likely be more time-consuming and costly than a settlement.
Workers' compensation settlements in North Carolina
There are a variety of reasons why an injured employee would find it advantageous to choose a settlement to close a workers' compensation claim. It would provide immediate cash to pay medical bills and avoid a lengthy hearing process, but it's also beneficial for the employer.
Once a lump sum settlement is reached, the claim is closed and the employer can no longer be responsible for additional costs. It also saves the time and cost associated with litigation or further negotiations.
There are three ways to reach a workers' compensation settlement in North Carolina:
A compromise settlement agreement is a full and final settlement of a workers' comp claim. Generally, this would result in a single lump sum payment to the injured worker. Occasionally, it can be in the form of a structured settlement, which does not change the result but is paid to the worker in installments over time. This generally happens when there are very serious injuries that result in ongoing long-term care
A Form 26A settlement means that the insurance company has agreed to the classification of the work-related disability and would pay the agreed-upon amount in weekly installments
A Form 21 settlement is similar to the above, except it is with respect to temporary – not permanent – disability benefits. Unlike a lump sum agreement, the injured worker could file a second claim after two years if treatment is still required
Workers' compensation statute of limitations in North Carolina
The workers' compensation statute of limitations in North Carolina is two years from the date of the injury. If the injured person does not file the Form 18 claim within that time, the claim will not be able to be processed.
North Carolina law specifies that an employer is required to immediately report any work-related injury or illness to its insurance carrier. If the employee must miss more than one day of work, or if the medical expenses are more than $2,000, the employer or carrier must file a report to the Industrial Commission within five days. That report must also be provided to the employee, along with a blank report that the employee can use to file a claim.
Get free quotes and compare policies with TechInsurance
If you are ready to explore workers' compensation coverage options for your North Carolina business, TechInsurance can help small business owners compare business insurance policy quotes with one easy online application. Start an application today to find the right insurance coverage at the most affordable price for your business.
RELATED POLICIES FOR YOUR BUSINESS