Nevada workers' compensation insurance
Workers' compensation insurance covers the cost of work-related injuries. It's required for all Nevada businesses that have one or more employees.
Who needs workers' compensation in Nevada?
Each state has different workers' compensation laws, and in Nevada, workers' compensation insurance is mandatory for all employers with one or more employees.
Under Nevada statutes [PDF], any person, firm, voluntary association, private corporation, and public service corporation that hires employees needs to carry this coverage. An "employee" is anyone hired by an employer or through a contract of hire or apprenticeship.
Employees include:
Minors
Undocumented immigrants
Elected and appointed paid public officers
Members of boards of directors while providing service to corporations
Musicians playing music for hire, members of bands and orchestras
Casual employees who worked less than 20 days at a total cost of less than $500 are excluded from this requirement if the employment is not in the course of trade, business, profession, or occupation of the employer – except for construction trades.
Do Nevada business owners need to carry workers' compensation?
Yes. Unlike most other states, Nevada does not exclude sole proprietors, independent contractors, subcontractors, and their employees from workers' compensation requirements. They are deemed employees unless they are an "independent enterprise [PDF]."
Health insurance providers can deny claims for work-related injuries, so buying this coverage can help protect against expensive medical costs. Workers' comp benefits can also help keep your business afloat while you recover from a work injury.
How much does workers' compensation coverage cost in Nevada?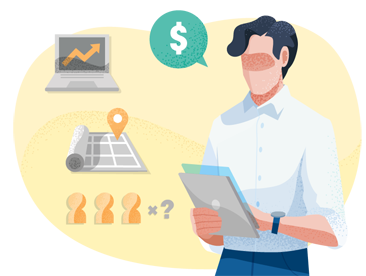 How are workers' compensation rates determined?
Each employer's cost for worker's compensation coverage is based on workers' compensation class codes, which depend on the work duties performed by employees. Your workers' compensation insurance company will determine your cost based on how many employees perform different jobs at your company and their exposure to risk.
Workers' compensation in Nevada is regulated by the State of Nevada Department of Business and Industry Workers' Compensation Section (WCS).
How does workers' compensation work in Nevada?
Workers' compensation insurance covers the cost of medical treatment and partial lost wages for injured employees.
In Nevada, workers' compensation benefits [PDF] include:
Medical care
Temporary total disability (TTD) benefits
Temporary partial disability benefits
Permanent total disability (PTD) benefits
Permanent partial disability benefits
Vocational rehabilitation
Other related expenses, such as mileage reimbursement
For example, if an IT tech or software developer is diagnosed with carpal tunnel syndrome due to keyboard overuse, your workers' comp policy would pay for their medical expenses, including long-term medication and physical therapy.
Or, if an employee at your IT consulting firm trips in the office stairwell and suffers a concussion, then your workers' comp policy would pay for their ambulance ride and emergency room visit.
The doctor, chiropractor, or therapist must be an authorized medical provider chosen by the insurer. The employee must submit a Notice of Injury or Occupational Disease [PDF] form and Report of Initial Treatment [PDF] form.
Most workers' comp policies include
employer's liability insurance
, which can help cover legal expenses if an employee blames their employer for an injury. However, the
exclusive remedy [PDF]
provision in most workers' comp policies prohibits an employee from suing their employer if they accept workers' comp benefits.
Compare workers' compensation quotes for Nevada businesses
What are the penalties for not having workers' comp in Nevada?
If an employer fails to obtain or maintain workers' compensation insurance in Nevada, it could be charged a fine up to $15,000 in addition to premium penalties and a stop-work order until insurance is obtained.
The employer would also be financially liable for any injuries that happen during the period when an employee is uninsured. Additionally, if a work-related injury results in substantial bodily harm or death, the employer could be held criminally responsible.
Workers' compensation settlements in Nevada
A workers' compensation settlement is an agreement between the parties that will resolve your workers' compensation claim. This benefits both the employee and the employer. A settlement in a workers' comp claim is a full and final resolution.
Most states pay workers' compensation settlements in a lump sum. In Nevada, lump-sum payments are only allowed for some types of benefits.
Permanent partial disability (PPD) benefits are awarded when your claim is accepted or you've received the award from a workers' compensation judge. This is when a worker has a permanent impairment but can still work to some degree.
If you're entitled to PPD benefits, you can request a lump-sum payout. In most cases, though, a PPD benefit is paid in installments until the worker reaches age 70. There are specific circumstances when you can collect a partial lump sum based on your disability rating and the date of your injury.
Nevada also allows for vocational rehabilitation benefits. If a worker is eligible for job retraining, education, or assistance finding a job, they might qualify for these biweekly maintenance payments while receiving services. The worker has a right to these services but could choose to forfeit them and accept a lump-sum payment instead. This lump sum must be at least 40% of the amount of the maximum vocational rehabilitation benefits to which they're entitled.
Workers' compensation statute of limitations in Nevada
An injured worker is encouraged to notify the employer of the injury as soon as possible, but state law requires notice within seven days.
The employee then has 90 days from the date of injury to submit a form to the state if they missed work because of the injury or illness or sought medical treatment.
Get free quotes and compare policies with TechInsurance
If you are ready to explore workers' compensation coverage options for your Nevada business, TechInsurance can help small business owners compare business insurance policy quotes with one easy online application. Start an application today to find the right insurance coverage at the most affordable price for your business.
RELATED POLICIES FOR YOUR BUSINESS