Maine workers' compensation insurance
Workers' compensation insurance covers the cost of work-related injuries. It's required for all Maine businesses that have employees, both in the public and private sectors.
Who needs workers' compensation in Maine?
Each state has different workers' compensation laws, and in Maine, workers' compensation insurance is mandatory for all employers with one or more employees, including part-time workers.
Maine has a strict workers' compensation statute that requires most public and private-sector employers to provide workers' comp. Employers are defined by this law as "private employers, the state, counties, cities, towns, water districts, other quasi-public corporations, municipal school committees, and design professionals."
However, there are a few businesses that are not required to provide workers' compensation coverage, including:
Anyone who employs domestic workers in their homes
Agriculture or aquaculture businesses who employ seasonal and casual workers, so long as they maintain at least $25,000 in employer's liability insurance and at least $5,000 in medical payment coverage
Agriculture or aquaculture businesses that have six or fewer workers, so long as they maintain at least $100,000 in employer's liability insurance coverage for each full-time equivalent employee (FTE). They must also carry $5,000 in medical payment coverage for each one of these employees
Do Maine business owners need to be covered by workers' comp?
Most Maine business owners typically must include themselves in their company's workers' compensation coverage, unless they fall into one of the following categories:
They are the sole proprietor of a business that does not have employees. No waiver form is required to receive this exemption
They are a parent, spouse, or child of a sole proprietor, business partner, or a 20% stake owner of a firm. If either of these cases apply to the individual, they are allowed to submit a written request to waive workers' comp coverage
They are the member of a limited liability company (LLC). As with sole proprietors, no waiver form is required to receive this exemption. If a parent, spouse, or child of an LLC member is also employed by the LLC, they can submit a written request to waive workers' compensation coverage
They are a corporate officer who has at least a 20% ownership interest in the stock of a corporation. They are able file for an exemption with the Maine Workers' Compensation Board
If you are one of the above exempt individuals, it's still recommended that you carry workers' comp coverage. If you're injured on the job, there's a chance your health insurance provider could deny the claim, leaving you with expensive medical bills. Workers' compensation insurance would protect against the high cost of medical expenses.
Do independent contractors in Maine need workers' compensation insurance?
Workers are typically considered "employees" in the state of Maine for tax purposes. Therefore, anyone who qualifies an employee will also be required to provided with workers' comp coverage.
However, if you hire any independent contractors, there is no requirement to include them or any subcontractors who work for them in a workers' comp insurance plan if they are not considered to be under your essential control while they perform duties for your company.
If this status is in question, business owners could also ask the contractors to join in submitting an application to the Maine Workers' Compensation Board for Predetermination of Independent Contractor Status to Establish Rebuttable Presumption (form WCB 266). If the board approves this application, the business owner then has a reasonable basis to believe the worker is an independent contractor and does not need to be provided workers' comp coverage.
It may still be wise to ask that independent contractors carry their own workers' comp coverage in order to protect both your business and the contractor from any risks. They can provide written proof with a certificate of insurance to meet this requirement.
If the Maine Workers' Comp Board does not receive or approve form WCB 266 [PDF], nor do they recognize that the independent contractor has proof of their own workers' compensation policy, the business owner's workers' compensation insurer might consider the contractor and any of their employees to be employees of the business that hired them, and then include them in the business's payroll when they calculate the company's workers' comp premium.
How much does workers' compensation coverage cost in Maine?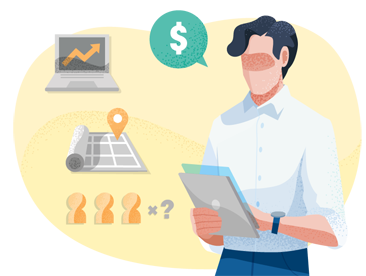 How does workers' comp work in Maine?
Workers' compensation covers the cost of medical bills and provides wage replacement for employees who are injured on the job.
In accordance with Maine's Workers' Compensation Act, an employer is allowed to choose the healthcare provider for an employee for the first 10 days. After that, an employee is free to choose their own healthcare provider.
Workers' compensation benefits for injured workers in Maine include:
Total incapacity benefits
Partial incapacity benefits
Medical treatment for any injured workers
Vocational rehabilitation services
For example, if an IT tech or software developer is diagnosed with carpal tunnel syndrome due to keyboard overuse, your workers' comp policy would pay for their medical expenses, including long-term medication and physical therapy.
Or, if an employee at your IT consulting firm trips in the office stairwell and suffers a concussion, then your workers' comp policy would pay for their ambulance ride and emergency room visit.
Policies usually include employer's liability insurance, which can help cover legal expenses if an employee sues their employer over a work injury. However, the exclusive remedy provision that is featured in most workers' comp policies prohibits an employee from filing a lawsuit if they accept any workers' comp benefits.
Compare workers' compensation quotes for Maine businesses
How to buy workers' compensation coverage in Maine
Employers in Maine have several options for purchasing a workers' compensation policy:
You can buy workers' comp from a private insurance company: TechInsurance helps small business owners compare quotes from top-rated insurance providers. Fill out our easy online application to get started
You can buy workers' comp from a state residual market: Maine offers a state-assigned residual market for workers' compensation insurance from the Maine Employers' Mutual Insurance Company (MEMIC). This is an option if employers are unable to find standard coverage from private companies
You can apply for self-insurance: Employers who are financially sound and able to guarantee future workers' comp claims and administrative expenses can qualify for self-insurance. To apply for self-insurance status, firms must file an application with the Self-Insurance Division of the Maine Bureau of Insurance
As self-insured employers are responsible for all workers' compensation claims and related expenses, the state typically only recommends that large employers consider self-insurance, making self-insurance an option for all, but not recommended for smaller businesses.
What are the penalties for not having workers' comp in Maine?
Maine employers that fail to maintain the required workers' compensation coverage could face civil penalties and fines.
Employers may be liable for any owed workers' comp benefits out of their own pocket, for which a commercial liability insurance policy will provide no coverage for your defense.
Additional penalties may include:
A charge of a Class D crime
A civil penalty of up to $10,000, or 108% of the premium that would have normally been paid for a workers' comp policy (whichever is higher)
Loss of a corporate charter and business license
Workers' compensation settlements in Maine
A workers' compensation settlement is an agreement between the parties that will resolve your workers' compensation claim. This benefits both the employee and the employer. A settlement in a workers' compensation claim is a full and final resolution.
In Maine, a workers' compensation claim involves the injured or sick employee waiving their right to receive future workers' comp benefits in return for receiving a lump-sum payment.
Workers' comp settlements must be approved by an administrative judge with the Maine Workers' Compensation Board. This judge will approve a settlement if the involved parties participated in the review process, they deem that the settlement is in the best interest of those involved parties, and it releases the insurer from making future medical payments.
Workers' compensation statute of limitations in Maine
The Maine statute of limitations for workers' compensation claims states that an employer is required to file a First Report of Injury within two years from the time that an employee misses one or more days of work due to an injury. If a first report is not required, then the statute of limitations will calculate from the date of the injury.
Get free quotes and compare policies with TechInsurance
If you are ready to explore workers' compensation coverage options for your Maine business, TechInsurance can help small business owners compare business insurance policy quotes with one easy online application. Start an application today to find the right insurance coverage at the most affordable price for your business.
Updated: October 3, 2022
RELATED POLICIES FOR YOUR BUSINESS