Why do subcontractors need insurance?
A subcontractor could be sued for a number of reasons. Even if they're not at fault, they could still face an expensive legal battle. Having the right kind of insurance can protect against this kind of risk. You may also need insurance to secure certain contracts, especially when dealing with government entities.
Are subcontractors covered under the contractor's insurance?
Subcontractors usually aren't covered under their employer's insurance policies, or those of independent contractors, and employers aren't required to provide it.
So, if someone sues the contractor or the employer you work for, you could face the same liability risks as the employer, but without the employer's insurance protecting you.
That's why subcontractors should purchase their own small business insurance. It can protect you from the cost of unexpected lawsuits, workplace accidents, and property damage.
Is insurance required for a subcontractor?
While not legally required, insurance for subcontractors is strongly recommended for the financial protection it offers and the advantage it provides in bidding on contracts.
Having a certificate of liability insurance lets clients know that you are willingly taking accountability for your work. Also, many businesses prefer to hire subcontractors who have their own insurance coverage.
The specific insurance policies you need depends on a few factors, including:
The specialized work you do
The clients you work with
Your exposures to risk
Compare small business insurance quotes for your company
Which insurance policies should a subcontractor consider?
Employers and contractors typically specify the types of insurance they require in each contract they sign. They may ask for proof of insurance, such as a certificate of insurance [PDF], and may require that you name their company as an additional insured on your liability insurance policy.
General liability insurance
General liability insurance is often the first policy that subcontractors and small business owners buy. It offers liability protection against lawsuits from third-party bodily injuries, property damage, and advertising injury. Many companies won't work with subcontractors unless they have this coverage.
If you accidentally destroy someone's computer or server, your general liability coverage would help you financially survive any potential lawsuits.
If someone sues you for copyright infringement over a website you created, or if you're accused of libel or slander, your general liability policy would also offer financial protection.
Errors and omissions insurance (E&O)
Errors and omissions insurance, also known as professional liability insurance, offers financial protection in case a client accuses you of making an error on the job or failing to meet the obligations of a contract. If your employer is hit with a professional liability lawsuit, their insurance will not protect you if you're involved. This coverage is also required in many contracts.
Business owner's policy (BOP)
A business owner's policy (BOP) combines general liability insurance and commercial property insurance, usually at a lower cost than if you bought each policy separately.
While a general liability policy insures you against damaging someone else's property, it does not financially protect your own gear. If a fire damages your laptop or a commercial property, a BOP would provide coverage to help you face this financial burden.
Workers' compensation insurance
Workers' compensation insurance is required in most states for businesses with one or more employees. It offers financial protection in case you're unable to work because of a work-related injury or illness.
For example, imagine if you hurt your back while installing a server at a job site, or if you trip on a power cord and are unable to work for a while. Your regular health insurance might not cover a work-related injury, and you'd also be facing a loss of income. Worker's compensation would cover your personal injury and make up some of your lost wages while you recover.
Some employers and contractors require subcontractors to have this coverage. Your employer may be willing to add you to their existing policy, but will pass the cost of coverage on to you.
Commercial auto insurance
Commercial auto insurance is similar to your personal auto liability insurance, except it covers business-owned vehicles in case of an accident. It also insures you against theft, vandalism, and weather-related events.
Hired and non-owned auto insurance (HNOA)
If you use your personal vehicle for work, your personal auto insurance policy probably wouldn't cover you in a work-related accident.
Hired and non-owned auto insurance (HNOA) offers liability protection for any personal, rented, or leased vehicles used for business purposes. It provides financial protection against bodily injury, property damage, and related lawsuits in case you're at fault in an accident.
HNOA coverage can usually be added to your general liability insurance or a business owner's policy. Keep in mind that HNOA coverage does not include collision damage to your vehicle, so you would need a separate policy for that.
Fidelity bonds
Fidelity bonds protect your company from financial loss if an employee commits fraud, theft, or forgery against a client or your business.
Some contractors and businesses require fidelity bonds. Select insurance companies sell fidelity bonds, and there are companies available that specialize in them.
How much does business insurance cost for a subcontractor?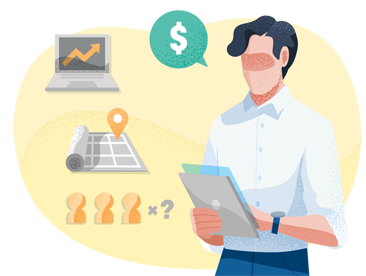 There are many factors that determine your costs of subcontractor insurance, including:
How long you've been in business
The type of work you do
Any claims history you may have
Your average income level
How much insurance you need, as higher coverage limits also come with higher premiums
Get free insurance quotes and compare policies
TechInsurance helps small business owners compare commercial insurance quotes with one easy online application. Fill out our application today to get free quotes and find the right policy for your business.
Our insurance experts are happy to discuss your options and help you find the right policy for your unique needs and situation. You can begin coverage and obtain your certificates of insurance within 24 hours.
RELATED POLICIES FOR YOUR BUSINESS