Indiana workers' compensation insurance
Workers' compensation insurance covers the cost of work-related injuries. It's required for all Indiana businesses to provide workers' compensation insurance to their employees, with certain exceptions.
Who needs workers' compensation in Indiana?
Each state has different workers' compensation laws, and in Indiana, workers' compensation insurance is mandatory for all employers, with a few exceptions.
The state of Indiana strives to maintain near-universal workers' comp coverage. This means that generally everyone working in Indiana must have workers' comp insurance, regardless of the number of employees at a business.
Indiana workers' compensation laws apply to full-time employees, part-time employees, minor employees, company executives, some students receiving federally funded on-the-job training, and employees working outside the state (provided that they have an Indiana working relationship).
Who is exempt from workers' comp in Indiana?
There are some individuals who aren't required to have workers' comp, but Indiana employers are still able elect to include them under their insurance policy. This option applies to:
Local police officers and firefighters under some conditions
Reserve police officers
Volunteers working for hazardous materials response teams
Executive officers of public or nonprofit corporations
Owner-operators who provide their vehicles and driver services to a trucking company that transports freight
Members and managers of limited liability corporations who actively work in the business
Individuals entered into a township, municipality, or county roster of volunteers
Volunteers who work at state-owned or operated psychiatric facilities
Other employees such as casual laborers, household workers, and farm or agricultural workers
Other employees, on the other hand, are exempt from Indiana's workers' compensation system and are also ineligible to elect into optional workers' compensation insurance coverage. These include:
Railroad employees covered under the Federal Employees Liability Act
Employees engaged in interstate or foreign commerce who have access to federal alternatives to state-based workers' compensation (seamen, longshoremen, etc.)
Real estate employees (i.e., real estate agents who work as independent contractors for real estate brokers)
Contractors in the construction trades
Athletes on scholarship
Prison inmates
Volunteers
Coaches for youth sports teams
Do Indiana business owners need to carry workers' compensation?
More often than not, Indiana law states that you must include yourself in your company's workers' compensation coverage plan. However, you may not be required to carry workers' comp if:
While you don't need to buy workers' compensation for yourself in either of these cases, it's still recommended that you do so as some health insurance providers may deny work-related injury claims, which could leave you paying expensive medical bills if you're injured on the job.
How much does workers' compensation coverage cost in Indiana?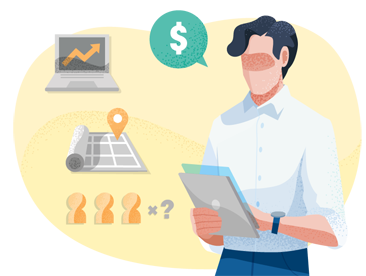 How does workers' comp work in Indiana?
When an employee suffers a workplace injury or occupational disease, workers' compensation covers the cost of medical treatment related to the injury or illness. It also provides part of the wages lost while the employee is unable to work. (usually around two-thirds of their average weekly wage)
Workers' compensation benefits for injured employees in Indiana include:
Medical care (emergency room, hospitalization, prescriptions, physical rehabilitation, etc.)
Temporary partial disability benefits
Temporary total disability benefits
Permanent partial impairment benefits
Permanent total disability benefits
Vocational rehabilitation
For example, if an IT tech or software developer is diagnosed with carpal tunnel syndrome due to keyboard overuse, your workers' comp policy would pay for their medical expenses, including long-term medication and physical therapy.
Or, if an employee at your IT consulting firm trips in the office stairwell and suffers a concussion, then your workers' comp policy would pay for their ambulance ride and emergency room visit.
Policies usually include employer's liability insurance, which covers legal costs if an employee sues their employer over an injury. The exclusive remedy provision in most workers' comp policies prohibits an employee from filing a lawsuit once they accept workers' comp benefits.
Compare workers' compensation quotes for Indiana businesses
How to buy workers' compensation coverage in Indiana
Employers have a couple options when it comes to purchasing a workers' comp policy in Indiana:
You can buy workers' comp from a private insurer: With TechInsurance's easy online application, you can compare quotes from top-rated insurance companies
You can apply for self-insurance: Businesses can receive approval from the Indiana Workers' Compensation Board to self-insure their workers' compensation claims. This means after a workplace incident, they will pay for their employees' medical care and rehabilitation expenses out of their own pockets.
The level of risk associated with different positions at your business influences your premium. When your employees perform a variety of work duties, you could have a variety of workers' compensation class codes. Insurers use these codes to determine your exposure to risk and your subsequent workers' compensation costs.
Workers' compensation settlements and claims laws in Indiana
Under the Indiana Workers' Compensation Act, employees must inform their employer about any injury that occurs on the job within 30 days. The employer has the right to choose the medical provider. If the injury causes a permanent disability, such as a permanent back injury, the employee is entitled to a workers' compensation settlement.
The worker can file an Application for Adjustment of Claim and submit it to the Workers' Compensation Board if they wish to dispute a workers' comp claim.
Workers' compensation statute of limitations in Indiana
Indiana has a two-year statute of limitations for workers' compensation claims. That allows for injured workers to file a claim up for benefits up to two years after an incident has occurred.
Get free quotes and compare policies with TechInsurance
If you are ready to explore workers' compensation coverage options for your Indiana business, TechInsurance can help small business owners compare business insurance policy quotes with one easy online application. Start an application today to find the right insurance coverage at the most affordable price for your business.
Updated: September 19, 2022
RELATED POLICIES FOR YOUR BUSINESS