Arizona workers' compensation insurance
Arizona workers' compensation law now permits settlements to be reached in workers' compensation cases. When an employee is injured on the job, settlements can benefit both an employer and the affected-employee.
Who needs workers' compensation insurance in Arizona?
Each state has different workers' compensation laws, and in Arizona, businesses that regularly have at least one employee are required to carry workers' compensation insurance. All employees, whether full-time or part-time, are required by law to be covered by workers' comp.
There are a few exceptions to this requirement, including casual or occasional workers, independent contractors, and domestic workers who are only employed in a home.
Do you need workers' comp in Arizona if you are self-employed?
Arizona workers' compensation insurance laws do not require sole proprietors and independent contractors to be covered, although they are able to elect to be self-insured and carry coverage for themselves. However, if the sole proprietor of a business hires employees, then they must provide coverage for those workers.
Regardless of your business structure, it may be a smart business decision to buy workers' compensation insurance coverage even when it's not required. A job-related accident could lead to costly medical expenses that may drastically impact the bottom line for a small business.
Compare workers' compensation quotes for Arizona businesses
Is workers' compensation coverage required for Arizona subcontractors?
While it's not required to provide workers' comp for independent contractors in Arizona, it is important to understand if that worker qualifies as a "contractor". At times, disputes may arise over employee classifications, and it may turn out that a contractor could actually be considered an employee.
Should a dispute turn into a legal matter, a court may consider these factors to determine whether a worker should be considered a contractor or an employee:
Employment duration
Method of payment
Right to hire and fire
To what extent the employer can control how work is performed
Who owns or supplies tools and materials
How work hours are set
Whether work was performed during the regular course of business
Even when you are mostly certain that you are hiring an independent contractor, it's still important to take each of these factors into account to under if you're required to provide workers' compensation coverage for them.
How much does a workers' compensation insurance policy cost in Arizona?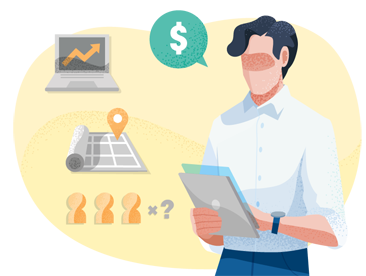 How do occupational risks affect the cost of workers' comp?
Arizona establishes codes for various occupations using the National Council on Compensation Insurance (NCCI) system. Through this, each employee occupation is evaluated to determine how hazardous their specific job is and then assign them the appropriate code.
Workers' comp premiums are based on the class codes of each employee. For example, an IT consultant has a lower rate than a construction worker because that job is inherently less dangerous.
How does a workers' comp claim work in Arizona?
Workers' compensation helps cover medical treatment costs for work-related injuries and occupational-related illnesses. Injured workers receive two-thirds of their average monthly wage while they are recovering. These benefits include permanent compensation or vocational rehabilitation for serious injuries that hinder an employee's ability to perform their job following their incident.
Worker's comp policies typically include employer's liability insurance, which businesses pay their legal expenses in the event that an employee blames their injury on negligence of the employer and files a lawsuit against them.
Per Arizona law, worker's compensation claims are based on a no-fault system. Under this system, employees receive medical benefits and compensation regardless of what the cause of their accident was, provided that they meet eligibility conditions.
There is a specific time frame for filing a claim, however. Employers must submit an Employer's Report of Injury form within 10 days of receiving notice about an incident. Injured workers must submit a Worker's Report and Physician's Report of Injury form within one year of the injury occurring in order to receive their workers' comp benefits (typically, the doctor's office will submit these forms).
Arizona updates a workers' compensation fee schedule annually that sets what healthcare providers should get paid for providing different types of medical treatment.
Once an employee has accepted any workers' compensation benefits, they waive the right to sue their employer for their injury. This provision is called the exclusive remedy.
What are the penalties for not having workers' comp insurance in Arizona?
Workers' compensation insurance in Arizona is regulated by the Industrial Commission of Arizona (ICA). If an employer fails to carry the correct insurance, it could result in severe penalties.
An injured employee could sue their employer, which may result in far more expensive damages than the standard workers' comp premium.
If an employee decides to file a claim with the ICA and that claim isn't covered with an active policy at their employer, the ICA's Special Fund Division will pay the benefits. The ICA would then turn and charge the employer for reimbursement of those benefits paid. In addition, the ICA may charge a penalty of 10% of any benefits paid, or a penalty of $1,000, whichever is greater.
Businesses can also be charged a separate penalty of $1,000 for not having the correct insurance, as well as additional penalties of $5,000 and eventually $10,000 for as long as they carry the wrong insurance.
Visit ICA online at https://www.azica.gov/ for more info.
Workers' comp settlements in Arizona
Until 2018, settlements for workers' compensation claims did not exist in Arizona.
A law now exists in Arizona for "full and final" settlements, which stipulates that parties may settle accepted worker's comp claims with approval by the ICA. Settlements must include projected future medical costs as well as a statement that the two parties have reasonably attempted to protect Medicare interests, which may include a Medicare savings account.
Workers' comp settlements help benefit both the employer and the employee. The employee either receives a lump sum payment or a structured settlement, which is paid in installments over a determined period of time. Through a settlement, employees waive their right to future benefits, which means that the employer is no longer liable for legal expenses associated with that claim.
Workers' compensation statute of limitations in Arizona
Injured workers in Arizona have one year from their incident date to file a workers' compensation claim. Employees must notify their employer as soon as possible once an injury has occurred. After the employer's insurance company has received a claim notice, the insurance provider has 21 days to accept or deny the claim.
If the insurance carrier denies a claim, the employee has to request a hearing within 90 days following the date that the denial notice was received.
The ICA's Claims Division does not provide legal advice, so it is recommended that individuals contact a workers' compensation attorney for guidance on disputes regarding workers' comp claims or settlements.
Get free quotes and compare policies with TechInsurance
If you are ready to explore workers' compensation coverage options for your
Arizona business
, TechInsurance can help small business owners compare business insurance policy quotes with one
easy online application
. Start an application today to find the right insurance coverage at the most affordable price for your business.
RELATED POLICIES FOR YOUR BUSINESS