Wisconsin workers' compensation insurance
Workers' compensation insurance covers the cost of work-related injuries. It's required for all Wisconsin businesses that have employees, unless they are self-employed or qualify for an exemption.
Who needs workers' compensation in Wisconsin?
Each state has different workers' compensation laws, and in Wisconsin, workers' compensation insurance is mandatory for all employers, with a few exceptions.
Full-time workers, part-time workers, family members, and minors are all considered employees and need coverage. According to Wisconsin's Department of Workforce Development (DWD), four guidelines define which employers must provide coverage under state law:
Firms with three or more full-time or part-time employees must immediately secure workers' compensation insurance for their workers.
Companies with one or more full-time or part-time employees who earned $500 or more in any calendar quarter must have workers' comp insurance in place by the first month of the next calendar quarter (no later than the 10th day of that month).
Farmers who employ six or more workers on the same day for 20 days of the calendar year must buy insurance no later than 10 days after the 20th day of employment. January through December is considered a calendar year.
Out-of-state employers with employees in Wisconsin must have workers' compensation insurance with an insurer licensed to do business in the state. The policy must have an endorsement naming Wisconsin as a covered state.
Which employees are exempt from workers' compensation in Wisconsin?
Although the Wisconsin Worker's Compensation Act provides near-universal coverage, the state allows a few exemptions based on the type of work performed. It excludes:
Some farmworkers
Volunteers, including those in nonprofit organizations receiving money or other items of value worth $10 or less per week
Employees of Native American tribal enterprises (including casinos), unless the tribe decides to waive its sovereign immunity and participate voluntarily in state workers' comp
Most real estate brokers, agents, and salespersons
Certain workers covered by federal workers' comp programs
Do Wisconsin business owners need to be covered by workers' comp?
It depends on your ownership status. For example, sole proprietors, partners, and members of limited liability companies (LLCs) are exempt from workers' compensation. However, they can still choose to purchase coverage. This can be a smart financial decision, as health insurance providers can deny work injury claims.
Corporate officers in Wisconsin are considered employees and thus must participate in their firm's workers' comp plan. However, if their company is closely held and has no more than 10 stockholders, one or two corporate officers may opt out of the firm's workers' comp insurance coverage.
Corporate officers who opt out must have their name displayed on the workers' comp policy endorsement page.
Just because a sole proprietor, partner, or LLC member does not participate in workers' comp does not mean other firm employees are exempt. If they fail to qualify for a work exemption, they must be covered even if the business owner isn't.
Are independent contractors required to have workers' comp coverage?
No, but the state of Wisconsin enforces a strict, nine-part test to determine whether the person is a legitimate independent contractor.
How much does workers' compensation coverage cost in Wisconsin?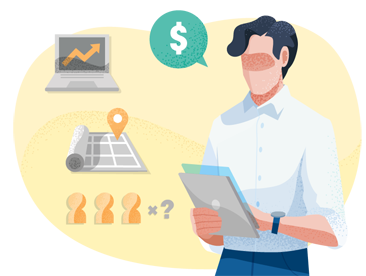 How does workers' compensation work in Wisconsin?
When an employee suffers a workplace injury or an occupational disease, workers' compensation covers the cost of medical treatment. It also provides wage loss benefits equal to two-thirds of the employee's average weekly wage.
Workers' compensation benefits in Wisconsin include:
Coverage for the injured worker's medical expenses
Temporary partial disability (TPD) benefits
Temporary total disability (TTD) benefits
Permanent partial disability (PPD) benefits
Permanent total disability (PTD) benefits
Vocational rehabilitation and retraining
For example, if an IT tech or software developer is diagnosed with carpal tunnel syndrome due to keyboard overuse, your workers' comp policy would pay for their medical bills, including long-term medication and physical therapy.
Or, if an employee at your IT consulting firm trips in the office stairwell and suffers a concussion, then your workers' comp policy would pay for their ambulance ride and emergency room visit.
Policies usually include employer's liability insurance, which helps cover legal expenses if an employee blames their employer for an injury. Once they accept workers' compensation benefits, employees give up the right to sue their employer for the injury under the exclusive remedy provision in most workers' comp policies.
How to buy workers' compensation coverage in Wisconsin
Wisconsin business owners can compare free quotes and purchase a policy from private insurance companies. TechInsurance offers this service with its online insurance marketplace.
If you're unable to get insurance from standard-market insurers, you can buy it from the Wisconsin Compensation Rating Bureau. You can access this last-resort coverage through your local insurance broker.
Wisconsin employers who qualify can self-insure their workers' compensation claims. This means they'll pay for their own workers' comp claims rather than submit them to an insurance company.
Compare workers' compensation quotes for Wisconsin businesses
What are the penalties for not having workers' comp in Wisconsin?
Violating Wisconsin's workers' compensation statute is a serious offense. If you fail to comply, you may face one or more of the following penalties:
A penalty equal to twice the insurance premiums you should have been paying during the uninsured period or $750, whichever is larger
Under some circumstances, a penalty of $100 for each uninsured day up to seven days
Closure of your company and suspension of all operations
Personal liability for payment of uninsured workers' comp benefit claims
Workers' compensation settlements in Wisconsin
A workers' compensation settlement is an agreement between the injured employee, employer, and insurer that closes out a workers' compensation claim. This benefits both the employee and the employer.
In Wisconsin, most workers' comp claims end in settlements. This means all involved parties – the injured worker, the employer, and the insurance companies – agree on a lump-sum settlement amount in exchange for the employee (or the employee's survivors) agreeing not to pursue any future benefits.
Settlement amounts may cover payments for past or future medical bills. They may also include employer penalties for things like safety violations, payment delays, or bad faith.
The settlement agreement, which must be in written form and signed by the injured or ill worker, a representative of the employer, and the insurance company, must be filed with the Wisconsin Department of Workforce Development and approved by one of its judges.
Workers' compensation statute of limitations in Wisconsin
Under Wisconsin law, employees with injuries must file a workers' comp claim no later than two years after the injury or within 12 years if the employer knew about the injury (or should have known).
No statute of limitations applies to occupational diseases and some traumatic injuries.
Get free quotes and compare policies with TechInsurance
TechInsurance helps small business owners compare business insurance policy quotes with one easy online application. Start an application today to find the right insurance coverage at the most affordable price for your business.
Updated: June 29, 2022
RELATED POLICIES FOR YOUR BUSINESS