Washington State workers' compensation insurance
Workers' compensation insurance covers the cost of work-related injuries. It's required for all Washington businesses that have employees, including part-time workers.
Who needs workers' compensation in Washington State?
Each state has different workers' compensation laws, and in Washington state, workers' compensation insurance is mandatory for all employers with one or more employees, including part-time employees.
However, according to the Washington State Department of Labor and Industries (L&I), there are circumstances in which a worker would be exempt from the state's workers' compensation requirements:
Domestic workers, when there is only one per home, and the employee doesn't work more than 40 hours per week
Gardening, maintenance, or repair workers at private homes
Musicians and entertainers at specific events
A child under 18 who is employed by a parent for farm work
Cosmetologists and barbers who rent or lease their space
Do Washington business owners need to carry workers' compensation?
According to state law, sole proprietors and independent contractors with no employees are not required to carry workers' compensation. However, we strongly encourage you to buy workers' comp insurance, even though it's only required for employees.
Your personal health insurance company might deny a claim if the injury is related to your job. That would leave you paying medical bills out of pocket, which could be even harder if you're out of work while recovering.
Workers' compensation would pay your medical bills, and also supply partial wages for the time you lost while unable to work.
How much does workers' compensation coverage cost in Washington State?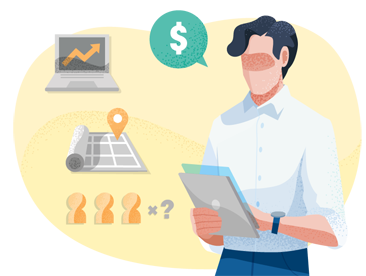 How does workers' comp work in Washington State?
Workers' compensation benefits can cover medical and hospital expenses resulting from a workplace injury. It can also cover partial wage replacement if the employee is unable to work, or is delegated to light duty because of an impairment.
Workers' compensation insurance in Washington state can include coverage for:
Medical benefits to pay for prescriptions, surgery, and other medical care
Some travel for medical procedures or appointments
Reimbursement for lost or damaged property
Permanent partial disability and permanent total disability
Job retraining and assistance finding work after an injury
For example, if an IT tech or software developer is diagnosed with carpal tunnel syndrome due to keyboard overuse, your workers' comp policy would pay for their medical bills, including long-term medication and physical therapy.
Or, if an employee at your IT consulting firm trips in the office stairwell and suffers a concussion, then your workers' comp policy would pay for their ambulance ride and emergency room visit.
Injured employees can visit a medical provider of their choice for emergency treatment, but must see an authorized provider for follow-up care.
Compare workers' compensation quotes for Washington businesses
How to buy workers' compensation coverage in Washington
Washington is a monopolistic state when it comes to insuring employees against job-related injuries and illnesses. This means you can't buy workers' comp coverage from a private insurance company. Instead, you must buy it from a state-run workers' comp plan.
In Washington state, workers' comp is administered through the Washington State Department of Labor & Industries (L&I).
Each business must have a business license and an account with L&I to purchase workers' comp insurance through the fund. L&I will make classifications based on its own system, which determines coverage rates.
If a business or employer has $25 million or more in assets and an accident-prevention program, it might be permitted to get self-insurance. Every other business with employees must purchase workers' comp through the state fund.
Small businesses can still purchase other insurance policies through private insurers, including common coverages such as general liability insurance, professional liability insurance (also called errors and omissions insurance or E&O), and cyber liability insurance.
Do Washington workers' comp policies protect against lawsuits?
Workers' compensation insurance usually includes employer's liability insurance, but that's not the case when it's purchased through a state fund.
Washington employers who want this coverage, which protects against employee lawsuits over injuries, must purchase it as stop-gap coverage. They can usually add it to their general liability policy purchased through a private insurer.
What are the penalties for not having workers' comp in Washington?
The State of Washington recently increased its penalties for noncompliance with its workers' compensation laws. Penalties include:
Failure to pay a workers' compensation claim: $1,000 maximum, or double the amount of premiums incurred
Noncompliance with recordkeeping: $500
Failure to comply with a statutory provision: $1,000
Workers' compensation settlements in Washington
Workers' compensation settlements are agreements between the injured worker, employer, and the insurer to resolve a claim. Most workers' comp claims in Washington become a structured settlement, which means the injured worker receives periodic payments in installments over time.
Acceptance of a structured settlement would prevent the worker from claiming future benefits for wage loss and permanent disability, but it would not prevent claims for future medical treatment. If a new injury or illness related to the original claim is diagnosed or discovered later, the claim could be reopened.
Workers' compensation statute of limitations in Washington
In Washington state, the workers' compensation statute of limitations is one year from the date of injury. If the worker has an occupational disease, the statute of limitations is two years from the date it was discovered.
Get free quotes and compare policies with TechInsurance
If you are ready to explore workers' compensation coverage options for your Washington business, TechInsurance can help small business owners compare business insurance policy quotes with one easy online application. Start an application today to find the right insurance coverage at the most affordable price for your business.
RELATED POLICIES FOR YOUR BUSINESS