Texas workers' compensation insurance
Workers' compensation insurance is optional for most Texas businesses. However, many small business owners choose to get coverage because it's a cost-effective option that can help you save money in the long run.
Who needs workers' comp insurance in Texas?
Texas is different from most other states because it doesn't generally require workers' compensation insurance. However, employers without this coverage must notify the state and their employees.
Even when workers' compensation insurance is not required, it's often in the employer's best interest to provide coverage. If an employee is injured on the job, the employer could be held liable to pay for expenses associated with medical treatment, ongoing therapy, and lost wages.
Business owners that decide not to purchase workers' comp insurance are called nonsubscribers. They must report to the state that they do not have coverage, and they must report workplace injuries.
If an employee is injured on the job at a business with no coverage, that person can sue the employer. In that case, the employer is not allowed to defend itself in court with an argument of employee negligence.
Do self-employed business owners need workers' compensation?
Sole proprietors, independent contractors, and other self-employed individuals are strongly encouraged to buy workers' comp insurance even when it's not required. In fact, their clients might require them to carry this coverage.
If you get injured on the job, a workers' comp policy can help pay your medical expenses and provide part of the wages you lose during your temporary disability.
Your personal health insurance provider might deny your claim if your injury is related to your work, which would leave you paying these bills on your own.

Workers' comp is required for certain Texas industries and employers
There are a few industries that must provide employees with workers' compensation. This includes:
Any public employer, including cities, counties, and state agencies
Companies that contract with government entities
State universities
Building and construction; contractors for public employers
Motorbus companies
Motor carriers (providing transportation over public highways)
Liquid propane gas and compressed natural gas dealers
Employers of inmates in work furlough programs
How much does workers' compensation coverage cost in Texas?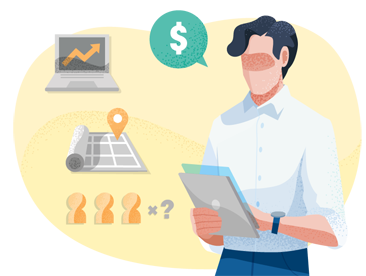 How to buy workers' compensation insurance coverage in Texas
Compare workers' compensation quotes for Texas businesses
How does workers' compensation work in Texas?
The Division of Workers' Compensation (DWC) administers and operates the Texas workers' compensation system. Insurance companies and self-insured employers pay benefits on workers' compensation claims.
There are two types of workers' compensation benefits in Texas:
Medical benefits
Income benefits
Policies usually include employer's liability insurance, which can help cover legal expenses if an employee blames their employer for a personal injury. However, the exclusive remedy provision in most workers' comp policies prohibits an employee from suing their employer if they accept workers' comp benefits.
Workers' compensation medical benefits
Workers' compensation medical benefits cover medical care that is reasonable and necessary for treatment of a work-related injury or occupational disease.
For example, if an IT tech or software developer is diagnosed with carpal tunnel syndrome due to keyboard overuse, your workers' comp policy would pay for their medical bills, including long-term medication and physical therapy.
Or, if an employee at your IT consulting firm trips in the office stairwell and suffers a concussion, then your workers' comp policy would pay for their ambulance ride and emergency room visit.
In order for an injured worker to receive medical benefits, the treating doctor must be on the state's approved list, or the treatment must be approved by a listed physician.
For serious injuries or illnesses, a worker could be eligible to receive lifetime medical benefits, which would prohibit the insurance company from settling for a certain amount of money or time for treatment.
Workers' compensation income benefits
Within the income benefit, an injured employee can be eligible for:
The Texas Workers' Compensation Act also allows for lifetime income benefits for severe permanent injuries, including loss of sight in both eyes.
Typically, unless treatment is received in an emergency situation, the medical provider must be on the list of physicians approved by the Texas Workers' Compensation Commission for the injured worker to receive income benefits
Texas workers' compensation law for settlements
A workers' compensation settlement in Texas takes place when the injured worker and the insurer agree on the resolution to a claim. The Texas workers' compensation system does not allow lump sum settlements, with the exception of some cases of impairment income benefits.
When a doctor determines that the worker's condition has stabilized, the worker is considered to have reached maximum medical improvement (MMI) and the case is then permitted to settle. The Texas Department of Insurance must approve every workers' compensation settlement in Texas.
Workers' compensation statute of limitations in Texas
The State of Texas requires employees to file workers' compensation claims within one year of the date of injury to be eligible for benefits.
However, it's the employee's responsibility to notify the employer within 30 days of the injury so that the employer has the opportunity to resolve the issue or take any necessary steps to remediate the situation.
Get free quotes and compare policies with TechInsurance
TechInsurance helps small business owners compare business insurance policy quotes with one
easy online application
. Start an application today to find the right insurance coverage at the most affordable price for your business.
RELATED POLICIES FOR YOUR BUSINESS