Rhode Island workers' compensation insurance
Workers' compensation insurance covers the cost of work-related injuries. It's required for all Rhode Island businesses that have employees, unless they qualify for an exemption.
Who needs workers' compensation in Rhode Island?
Each state has different workers' compensation laws, and in Rhode Island, workers' compensation insurance is mandatory for all employers, with a few exceptions.
You don't need to carry workers' compensation for:
Certain real estate workers
Agricultural workers
Domestic service employees
Police, firefighters, and federal employees are excluded from coverage since other programs protect them.
Municipal employees aren't covered unless their municipality elects to provide them with workers' comp protection.
Do Rhode Island business owners need to carry workers' compensation?
It depends on what type of business owner you are.
Sole proprietors and partners are exempt. Unlike in many other states, sole proprietors and partners can't voluntarily buy workers' comp insurance for themselves.
Members of limited liability companies (LLCs) and corporate officers are required to have workers' comp insurance coverage, according to Rhode Island workers' comp state law.
Are independent contractors required to have workers' compensation?
How much does workers' compensation coverage cost in Rhode Island?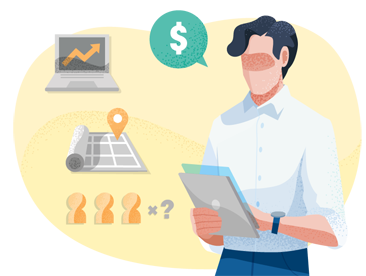 How does workers' comp work in Rhode Island?
When an employee suffers a workplace injury or develops an occupational disease, workers' compensation covers the cost of their medical care. It also provides lost wage benefits while the employee is unable to work.
Workers' compensation benefits for injured workers in Rhode Island include:
Medical benefits (reimbursement for all medical expenses related to the injury)
Weekly compensation for total incapacity
Weekly compensation for partial incapacity
Vocational rehabilitation
For example, if an IT tech or software developer is diagnosed with carpal tunnel syndrome due to keyboard overuse, your workers' comp policy would pay for their medical bills, including long-term medication and physical therapy.
Or, if an employee at your IT consulting firm trips in the office stairwell and suffers a concussion, then your workers' comp policy would pay for their ambulance ride and emergency room visit.
How does workers' compensation insurance protect employers?
Most workers' compensation policies include employer's liability insurance, which helps cover legal expenses if an employee blames their injury on the employer's negligence or unsafe working conditions.
Once the employee accepts workers' compensation benefits, they're usually prohibited from suing their employer due to the exclusive remedy provision in most policies.
Compare workers' compensation quotes for Rhode Island businesses
How is workers' compensation insurance purchased in Rhode Island?
Rhode Island business owners can compare quotes and purchase a policy from private insurance carriers. TechInsurance offers this service with its online insurance marketplace.
If you're unable to purchase workers' comp insurance through this voluntary market because of high risks, you can purchase coverage from the Rhode Island assigned risk market. Beacon Mutual Insurance Company administers this program for the state.
Rhode Island employers who qualify can self-insure their workers' compensation claims. This means they'll pay for their own workers' comp claims rather than submit them to an insurance company. To qualify for self-insurance, they must file an application with the DLT.
What are the penalties for not having workers' comp in Rhode Island?
Violating Rhode Island's workers' compensation statute is a serious matter. Here are the penalties you'll face if you fail to comply with the law:
If you fail to display the required workers' comp poster, you'll face a $250 fine
If you fail to provide required workers' comp insurance, you may be fined $1,000 for each noncompliant day
Failing to provide coverage exposes you to a felony charge, a $10,000 fine, and a two-year prison sentence
If you don't comply with state workers' comp rules, the director of Rhode Island's Department of Labor and Training can shut down your business
Workers' compensation settlements in Rhode Island
A workers' compensation settlement is an agreement between the injured employee, employer, and insurer that cancels a workers' compensation claim. This benefits both the employee and the employer.
In Rhode Island, many workers' comp claims end in settlements. This means the parties to the claim – the injured employee, the company, and the insurer – must agree on a lump-sum payment in return for the employee (or the employee's survivors) agreeing to forgo future payments.
There are two basic forms of settlements in Rhode Island:
Denial and dismissal settlement: Closes out the case without establishing liability against the employer or insurer
Commutation settlement: Closes out the entire claim in cases where benefits have been paid for six months or more. The employee (or survivors) receives a lump-sum payment or a structured settlement in return for the employer closing out all future liabilities
Workers' comp settlements in Rhode Island are subject to complex rules, and a workers' comp judge must approve them.
Workers' compensation statute of limitations in Rhode Island
In the state of Rhode Island, employees in most cases must file a workers' comp claim within two years of the injury. Rhode Island law grants some flexibility on the length of this period based on the nature of the case.
Get free quotes and compare policies with TechInsurance
If you are ready to explore workers' compensation coverage options for your Rhode Island business, TechInsurance can help small business owners compare business insurance policy quotes with one easy online application. Start an application today to find the right insurance coverage at the most affordable price for your business.
RELATED POLICIES FOR YOUR BUSINESS