Oregon workers' compensation insurance
Workers' compensation insurance covers the cost of work-related injuries. It's required for all Oregon businesses that have employees, including part-time workers.
Who needs workers' compensation insurance in Oregon?
Each state has different workers' compensation laws, and in Oregon, workers' compensation insurance is mandatory for all employers with one or more employees, including part-time employees.
Independent contractors do not need coverage, but Oregon employers who hire independent contractors need to make sure that they meet the legal description. The courts have looked at these, and other questions, to determine whether a person is an independent contractor:
Do you control or direct how the work is performed?
Is the worker paid hourly, commission-based, by the job, or otherwise?
Do you supply tools, supplies, or equipment that the person uses to complete the job?
Could you fire the worker without breaching a contract?
If you're not sure that someone is an independent contractor, seek advice from a workers' compensation consultant to answer your questions.
Do Oregon business owners need to carry workers' compensation?
According to Oregon workers' compensation law, it depends on the type of business owner:
Sole proprietors: Sole proprietors are not required to have workers' compensation insurance, though they can choose to purchase it. It's always a good idea to carry workers' comp, as health insurance plans can deny claims for injuries related to work.
Corporate officers: Usually, a corporate officer is not required to have workers' compensation coverage if they also serve on the board and own at least 10% of the stock in the company.
Limited liability company members: Generally, a member of an LLC is exempt from workers' compensation requirements in Oregon. These people would follow the same rules and exemptions as corporate officers.
However, if individuals are working under contracts for a sole proprietorship, partnership, corporation, or LLC, they must also be considered independent contractors to be exempt.
How much does workers' compensation coverage cost in Oregon?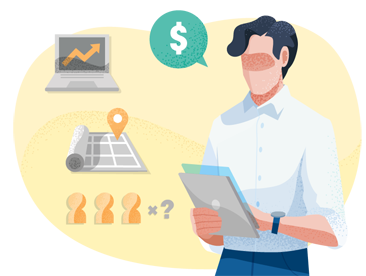 How are workers' compensation insurance rates determined in Oregon?
The National Council on Compensation Insurance sets premium rates for different job classifications, based on their amount of risk. The rates are subject to approval by the Oregon Commissioner of Insurance.
Under the NCCI system, an employee in a high-risk industry, such as landscaping, would have a higher workers' comp rate than a software developer or other worker with a desk job. This rate is used in an equation that takes into account other variables, such as the employer's claims history.
How does workers' comp work in Oregon?
The Oregon workers' compensation system ensures coverage of medical expenses for workplace injuries and occupational diseases. It also provides temporary disability benefits while workers are recovering, usually two-thirds of the worker's average weekly wage.
Workers' compensation benefits in Oregon include:
Medical services by a provider chosen by the employee
Temporary total disability benefits
Temporary partial disability benefits
Permanent total disability benefits
Permanent partial disability benefits
Vocational assistance to help injured employees return to work
For example, if an IT tech or software developer is diagnosed with carpal tunnel syndrome due to keyboard overuse, your workers' comp policy would pay for their medical bills, including long-term medication and physical therapy.
Or, if an employee at your IT consulting firm trips in the office stairwell and suffers a concussion, then your workers' comp policy would pay for their ambulance ride and emergency room visit.
Workers' comp policies usually include employer's liability insurance, which covers legal expenses if an employee blames their employer for an injury. The exclusive remedy provision in most workers' comp policies prohibits an employee from suing their employer once they accept workers' comp benefits.
Compare workers' compensation quotes for Oregon businesses
What are the penalties for not having workers' comp insurance in Oregon?
Oregon workers' compensation is regulated by the Oregon Workers' Compensation Division (WCD). If it's determined that you didn't have the correct coverage, you'll incur a penalty of twice the amount of the premium that you should have paid for insurance, at a $1,000 minimum. If noncompliance continues, you would incur additional penalties of $250 per day, without a limit.
In extreme cases, business owners who fail to carry coverage could face additional penalties, including jail time.
Workers' compensation settlements in Oregon
An Oregon workers' compensation settlement is different from an award. An award is the actual benefit that the employee receives. The settlement is a contract between the insurer and the employee that provides a lump sum to the injured worker in exchange for the worker relinquishing rights to bring further claims based on the injury.
The State of Oregon allows two types of settlements:
Claim disposition agreement. A CDA occurs when the insurance company accepts and voluntarily pays a claim. It doesn't terminate the worker's rights to further medical treatment, but it does release claims for:
Time-loss benefits
Permanent disability benefits
Vocational assistance, including job retraining
Reopening of the claim if the condition becomes worse or aggravated
Disputed claims settlement. If the insurer denies a workers' comp claim in Oregon, the employee can appeal to the Oregon Workers' Compensation Division.
Settlements are based on the following factors:
Severity of injuries
Cost of medical care
Pre-injury wages
Ability to return to work
Need for job retraining
Whether there is conflicting evidence
Workers' compensation statute of limitations in Oregon
According to state law, Oregon employees must inform their employer as soon as possible when an injury has occurred. For most injuries, the Oregon statute of limitations requires that a workers' compensation claim be filed within one year from when the worker first discovered the work-related injury.
The employer is required to notify the insurer within five days of an insurable incident.
Get free quotes and compare policies with TechInsurance
If you are ready to explore workers' compensation coverage options for your Oregon business, TechInsurance can help small business owners compare business insurance policy quotes with one easy online application. Start an application today to find the right insurance coverage at the most affordable price for your business.
Updated: August 17, 2022
RELATED POLICIES FOR YOUR BUSINESS