North Dakota workers' compensation insurance
Workers' compensation insurance covers the cost of work-related injuries. It's required for all North Dakota businesses that have employees, including part-time workers.
Who needs workers' compensation in North Dakota?
Do North Dakota business owners need to carry workers' compensation?
Business owners of various types are not considered employees and therefore aren't required to have workers' comp coverage for themselves, including:
However, the above owners may opt to purchase workers' comp. It's a smart financial decision, as your health insurance provider might deny an injury claim if it's related to your work.
Are North Dakota independent contractors required to have workers' comp coverage?
Independent contractors are not required to be covered by workers' comp as long as they can prove they are independent contractors under the so-called common law test. The burden of proof falls on the person claiming independent contractor status.
If North Dakota Workforce Safety & Insurance (WSI) determines that a person is exempt from workers' comp due to being an independent contractor, the decision is effective for one year.
Employers or independent contractors seeking an exemption should contact WSI and request an "Independent Contractor Verification Application."
How much does workers' compensation coverage cost in North Dakota?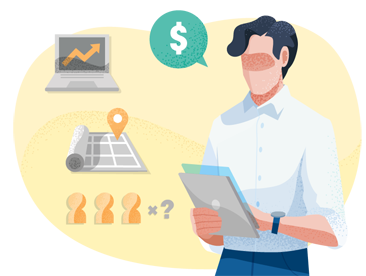 How does workers' comp work in North Dakota?
When an employee is injured on the job, workers' compensation insurance coverage pays for emergency treatment, prescriptions, physical rehabilitation, and other medical bills. It also covers part of the wages lost during recovery.
Workers' compensation benefits for injured workers in North Dakota include:
Medical benefits
Wage-loss benefits
Personal expenses reimbursement
Return to work services
Permanent partial impairment benefits
For example, if an IT tech or software developer is diagnosed with carpal tunnel syndrome due to keyboard overuse, your workers' comp policy would pay for their medical expenses, including long-term medication and physical therapy.
Or, if an employee at your IT consulting firm trips in the office stairwell and suffers a concussion, then your workers' comp policy would pay for their ambulance ride and emergency room visit.
Compare workers' compensation quotes for North Dakota businesses
How to buy workers' compensation coverage in North Dakota
North Dakota is a monopolistic state when it comes to insuring employees against job-related injuries and illnesses. This means you can't buy workers' comp coverage from a private insurance company. Instead, you must buy it from a state-run workers' comp plan.
All North Dakota workers' comp policies must be purchased from the state fund, provided and administered by North Dakota Workforce Safety and Insurance. Even employers who are considered high risk are guaranteed coverage.
Does North Dakota workers' comp protect against employee lawsuits?
Workers' compensation insurance usually includes employer's liability insurance, but that's not the case when it's purchased through a state fund.
North Dakota employers who want this coverage, which protects against employee lawsuits over injuries, must purchase it as stop-gap coverage. They can usually add it to their general liability policy purchased through a private insurer.
What are the penalties for not having workers' comp in North Dakota?
Violating North Dakota's workers' compensation statute is a serious concern. Here are the penalties you may face if you don't comply with state law:
If you fail to provide the required coverage, you will be liable to pay the premium for all employees during the uninsured period
You may face penalties and interest for not providing workers' comp insurance
You may be legally liable for the actual claims cost and reserves for all claims that arise during the uninsured period
You may be subject to employee lawsuits seeking damages for work-related injuries and illnesses
You may receive a state-issued cease and desist order demanding that you provide coverage
You may face a $10,000 one-time penalty and an additional $100 per day for continued noncompliance
Given these penalties, all North Dakota employers should strive to remain in compliance with the state's workers' comp law at all times.
Workers' compensation settlements in North Dakota
A workers' compensation settlement in North Dakota is an agreement between the injured employee, employer, and state-run workers' comp insurer that cancels a workers' compensation claim.
In North Dakota, many workers' comp claims end in settlements. This means the parties to the claim must agree on a lump-sum payment in return for the employee agreeing to forgo future payments.
Because North Dakota maintains a monopolistic workers' comp fund, the state, not a private insurer, must approve all settlements. The state is open to alternative arrangements such as closing out an employee's disability claim while holding open future medical benefits. Another alternative: converting future benefits into a structured settlement, which involves an annuity-like arrangement in which employees receive payments over a number of years.
Workers' compensation statute of limitations in North Dakota
In North Dakota, employees must file a workers' comp claim within two years from the injury date. This is the first date any reasonable person would have recognized that a work-related injury happened.
Get free quotes and compare policies with TechInsurance
If you are ready to explore workers' compensation coverage options for your North Dakota business, TechInsurance can help small business owners compare business insurance policy quotes with one easy online application. Start an application today to find the right insurance coverage at the most affordable price for your business.
RELATED POLICIES FOR YOUR BUSINESS