New Jersey workers' compensation insurance
Workers' compensation insurance covers the cost of work-related injuries. It's required for all New Jersey businesses that have employees, including part-time workers.
Who needs workers' comp insurance in New Jersey?
Each state has different workers' compensation laws, and in New Jersey, workers' compensation insurance is mandatory for all employers with one or more employees.
Part-time and seasonal employees must be covered by workers' compensation insurance if they are paid wages or salaries and have taxes deducted. Coverage is not required for contractors, interns, and volunteers.
New Jersey state law provides some exceptions for employers covered by federal programs and partners in partnerships.
Do New Jersey business owners need to carry workers' compensation?
A self-employed person isn't required to buy workers' comp insurance. New Jersey requirements do not mandate this coverage for sole proprietors with no employees, members of limited liability companies (LLC), freelancers, or independent contractors.
However, you should consider buying this coverage even if it's not required. Your health insurance might not cover injuries that are related to work, which would leave you responsible for medical bills. On top of that, you would miss out on wage replacement benefits that can help keep your business running while you recover.
How much does workers' compensation coverage cost in New Jersey?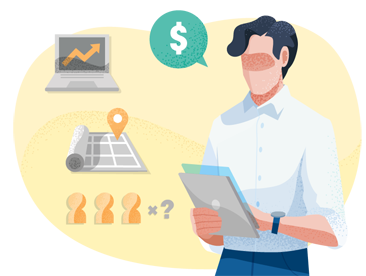 How does workers' comp work in New Jersey?
Workers' compensation insurance covers the cost of treatment for injured workers. It also provides 70% of a worker's average weekly wage during recovery if the injured employee is disabled for more than seven days.
Workers' compensation benefits [PDF] in New Jersey include:
Medical benefits that cover all medical treatment for the injury
Temporary disability benefits to replace lost wages
Permanent partial disability benefits
Permanent total disability benefits
For example, if an IT tech or software developer is diagnosed with carpal tunnel syndrome due to keyboard overuse, your workers' comp policy would pay for their medical expenses, including long-term medication and physical therapy.
Or, if an employee at your IT consulting firm trips in the office stairwell and suffers a concussion, then your workers' comp policy would pay for their ambulance ride and emergency room visit.
Policies usually include employer's liability insurance, which can help cover legal expenses if an employee blames their employer for an injury. However, the exclusive remedy provision in most workers' comp policies prohibits an employee from suing their employer if they accept workers' comp benefits.
Compare workers' compensation quotes for New Jersey businesses
When is an injury covered by workers' comp?
There are specific guidelines for when an injury must be covered under workers' compensation. New Jersey law indicates that the requirements are as follows:
The employee's injury took place while performing a job
The employee's injury was too serious to be treated with basic first aid
The employee receives a standard paycheck that has taxes deducted each pay period
What are the penalties for not having workers' comp in New Jersey?
The Department of Labor and Workforce Development's Division of Workers' Compensation regulates and enforces workers' compensation in New Jersey. Failure to carry appropriate workers' comp insurance for your business can result in penalties that range from administrative fines to criminal charges as severe as fourth-degree felonies.
The financial penalties are up to $5,000 for the first 20 days of noncompliance and up to $5,000 for each 10-day period thereafter. These penalties are delivered in the form of liens against the employer, and prosecution is through seizure of property.
Workers' compensation settlements in New Jersey
It can be beneficial to both employees and business owners to reach a workers' compensation settlement. The State of New Jersey has two types of settlement arrangements:
Section 20 settlement: If the insurance company denied all or part of a workers' compensation claim, the employee and the insurance company could still agree to a full and final settlement as a lump sum. That would mean that the employee gives up all rights to future claims related to that injury, including future medical care
Section 22 settlement: In this situation, the insurance company agrees to pay permanent disability benefits in installments. This would not require the employee to give up rights to future medical care, and if the condition worsens, the claim could be reopened and additional benefits requested. This additional claim can be made for two years from the final payment of the original settlement
Several factors affect the outcome of a workers' compensation settlement. New Jersey claims can be contingent upon the severity of the injury, needs for ongoing medical care, pre-injury wages, ability to return to work, and other pieces of evidence presented.
Workers' compensation statute of limitations in New Jersey
An injured employee must file a workers' comp claim within a specific statute of limitations. New Jersey's time limit for filing a claim is two years from the date of injury or the date of the last payment of compensation, whichever is later.
If the injury is an ongoing occupational illness, the claim must be filed within two years of the date the worker became aware of the condition.
Get free quotes and compare policies with TechInsurance
If you are ready to explore workers' compensation coverage options for your New Jersey business, TechInsurance can help small business owners compare business insurance policy quotes with one easy online application. Start an application today to find the right insurance coverage at the most affordable price for your business.
RELATED POLICIES FOR YOUR BUSINESS