Massachusetts workers' compensation insurance
Workers' compensation insurance covers the cost of work-related injuries. It's required for all Massachusetts businesses that have employees, including part-time workers.
Who needs workers' compensation in Massachusetts?
Each state has different workers' compensation laws, and in Massachusetts, workers' compensation insurance is mandatory for all employers with one or more employees, including part-time workers.
Although nearly all Massachusetts employees must be covered by employer-provided workers' compensation insurance, some worker categories are exempt. These include:
Domestic service (household) employees who work less than 16 hours per week
Those who work on commission (such as real estate agents) on a buy/sell basis, under contract specifying they're not employees under federal tax law
Those engaged in interstate/foreign commerce that is covered by federal law for compensation for injury or death
Do Massachusetts business owners need to be covered by workers' compensation?
In general, you must include yourself in your company's workers' comp insurance. However, there are three exceptions:
If you are one of the above exempt individuals, it's still a good idea to carry workers' comp coverage. If you're injured on the job, there's a chance your health insurance provider could deny the claim, leaving you with expensive medical bills.
Even though certain business owners aren't required to have their own workers' compensation coverage, their employees still need coverage.
Do Massachusetts independent contractors need to be covered by workers' comp?
Workers in the state of Massachusetts are considered employees for tax purposes. This means you will be required to provide them with workers' comp coverage.
However, if you hire independent contractors, you won't have to provide them with workers' comp coverage if you can meet three tests [PDF]:
Prove that they do not work under your direct control or supervision
Establish that they perform work that is outside the normal course of your business
Document that they have their own independent business or trade doing this kind of work
Are corporate officers required to be covered by a workers' comp policy?
Corporate officers are considered employees and must have workers' comp coverage.
One exception applies: Corporate officers who own at least a 25% interest in their corporation can file for an exemption with the Massachusetts Department of Industrial Accidents (DIA).
How much does workers' compensation coverage cost in Massachusetts?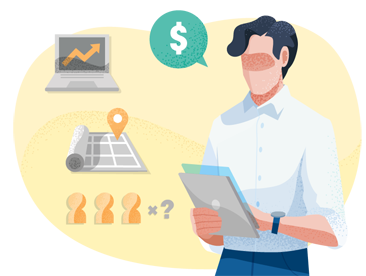 How does workers' comp work in Massachusetts?
When an employee suffers a workplace injury or develops an occupational disease, workers' compensation covers the cost of their medical care. It also provides disability benefits while the employee is recovering and unable to work, both for partial disability and total disability.
Workers' compensation benefits for injured workers include:
Medical expenses (treatment, prescriptions, mileage reimbursement for medical visits)
Temporary total incapacity benefits
Temporary partial incapacity benefits
Permanent and total incapacity benefits
Scarring and permanent loss of function and disfigurement
Vocational rehabilitation services
For example, if an IT tech or software developer is diagnosed with carpal tunnel syndrome due to keyboard overuse, your workers' comp policy would pay for their medical expenses, including long-term medication and physical therapy.
Or, if an employee at your IT consulting firm trips in the office stairwell and suffers a concussion, then your workers' comp policy would pay for their ambulance ride and emergency room visit.
Policies usually include employer's liability insurance, which can help cover legal expenses if an employee blames their employer for an injury. However, the exclusive remedy provision in most workers' comp policies prohibits an employee from suing their employer if they accept workers' comp benefits.
Compare workers' compensation quotes for Massachusetts businesses
How to buy workers' compensation coverage in Massachusetts
Massachusetts business owners can compare quotes and purchase a policy from private insurance companies. TechInsurance offers this service with its online insurance marketplace.
If a business owner is unable to qualify for a workers' comp policy, they can buy it from the state's assigned risk residual market, the Workers' Compensation Rating and Inspection Bureau of Massachusetts. This is the insurance plan of last resort for state employers that can't find standard coverage due to their extensive number of past workers' comp claims.
Massachusetts employers also can self-insure their workers' compensation claims. This means they'll pay for their own workers' comp medical and rehabilitation costs rather than submit them to their workers' compensation insurer. It also means they will be directly liable for any lawsuits injured or sick employees file against them.
To become self-insured, a Massachusetts business must have at least 300 employees and $750,000 in standard workers' compensation insurance premiums and must prove to the state that it has enough capital to cover the costs of self-insurance.
What are the penalties for not having workers' comp in Massachusetts?
If you operate your business without workers' compensation coverage, you may face stiff penalties in Massachusetts.
The state may issue a stop-work order (SWO) if you fail to provide workers' comp insurance as mandated by state law. This means you will no longer be able to do business in the state.
In addition, you may face minimum fines of $100 per day, including weekends and holidays, for each day you fail to provide coverage. Your penalty bill will accrue daily until you provide insurance and pay your total fine.
If you don't appeal the SWO, you must shut down immediately and stay closed until you provide workers' comp coverage and pay your fine. If you decide to appeal the SWO, then you can remain open, but now your fine will increase to $250 per day.
Finally, any uninsured Massachusetts employer loses the ability to compete for public contracts.
Workers' compensation settlements in Massachusetts
A workers' compensation settlement is an agreement between the injured employee, employer, and insurer that will resolve a workers' compensation claim. This benefits both the employee and the employer.
A settlement in a Massachusetts workers' compensation claim involves an injured or sick employee giving up the right to receive any future workers' comp benefits in exchange for receiving a lump-sum payment. Since this involves a worker forfeiting the right to future benefits, the state advises employees to make this decision carefully. It provides a lump-sum brochure to help them make a wise decision.
All settlements are subject to the approval of an administrative law judge or other conciliator at the Massachusetts Department of Industrial Accidents.
Workers' compensation statute of limitations in Massachusetts
The Massachusetts statute of limitations for workers' comp claims is within four years of the time employees become aware their employment caused their injury or illness.
Get free quotes and compare policies with TechInsurance
If you are ready to explore workers' compensation coverage options for your Massachusetts business, TechInsurance can help small business owners compare business insurance policy quotes with one easy online application. Start an application today to find the right insurance coverage at the most affordable price for your business.
RELATED POLICIES FOR YOUR BUSINESS