Maryland workers' compensation insurance
Workers' compensation insurance covers the cost of work-related injuries. It's required for all Maryland businesses that have employees, including part-time workers.
Who needs workers' compensation in Maryland?
Each state has different workers' compensation laws, and in Maryland, workers' compensation insurance is mandatory for all employers with one or more employees, including part-time workers.
Although nearly all Maryland employees must be covered by employer-provided workers' compensation insurance, there are a couple of exemptions:
Agricultural employers that have fewer than three employees
Business owners with an annual payroll that totals less than $15,000
Do Maryland business owners need to be covered by workers' compensation?
Maryland business owners aren't required by law to carry workers' compensation coverage. This includes:
Partners in a business partnership
If you are one of the above exempt individuals, it's still a good idea to carry workers' comp coverage. If you're injured on the job, there's a chance your health insurance provider could deny the claim, leaving you with expensive medical bills. Workers' comp coverage would protect against the high cost of medical expenses.
How much does workers' compensation coverage cost in Maryland?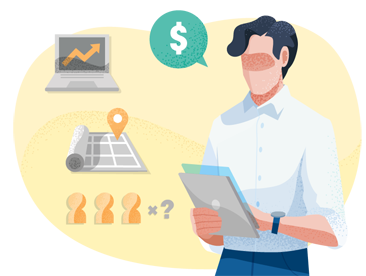 How does workers' comp work in Maryland?
Workers' compensation covers the cost of medical treatment and provides wage-loss benefits for employees who are injured on the job.
The harm must have been caused by "accidental personal injury arising out of and in the course of employment," according to the Maryland Workers' Compensation Commission (WCC). Occupational diseases may also be covered.
Workers' compensation benefits for injured workers in Maryland include:
Temporary total disability benefits (TTD)
Temporary partial disability benefits (TPD)
Permanent total disability benefits (PTD)
Permanent partial disability benefits (PPD)
Medical benefits (surgery, prescriptions, physical therapy, and other medical expenses)
Vocational rehabilitation services
For example, if an IT tech or software developer is diagnosed with carpal tunnel syndrome due to keyboard overuse, your workers' comp policy would pay for their medical expenses, including long-term medication and physical therapy.
Or, if an employee at your IT consulting firm trips in the office stairwell and suffers a concussion, then your workers' comp policy would pay for their ambulance ride and emergency room visit.
Policies usually include employer's liability insurance, which can help cover legal expenses if an employee sues their employer over a work injury.
Compare workers' compensation quotes for Maryland businesses
How to buy workers' compensation coverage in Maryland
Employers in Maryland have several options for purchasing a workers' compensation policy:
You can buy workers' comp from a private insurance company: TechInsurance helps small business owners compare quotes from top-rated insurance providers. Fill out our easy online application to get started
You can apply for self-insurance: Employers who meet certain requirements can opt for self-insurance [PDF]
You can buy workers' comp from the state fund: Maryland offers a competitive state fund for workers' compensation insurance, administered by the Chesapeake Employers' Insurance Company
What are the penalties for not having workers' comp in Maryland?
Maryland employers that fail to maintain the required workers' comp insurance coverage can be fined up to $10,000. If the company is a corporation, the officers would bear personal liability for this cost.
If an employer deducts any part of the workers' compensation costs from employees' wages, the employer can be found guilty of a misdemeanor.
Workers' compensation settlements in Maryland
A workers' compensation settlement is an agreement between the parties that will resolve your workers' compensation claim. This benefits both the employee and the employer. A settlement in a workers' compensation claim is a full and final resolution.
An injured worker is never required to come to a settlement. However, if the worker has reached maximum medical improvement or will not require additional medical treatment, they can settle for a lump sum in exchange for closing the claim.
In the state of Maryland, workers' compensation settlements must be approved by the Maryland Workers' Compensation Commission, which manages claims and enforcement.
Workers' compensation statute of limitations in Maryland
An injured worker must notify the employer within 10 days of the injury. Workers' comp claims should be filed with the WCC within 60 days of the injury or the discovery of a work-related illness.
The statute of limitations for a Maryland workers' compensation claim is two years from the date of the accident that caused the injury. The WCC provides an employee claim form and instructions for claimants.
Consider consulting an experienced workers' compensation attorney for legal advice about your claim or settlement.
Get free quotes and compare policies with TechInsurance
If you are ready to explore workers' compensation coverage options for your Maryland business, TechInsurance can help small business owners compare business insurance policy quotes with one easy online application. Start an application today to find the right insurance coverage at the most affordable price for your business.
Updated: October 11, 2022
RELATED POLICIES FOR YOUR BUSINESS