Delaware workers' compensation insurance
Delaware law requires businesses to carry workers' compensation insurance if they have one employee or more, regardless of whether they're contract, part-time, full-time. This policy provides financial protection against work-related injuries.
Who needs workers' comp insurance in Delaware?
Each state has different workers' compensation laws, and in the state of Delaware, public or private businesses are required to provide employees with workers' compensation insurance. Anyone who performs work or services for a business qualifies as an employee, and must be offered workers' compensation benefits.
This requirement includes corporate officers as well as company employees. However, up to eight corporate officers are able opt out of workers' comp coverage at any one place of business.
Which employees are exempt from workers' compensation insurance in Delaware? 
Although most Delaware employees must be covered by workers' comp insurance, some types of workers are exempt, including:
Low-earning farm workers and domestic workers
Select real estate sales professionals
Individuals who work for the government
Independent contractors (except for those in construction)
Do Delaware business owners need workers' comp coverage?
For the most part, Delaware business owners are not required to be part of their company's workers' compensation insurance plan. Sole proprietors, independent contractors, and business partners are not required to carry this coverage.
Even when it isn't required, business owners should consider purchasing workers' compensation insurance. Individual health insurance plans will often deny work-related claims, meaning that those owners would end up paying for their medical costs out of pocket if injured while on the job.
How much does workers' compensation insurance cost in Delaware?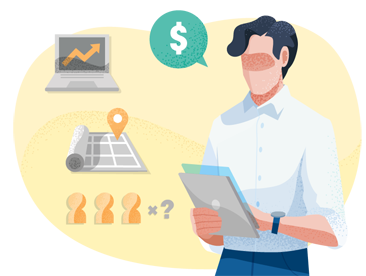 How do you buy workers' compensation in Delaware?
Business owners in Delaware can compare quotes and purchase a policy from private insurance companies. With TechInsurance, you can submit an easy online application to compare quotes from top-rated insurers.
If they do not qualify for insurance through these providers, business owners can buy it from the Delaware Workers' Compensation Insurance Plan, which is the state's workers' comp insurance provider for high-risk businesses.
Delaware employers also have the option to self-insure for their workers' compensation claims. This would mean that they'll pay for their own workers' compensation medical and rehabilitation costs rather than submit them to an insurance carrier.
Compare workers' compensation quotes for Delaware businesses
How does workers' comp work in Delaware? 
Workers' compensation insurance can help in providing coverage for medical treatment and partial wage replacement in the event that an employee suffers a job-related injury or occupational disease. Workers' comp can provide benefits for:
Temporary partial disability
Temporary total disability
Permanent partial disability
Scarring or disfigurement
Job retraining or vocational rehabilitation
Relapse from an injury
For example, if an IT tech or software developer is diagnosed with carpal tunnel syndrome due to keyboard overuse, your workers' comp policy would pay for their medical bills, including long-term medication and physical therapy.
Or, if an employee at your IT consulting firm trips in the office stairwell and suffers a concussion, then your workers' comp policy would pay for their ambulance ride and emergency room visit.
Policies will normally include employer's liability insurance, which can provide coverage for legal expenses should an employee blame the employer for their injury. However, most workers' compensation policies will include an exclusive remedy provision which prohibits the employee from suing their employer if they decide to accept workers' comp benefits.
The Delaware Department of Labor's Office of Workers' Compensation regulates workers' comp in the state. Injured workers must first notify their employer in writing and request medical services. The employer must submit a First Report of Injury or Disease within 10 days to the Office of Workers' Compensation and their insurance carrier before receiving disability benefits.
Explore frequently asked questions through the Delaware Workers' Compensation Office FAQs for more info.
What are the penalties for not having workers' comp in Delaware?
Failure to comply with Delaware workers' compensation laws could result in a fine three times the amount that a business should have paid for their insurance premium over the span of one year.
Workers' comp settlements in Delaware
A workers' compensation settlement is an agreement between the parties that will resolve a workers' compensation claim that benefits both the employee and the employer. A settlement in a workers' compensation claim is a full and final resolution to a request for disability benefits.
While settlements aren't mandatory for employees, if the worker has reached maximum medical recovery or will not need additional treatment, then they can agree to accept a lump sum in exchange for closing the claim. Every Delaware workers' compensation settlement must appear before the Delaware Office of Workers' Compensation.
Workers' compensation statute of limitations in Delaware
In the state of Delaware, the statute of limitations for filing an initial workers' comp claim for an injury is two years, or one year from the time the claimant learned that they have contracted an occupational disease while on the job. Employees are required to report workplace injuries within 10 days and then file a workers' compensation claim within 90 days.
Get free quotes and compare policies with TechInsurance
If you are ready to explore workers' compensation coverage options for your
Delaware business
, TechInsurance can help small business owners compare business insurance policy quotes with one
easy online application
. Start an application today to find the right insurance coverage at the most affordable price for your business.
Updated: July 29, 2022
RELATED POLICIES FOR YOUR BUSINESS