Connecticut workers' compensation insurance
Connecticut requires businesses to carry workers' compensation insurance if they have one employee or more, regardless of whether they're contract, part-time, full-time, and regardless of the employee's average weekly wage.
Who needs workers' comp insurance in Connecticut?
Each state has different workers' compensation laws, and in the state of Connecticut, public or private businesses are required to provide employees with workers' compensation insurance. Whether they're part-time, full-time, or seasonal, anyone who performs work or services for a business qualifies as an employee, and must be offered workers' compensation benefits.
The exception is that you're not required provide a household employee who works fewer than 26 hours per week with workers' compensation coverage.
Additionally, if you are a business owner, sole proprietor, independent contractor, member of an LLC, corporate officer, or a partner in a partnership, you are not required by Connecticut law to carry workers' comp coverage.
However, as medical bills can become quite expensive following an accident, you should consider purchasing this policy even when it's not required. Many individual health insurance plans will typically not cover work-related injuries.
How much does workers' comp insurance cost in Connecticut?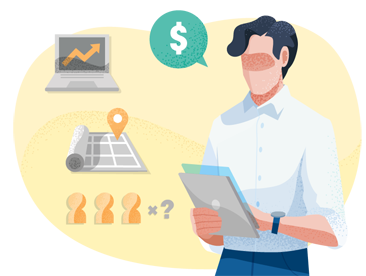 Worker's comp class codes can greatly impact your rate
Among the many factors that help determine your workers' comp premium, the most important factor is the level of risk associated with the different positions at your company. Employers may have a variety of workers' compensation class codes, depending on the work duties performed by their employees.
Insurance companies will assign a risk level to every class code, and then estimate workers' comp costs based on the codes assigned to each of the employees at your business.
How does workers' compensation work in Connecticut?
Workers' compensation insurance can help in providing coverage for medical expenses and partial wage replacement in the event that an employee suffers a job-related injury or occupational disease. Workers' comp can provide benefits for:
Temporary partial disability
Temporary total disability
Permanent partial disability
Scarring or disfigurement
Job retraining or vocational rehabilitation
Relapse from an injury
For example, if an IT tech or software developer is diagnosed with carpal tunnel syndrome due to keyboard overuse, your workers' comp policy would pay for their medical bills, including long-term medication and physical therapy.
Or, if an employee at your IT consulting firm trips in the office stairwell and suffers a concussion, then your workers' comp policy would pay for their ambulance ride and emergency room visit.
Policies will normally include employer's liability insurance, which can provide coverage for legal expenses should an employee blame the employer for their injury. However, most workers' compensation policies will include an exclusive remedy provision which prohibits the employee from suing their employer if they decide to accept workers' comp benefits.
Compare workers' compensation quotes for Connecticut businesses
What are the penalties for not carrying workers' compensation insurance in Connecticut?
There are a variety of penalties for failure to carry workers' compensation insurance for your business.
According to the Connecticut Workers' Compensation Act, if it is reported that you don't have sufficient coverage, the State of Connecticut Workers' Compensation Commission may issue a stop-work order to your business.
This would mean that employees are not permitted to perform their duties until you have workers' comp paid to the insurance carrier. Additionally, if it is found there isn't proper coverage for your employees, a fine of $300 per worker per day may be implemented by the Workers' Compensation Commission (WCC).
Failure to comply could result in fines and penalties that cost you thousands of dollars.
What are workers' comp settlements in Connecticut?
Workers' compensation settlements are agreements between the injured worker, employer, and the insurer to resolve a claim. Most workers' comp claims in Connecticut become a structured settlement, which means the injured employee receives periodic payments in installments over time.
Acceptance of a structured settlement would prevent the worker from claiming future benefits for wage loss and permanent disability.
Connecticut law is very clear that a workers' compensation settlement is full and final for closing a claim. Once the insurer and the employee agree on the terms of a settlement, the employee may not bring any claim or lawsuit against their employer in the future for reimbursement of medical treatment, even if new injuries or occupational diseases related to the original claim are discovered later.
Workers' compensation statute of limitations in Connecticut
Following an injury being sustained on the job, such as damage to a body part or disfigurement, a Connecticut workers' compensation claim must be filed within one year of the first report of the injury. If it's an occupational disease, the claim must be made within three years of the first manifestation of symptoms.
Get free quotes and compare policies with TechInsurance
If you are ready to explore workers' compensation coverage options for your
Connecticut business
, TechInsurance can help small business owners compare business insurance policy quotes with one easy
easy online application
. Start an application today to find the right insurance coverage at the most affordable price for your business.
Updated: July 21, 2022
RELATED POLICIES FOR YOUR BUSINESS