Colorado workers' compensation insurance
Colorado state law requires that all employees, whether they are part-time or full-time, be covered by workers' compensation insurance, with limited exceptions.
Who needs workers' comp insurance in Colorado?
Is workers' compensation insurance required for part-time employees?
All part-time employees in Colorado must be provided with workers' compensation, whether the employee is paid a salary or an hourly wage. However, if the part-time employee is an independent contractor, they may be exempt so long as the employee is classified as such under Colorado law.
An independent contractor can be defined as someone who:
Works without direction or outside the business's control over how their services are performed
Is engaged with a profession, trade, occupation, or business of the service that is being performed
To learn more about who qualifies as an independent contractor, visit the Colorado Department of Labor and Employment (CDLE) Division of Workers' Compensation Employer's Guide.
Do you need workers' compensation if you are self-employed?
Those who are self-employed are not required to have workers' compensation in Colorado. A sole proprietor or any general working partner may not be required to carry this insurance under certain circumstances. The same would apply for corporate officers or a member of a limited liability company (LLC).
State requirements do not consider sole proprietors or business partners as employees, and therefore are exempt from needing to have workers' compensation insurance.
However, a sole proprietor is able to elect for self-coverage, which would provide coverage for any lost wages and other important benefits in the event that a work-related accident or injury occurs.
Given the high costs of medical care, workers' comp is often a smart purchase for your business even when it's not required by state law.
Who is exempt from coverage under the Colorado workers' compensation law?
There are few other exceptions when determining if workers' compensation is mandatory for your business in Colorado.
In addition to those who are self-employed, other individuals who may have an exemption from workers' compensation coverage include:
A handyman who performs maintenance or repair work for a business, when the cost of service is less than $2,000 in a calendar year
Those who perform domestic work for a private homeowner, if the job accrues less than 40 hours per week, or for fewer than five days a week
Real estate agents and brokers who work off commission
Drivers under lease agreements, if the carrier already offers them workers' comp
Ski area operator volunteers
Residential host-home services or support providers
Railroad employees who are already covered by workers' comp under federal law
Compare workers' compensation quotes for Colorado businesses
How much does workers' compensation insurance cost in Colorado?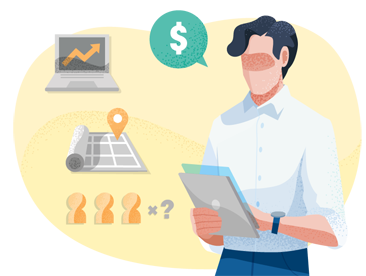 How does workers' compensation work in Colorado?
Workers' compensation insurance is designed to benefit both the employer and their employees. If an employee suffers a work-related injury, worker's comp provides that individual with any necessary medical treatment and wage replacement while they are recovering.
For example, if an IT tech or software developer is diagnosed with carpal tunnel syndrome due to keyboard overuse, your workers' comp policy would pay for their medical bills, including long-term medication and physical therapy.
Or, if an employee at your IT consulting firm trips in the office stairwell and suffers a concussion, then your workers' comp policy would pay for their ambulance ride and emergency room visit.
Many workers' compensation insurance policies include employer's liability insurance, which helps cover business legal expenses in the event that an employee sues their employer over their injury. Employees who do accept workers' compensation benefits, however, cannot sue their employer over their injury due to the exclusive remedy.
The Division of Workers' Compensation helps enforce compliance with Colorado's workers' compensation requirements by providing information to employers and employees alike, as well as assisting in the resolution of related issues and administering self-insurance programs.
Workers' compensation benefits in Colorado
Any employee who suffers a personal injury on the job or who develops an occupational disease will be eligible to receive workers' comp benefits that help cover the cost of their medical treatment during recovery.
The total amount that a worker can receive for temporary disability and permanent partial disability benefits are limited once they have made a full recovery or reached maximum medical improvement (MMI). This limit is dependent on the impairment rating that a medical provider assigns the employee for their injury.
For example, if an employee is at risk of not recovering the full use of their arm after a work injury, once it has been determined that they've recovered as much as possible, their doctor may assign them an impairment rating which reflects the severity of their impairment. An insurance company then will use that doctor-assigned rating to determine if the employee will receive future benefits, and if so, how much they will receive.
What are the penalties for not having Colorado workers' comp insurance?
The penalty for not having workers' comp in Colorado may include steep fines. If your business is found to be lacking the proper coverage, the director of the Colorado Division of Workers' Compensation might issue a cease and desist order, which would require your business to halt operation until the appropriate insurance is obtained.
Uninsured employers may be required to pay fines up to $250 for each day that they did not have insurance coverage. If multiple violations exist, the fine could increase to $500 per day.
If a workers' compensation settlement occurs prior to the penalty, those benefits would increase by 50% if the employer failed to maintain insurance during that period.
Workers' comp settlements in Colorado
Injured workers will typically be offered a workers' compensation settlement rather than workers' comp benefits. If they accept this settlement, the employee will receive a lump sum payment, and then forfeit their right to additional disability benefits.
Occasionally, the insurance carrier will agree to a limited settlement that allows for a worker to maintain their right to coverage for future medical expenses. A structured settlement is another option, which would allow an employee to receive payments as individual installments over a period of time, typically issued monthly or yearly.
If a worker is owed permanent disability benefits, it could also be paid as a lump sum. In this case, however, an insurer would then pay the present value of those benefits, which is discounted by 4% each year. Colorado also maintains a payment cap for determining how much a lump sum can be, and that amount fluctuates each year.
A worker will usually wait to settle their workers' compensation claim until they have reached maximum medical improvement, at which point their condition will have stabilized and no additional medical treatment will be required.
Statute of limitations for workers' compensation claims in Colorado
A workers' compensation claim can only be filed for up to two years following an work-related injury or illness being diagnosed. However, if an employee misses at least three days of work from an event like this, the employer is required to file a report of injury, and it would be from that point that the statute of limitations deadline is established.
If a worker is injured on the job, they are required to report the injury to their employer in writing within four working days of the event occurring. The written notice should either be submitted to the employee's direct supervisor or the company's human resources department.
Should the injury involve an ongoing issue (such as carpal tunnel syndrome) and not necessarily be the result of a specific individual incident, the statute of limitations deadline begins when the employee became aware or should have known that there was a medical condition caused by their employment.
The dependents of an employee who perished as the result of work-related illness or injury will have two years to file a claim petition for death benefits.
Get free quotes and compare policies with TechInsurance
If you are ready to explore workers' compensation coverage options for your
Colorado business
, TechInsurance can help small business owners compare business insurance policy quotes with one
easy online application
. Start an application today to find the right insurance coverage at the most affordable price for your business.
Updated: August 2, 2022
RELATED POLICIES FOR YOUR BUSINESS