Arkansas workers' compensation insurance
Arkansas requires any business that has three or more employees to carry workers' compensation insurance.
Who needs workers' compensation insurance in Arkansas?
Each state has different workers' compensation laws, and in Arkansas, business are required to carry workers' compensation insurance if they employ three or more workers. In certain instances, businesses that have less than three employees are still required to carry workers' comp if they operate in a higher risk industry, such as construction.
Arkansas employers are required to pay the amount of a workers' compensation policy cost in full, and cannot deduct it from an employee's salary.
Who is not required to have workers' compensation insurance in Arkansas?
Any domestic workers or employees of religious, nonprofit, or charitable organizations are not required to carry workers' comp insurance. Additionally, real estate agents and farm laborers are also exempt from needing workers' compensation insurance coverage.
In Arkansas, sole proprietors, independent contractors, and other self-employed individuals are not required to carry workers' comp coverage, but may opt to voluntarily purchase a policy.
Even when it isn't required by law, purchasing a workers' compensation policy is a wise decision to help protect against the high cost of medical bills in the event of any accidental injuries.
How much does a workers' compensation insurance policy cost in Arkansas?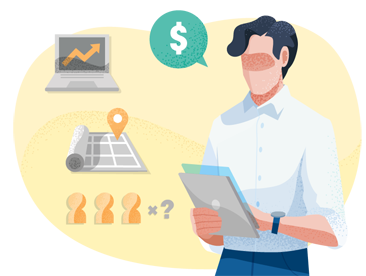 Estimated employer rates for workers' compensation in Arkansas are $0.70 per $100 in covered payroll. Your workers' comp cost is calculated based on a few factors, including:
Annual payroll
Occupation of employees
Number of employees
Coverage limits
Claims history
Small businesses pay an average of roughly $440 per year to more than $600 per year for the policy.
Your industry risks impact the cost of workers' compensation
The risk of a workplace injury at your business will be a primary factor in how much you will pay for for workers' compensation insurance. Some employers have a variety of workers' compensation class codes, a system that helps insurers determine that occupation's exposure to risk.
Your business might even have some office employees whose workers' compensation costs are lower than those who works outside of your office and face more risks out in the field.
Compare workers' compensation quotes for Arkansas businesses
How does workers' comp work in Arkansas?
Workers' compensation insurance covers medical costs and a portion of lost wages during recovery when an employee suffers a work-related injury, or develops an occupational illness.
In Arkansas, an injured employee must visit a doctor chosen by either their employer or the insurance company of the employer in order to qualify for workers' compensation benefits.
Workers' compensation insurance can help cover a variety of medical expenses, such as:
Emergency medical treatment
Visits to the doctor's office
Physical therapy
Vocational training
Total disability benefits
Permanent partial disability benefits
Prescriptions
Death benefits
For example, if an IT tech or software developer is diagnosed with carpal tunnel syndrome due to keyboard overuse, your workers' comp policy would pay for their medical bills, including long-term medication and physical therapy.
Or, if an employee at your IT consulting firm trips in the office stairwell and suffers a concussion or other physical injury, then your workers' comp policy would pay for their ambulance ride and emergency room visit.
What are the penalties for not carrying workers' compensation insurance in Arkansas?
What are workers' comp settlements in Arkansas?
A workers' comp settlement is an agreement made between the employee making the claim and their employer that benefits both parties. This settlement will in effect resolve a workers' compensation claim.
In a workers' comp settlement, the injured worker can choose to receive a lump-sum payment that will help cover their healthcare expenses, any ongoing treatments or therapies, as well as past and future lost wages.
The employer then is free from the liability of the claim, and the employee can no longer bring additional claims against them for the same injury.
A workers' compensation claim can cover an injury from a single accident, or any injuries that may arise over long periods of time, such as repetitive motion disorders, work-related hearing loss, or an occupational disease like mesothelioma.
What is the workers' compensation statute of limitations in Arkansas?
A workers' compensation statute of limitations is the period of time that an employee has to file a workers' comp claim following an injury.
According to Arkansas workers' compensation law, the statute of limitations for a claim is two years following the date of injury, or from the date that a worker should have known that their injury or impairment developed as a result of work-related conditions.
Compare free workers' comp quotes with TechInsurance
If you are ready to explore workers' compensation coverage options for your Arkansas business, TechInsurance can help small business owners compare business insurance policy quotes with one easy online application. Start an application today to find the right insurance coverage at the most affordable price for your business.
Updated: July 6, 2022
350,000+ small businesses protected
Save money by comparing insurance quotes from multiple providers.
RELATED POLICIES FOR YOUR BUSINESS