Wyoming workers' compensation insurance
Workers' compensation insurance covers the cost of work-related injuries. It's required for all Wyoming businesses that have employees, unless they are self-employed or qualify for an exemption.
Who needs workers' compensation in Wyoming?
Each state has different workers' compensation laws, and in Wyoming, workers' compensation insurance is mandatory for all employers, with a few exceptions.
The following occupations are among those excluded from coverage:
Casual laborers
Most professional athletes
Employees of private households
Private duty nurses working for a private party
Federal government employees
Volunteers working for certain organizations
Every business in Wyoming – even those that are likely exempt – must register with the Division of Workers' Compensation and Unemployment Insurance to have their coverage determined.
Do Wyoming business owners need to carry workers' compensation?
Under the Wyoming Workers' Compensation Act, the following business owners are exempt from workers' comp insurance requirements:
However, the above owners may opt to purchase workers' comp. It's a smart financial decision, as your health insurance provider might deny an injury claim if it's related to your work.
How much does workers' compensation coverage cost in Wyoming?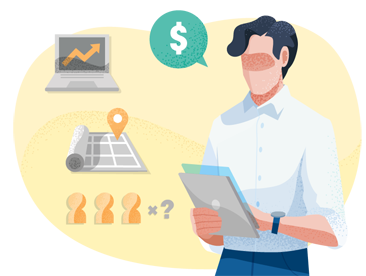 How does workers' comp work in Wyoming?
The goal of workers' compensation insurance is to help employees recover from a work injury and return to their job. It covers the cost of medical bills related to a workplace injury or occupational disease, and also covers part of their lost wages. Employees receive two-thirds of their gross monthly wage at the time of injury during their recovery, if unable to work.
Workers' compensation benefits for injured workers in Wyoming include:
Medical benefits that cover related medical treatment
Travel reimbursement
Temporary total disability benefits
Permanent partial impairment benefits
Vocational rehabilitation
Permanent partial disability benefits
Permanent total disability benefits
For example, if an IT tech or software developer is diagnosed with carpal tunnel syndrome due to keyboard overuse, your workers' comp policy would pay for their medical bills, including long-term medication and physical therapy.
Or, if an employee at your IT consulting firm trips in the office stairwell and suffers a concussion, then your workers' comp policy would pay for their ambulance ride and emergency room visit.
According to the Wyoming Department of Workforce Services (DWS), employees can choose their primary health care provider, but cannot change providers without a referral.
Compare workers' compensation quotes for Wyoming businesses
How to buy workers' compensation coverage in Wyoming
Wyoming is a monopolistic state when it comes to insuring employees against job-related injuries and illnesses. This means you can't buy workers' comp coverage from a private insurance company. Instead, you must buy it from a state-run workers' comp plan.
Wyoming employers with excessive workers' comp insurance claims may not be able to qualify for the Wyoming public workers' comp program. However, since they are required to maintain coverage, they can contact the state's assigned risk pool for "last-resort" coverage.
Unlike in most other states, Wyoming's workers' compensation laws do not allow employers to self-insure their claims. All state employers must purchase workers' comp insurance from the state plan.
Policies purchased through the state fund do not include employer's liability insurance, which protects employers from employee injury lawsuits. Wyoming employers who want this coverage must purchase it as stop-gap coverage. They can usually add it to their general liability policy purchased through a private insurer.
Workers' compensation settlements in Wyoming
A workers' compensation settlement is an agreement between the injured employee, employer, and the Wyoming Department of Workforce Services that will close out a workers' compensation claim in return for the worker or family survivors receiving a lump-sum payment. This benefits both the employee, the employee's family members, and the employer.
Unlike in other states where private insurers provide all or most of the workers' comp insurance coverage, Wyoming's only workers' comp insurer is the state itself. For this reason, settling a claim will involve negotiations with the state.
Workers' compensation statute of limitations in Wyoming
In the state of Wyoming, employees with injuries must file a workers' comp claim by the latest date listed below:
Within one year from the date of injury
Within one year after an employee receives a medical diagnosis for their work-related injury or illness
Within three years from the date of last exposure to the hazard
Workers must notify their employee of injuries within 72 hours, and state statute requires the employer to submit a report of injury within 10 days.
Get free quotes and compare policies with TechInsurance
TechInsurance helps small business owners compare business insurance policy quotes with one easy online application. Start an application today to find the right insurance coverage at the most affordable price for your business.
Updated: June 29, 2022
RELATED POLICIES FOR YOUR BUSINESS