Vermont workers' compensation insurance
Workers' compensation insurance covers the cost of work-related injuries. It's required for all Vermont businesses that have employees, unless they are self-employed or qualify for an exemption.
Who needs workers' compensation in Vermont?
Each state has different workers' compensation laws, and in Vermont, workers' compensation insurance is mandatory for all employers, with a few exceptions.
The state of Vermont strives to maintain near-universal workers' comp coverage. This means that generally everyone working in Vermont must have workers' comp insurance, except employees who meet the following criteria:
Sole proprietors or partners in unincorporated businesses aren't required to have coverage, but they can voluntarily elect to participate
Members of limited liability companies (LLCs) and corporate officers can opt out with the permission of the Vermont Department of Labor
Casual workers – i.e., those who are not employed in the core functions of the business – are exempt
Someone involved with amateur sports
A person working in agriculture or other farm jobs whose employer has an aggregate payroll of less than $10,000 in a calendar year
Certain elected officials and volunteers are excluded from coverage
Even when it's not required, buying workers' compensation is a smart financial move. Your health insurance company might deny a claim for an injury related to your work, which could leave you responsible for costly medical bills.
Are independent contractors required to have workers' comp coverage?
Vermont doesn't require you to provide insurance coverage for an independent contractor unless the person assigns one or more additional workers to your project. If the contractor is working alone, then you won't need to provide coverage.
The state applies a number of tests to determine whether the individual working for you is a contractor or an employee [PDF]. A contractor could be considered an employee for workers' comp purposes if:
You have the ability to tell the person how to complete the work
You provide the tools and other equipment needed for the project
You determine the person's work days and hours
What you pay the person is based on hours on the job versus a fixed project cost
You have employees on staff doing essentially the same work
The person's duties are considered integral to your normal business
How much does workers' compensation coverage cost in Vermont?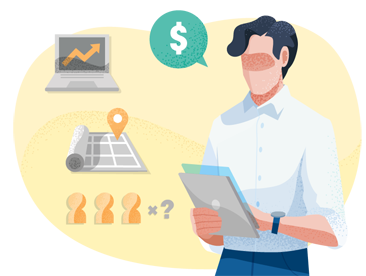 How does workers' compensation work in Vermont?
When an employee suffers a workplace injury or occupational disease, workers' compensation covers the cost of medical care related to the injury or illness. It also provides part of the wages lost while the employee is unable to work.
Workers' compensation benefits [PDF] in Vermont include:
Medical benefits (surgery, hospitalization, prescriptions, and other medical bills)
Wage replacement benefits (also called temporary disability benefits)
Permanent impairment benefits
Vocational rehabilitation
For example, if an IT tech or software developer is diagnosed with carpal tunnel syndrome due to keyboard overuse, your workers' comp policy would pay for their medical bills, including long-term medication and physical therapy.
Or, if an employee at your IT consulting firm trips in the office stairwell and suffers a concussion, then your workers' comp policy would pay for their ambulance ride and emergency room visit.
Policies usually include employer's liability insurance, which can help cover legal expenses if an employee blames their employer for an injury. The exclusive remedy provision in most workers' comp policies prohibits an employee from suing their employer once they accept workers' comp benefits.
How to buy workers' compensation coverage in Vermont
Vermont business owners can compare quotes and purchase a policy from private insurance companies. TechInsurance offers this service with its online insurance marketplace.
If you're unable to purchase a workers' compensation policy through the voluntary market referenced above because of your firm's high-risk status, you can purchase coverage from the Vermont assigned risk market. The National Council on Compensation Insurance (NCCI) manages this insurance pool, serving as the state's workers' comp provider of last resort.
Vermont employers who qualify can self-insure their workers' compensation claims. This means they'll pay for their own workers' comp claims rather than submit them to an insurance company.
To qualify for self-insurance, they must file an application with the Vermont Department of Labor and meet standards for assets, profit, and cash flow. In addition, they must post bonds and provide a guarantee that they can meet excess liability.
Compare workers' compensation quotes for Vermont businesses
What are the penalties for not having workers' comp in Vermont?
Violating Vermont's workers' compensation law is a serious matter. If you fail to comply, you may have to pay a civil penalty of $100 per day for the first seven days you failed to maintain coverage, and $150 for each day after. The daily fines for noncompliance increase after you receive an order to obtain insurance.
The state warns that failure to comply may not only negatively impact your ability to defend yourself in any future workers' comp-related lawsuits, but it may also result in the state shutting down your business.
Vermont law for workers' compensation settlements
A workers' compensation settlement is an agreement between the injured employee, employer, and insurer that cancel a workers' compensation claim. This benefits both the injured worker and the employer.
In Vermont, many workers' comp claims end in settlements. This means the parties to the claim – the injured employee, the company, and the insurer – must agree on a lump-sum payment in return for the employee (or the employee's survivors) agreeing to forgo future payments.
There are two basic forms of settlements in Vermont:
Non-medical, limited settlement: Closes out disability-income benefits, but leaves future medical payments open.
Total lump-sum settlement: Closes out the entire claim in return for the insurer paying the employee (or person's survivors) a specific amount of money.
The Vermont Division of Workers' Compensation must approve all workers' compensation settlements. All entities must submit a Compromise Agreement [PDF] with the division, along with a letter detailing the issues in dispute and disclosing how settlement funds will be distributed.
Once the state approves the settlement, it is final, except in cases of insurer fraud.
Workers' compensation statute of limitations in Vermont
In Vermont, employees must file a workers' comp claim within six months of the injury. That period can be extended if they can prove the employer had prior knowledge of the precipitating incident.
Get free quotes and compare policies with TechInsurance
If you are ready to explore workers' compensation coverage options for your Vermont business, TechInsurance can help small business owners compare business insurance policy quotes with one easy online application. Start an application today to find the right insurance coverage at the most affordable price for your business.
Updated: July 20, 2022
RELATED POLICIES FOR YOUR BUSINESS