Tennessee workers' compensation insurance
Workers' compensation insurance covers the cost of work-related injuries. It's required for all Tennessee businesses that have five or more employees.
Who needs workers' comp insurance in Tennessee?
Each state has different workers' compensation laws, and in Tennessee, workers' compensation insurance is mandatory for all employers with five or more employees.
Similar to several other states, Tennessee applies a complex process for determining whether someone is an employee versus an independent contractor. Family members, part-time workers, and corporate officers are included in determining employee count as long as they meet the state's definition of an employee.
Employers that aren't required to buy workers' comp insurance due to their size can purchase it anyway. However, they must file Form I-8 [PDF], the "Exempt Employers Notice of Acceptance of the Workers' Compensation Act of Tennessee," with the Tennessee Bureau of Workers' Compensation.
If an employer that opts in by filing Form I-8 decides to subsequently cancel its workers' comp insurance, it must notify the state using the same form.
Do Tennessee business owners need to carry workers' compensation?
In most cases, small business owners who are their firm's sole employee are excluded from workers' comp coverage. This applies to:
All of the above may elect to be covered, which is a smart financial move. Your health insurance might not pay for a work-related injury, which could leave you paying expensive medical bills out of pocket. Workers' comp also provides part of the wages you miss while recovering from a workplace injury.
If you decide to get workers' comp on your own, you must file Form I-8 with the state.
How much does workers' compensation coverage cost in Tennessee?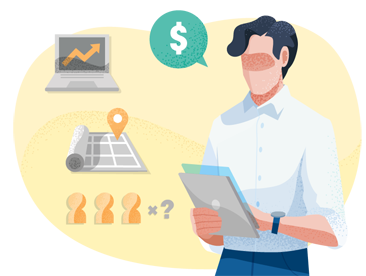 How does workers' comp work in Tennessee?
Workers' compensation insurance covers the cost of medical care for work-related injuries and occupational diseases. It also provides partial wage replacement while employees are recovering and unable to work. The injured employee must see an authorized treating physician to receive benefits.
Tennessee workers' compensation benefits include:
Medical benefits, including mileage reimbursement, surgery, and prescriptions
Temporary total disability benefits
Temporary partial disability benefits
Permanent total disability benefits
Permanent partial disability benefits
For example, if an IT tech or software developer is diagnosed with carpal tunnel syndrome due to keyboard overuse, your workers' comp policy would pay for their medical treatment, including long-term medication and physical therapy.
Or, if an employee at your IT consulting firm trips in the office stairwell and suffers a concussion, then your workers' comp policy would pay for their ambulance ride and emergency room visit.
Workers' comp policies usually include employer's liability insurance, which can help cover legal expenses if an employee blames their employer for an injury. The exclusive remedy provision in most workers' comp policies prohibits an employee from suing their employer once they accept workers' comp benefits.
How to buy workers' compensation insurance in Tennessee
Tennessee business owners can compare quotes and purchase a policy from private insurance companies. TechInsurance offers this service with its online insurance marketplace.
If you're unable to purchase workers' comp insurance through this voluntary market because of your firm's age or high-risk status, you can purchase coverage from Tennessee's assigned risk plan, which is managed by the National Council on Compensation Insurance (NCCI). This is the Tennessee workers' comp provider of last resort.
Tennessee employers who qualify can also self-insure their workers' compensation claims. This means they'll pay for their own workers' comp benefits rather than submit them to an insurance company.
To qualify for self-insurance, you must file an application with the Tennessee Department of Labor and Workforce Development.
Compare workers' compensation quotes for Tennessee businesses
What are the penalties for not having workers' comp in Tennessee?
The penalties for violating Tennessee's workers' compensation statute can be severe. They include:
A 25% penalty for not paying (or not paying in a timely fashion) the state's mandated temporary disability benefits. The penalty goes to the worker involved, not to the state
Up to $5,000 for failure to comply in a timely manner with a specialist's or administrator's designee's order
A penalty for insurance companies or self-insured employers that don't file claim forms on time with the state
Workers' compensation settlements in Tennessee
A workers' compensation settlement is an agreement between the injured worker, the employer, and the employer's insurance company that terminates a workers' compensation claim. This benefits both the employee and the employer.
Tennessee workers' compensation law allows settlements of workers' comp claims. However, state law requires a state workers' compensation judge to review and approve the agreement.
In Tennessee, the workers' comp settlement process is designed to ensure that employees receive the benefits to which they are entitled under state law and that they understand their rights.
Workers' compensation statute of limitations in Tennessee
In Tennessee, employees must file a workers' comp claim within one year of the date of injury or illness.
However, it's the employee's responsibility to notify the employer within 15 days of the injury so that the employer has the opportunity to resolve the issue or take any necessary steps to remediate the situation.
Get free quotes and compare policies with TechInsurance
If you are ready to explore workers' compensation coverage options for your Tennessee business, TechInsurance can help small business owners compare business insurance policy quotes with one easy online application. Start an application today to find the right insurance coverage at the most affordable price for your business.
Updated: July 28, 2022
RELATED POLICIES FOR YOUR BUSINESS