Oklahoma workers' compensation insurance
Workers' compensation insurance covers the cost of work-related injuries. It's required for all Oklahoma businesses that have full-time and/or part-time employees, unless they are self-employed or qualify for an exemption.
Who needs workers' comp insurance in Oklahoma?
Each state has different workers' compensation laws, and in Oklahoma, workers' compensation insurance is mandatory for all employers, with a few exceptions.
The state of Oklahoma strives to maintain near-universal workers' comp coverage. This means that generally everyone working in Oklahoma must have workers' comp insurance, except employees who meet the following criteria:
Certain agricultural employees
Federal government employees
Licensed real estate brokers paid on commission
Certain employees of the Oklahoma Department of Human Services
Employees in small family-run businesses
Do Oklahoma business owners need to carry workers' compensation?
It depends on the type of business you have established. Here's how Oklahoma's business owner coverage requirements work:
Sole proprietors are not considered employees. Therefore, they don't have to buy workers' comp insurance for themselves. They can still choose to buy coverage. This is often a good idea, as health insurance plans might not cover injuries related to your job.
If a sole proprietor hires employees and no other exemption applies, then they must provide workers' comp to their workers.
Members of limited liability companies (LLCs) who own at least 10% of the LLC's capital are non-employees and exempt under state workers' comp law. As with sole proprietors, LLC members can purchase workers' comp insurance to gain financial protection against work injuries.
Stockholder-employees of corporations are treated the same way as LLC members.
Are independent contractors required to have workers' comp coverage?
Independent contractors are not considered employees and are exempt from workers' comp coverage.
The state of Oklahoma uses a complex, multipart test to determine if a worker is a contractor vs. an employee. Factors the government evaluates include:
The nature of the contract
The degree of control exercised by the principal employer over the work
Whether the person works in a distinct occupation or business for others
Whether the person works under supervision or independently
How much does workers' compensation coverage cost in Oklahoma?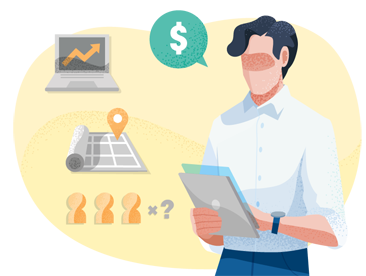 How does workers' compensation work in Oklahoma?
When an employee suffers a workplace injury or occupational disease, workers' compensation covers the cost of medical care related to the injury or illness. It also provides part of the wages lost while the employee is unable to work.
Workers' compensation benefits for injured employees in Oklahoma include:
Medical benefits (all medical treatments, from prescriptions to surgery)
Out-of-pocket expenses related to the injury
Temporary total disability benefits (TTD benefits)
Permanent partial impairment benefits
Permanent total disability benefits
Disfigurement lump-sum awards
Vocational rehabilitation and job-placement services
For example, if an IT tech or software developer is diagnosed with carpal tunnel syndrome due to keyboard overuse, your workers' comp policy would pay for their medical expenses, including long-term medication and physical therapy.
Or, if an employee at your IT consulting firm trips in the office stairwell and suffers a concussion, then your workers' comp policy would pay for their ambulance ride and emergency room visit.
Policies usually include employer's liability insurance, which covers legal costs if an employee sues their employer over an injury. The exclusive remedy provision in most workers' comp policies prohibits an employee from filing a lawsuit once they accept workers' comp benefits.
How to buy workers' compensation coverage in Oklahoma
Oklahoma business owners can compare quotes and purchase a policy from private insurance companies. TechInsurance offers this service with its online insurance marketplace.
If you're unable to purchase workers' comp insurance through the private market because you own a high-risk business, you can purchase coverage from the Oklahoma assigned risk market. CompSource Mutual administers this program for the state.
Oklahoma employers who qualify can self-insure their workers' compensation claims. This means they'll pay for their own workers' comp claims rather than submit them to an insurance carrier.
To qualify for self-insurance, you must apply for an Individual Own Risk Employer Permit with the Oklahoma Workers' Compensation Commission.
Compare workers' compensation quotes for Oklahoma businesses
What are the penalties for not having workers' comp in Oklahoma?
Violating workers' compensation laws is a serious concern. Here are the penalties you'll face if you don't comply with Oklahoma workers' compensation laws:
A $1,000 fine for each day you fail to provide workers' compensation coverage to your employees
Liability for injured worker lawsuits, leaving you vulnerable to civil litigation
A court-ordered shutdown of your business for failure to provide coverage or to pay for the ensuing penalties
Workers' compensation settlements in Oklahoma
A workers' compensation settlement is an agreement between the injured employee, employer, and insurer that cancels a workers' compensation claim. This benefits both the employee and the employer.
In Oklahoma, many workers' comp claims end in settlements. This means the parties to the claim – the injured employee, the employer, and the workers' comp insurer – must agree on a lump-sum payment in return for the employee (or the employee's survivors) agreeing to forgo future payments.
Workers' comp settlements in Oklahoma are subject to complex rules, and a workers' comp judge must approve them.
Workers' compensation statute of limitations in Oklahoma
According to Oklahoma's Administrative Workers' Compensation Act, employees must file a workers' comp claim within two years from one of the following dates:
The date of injury or death
The date of payment of any compensation or wages in lieu of compensation
The date on which authorized medical care began
Get free quotes and compare policies with TechInsurance
If you are ready to explore workers' compensation coverage options for your Oklahoma business, TechInsurance can help small business owners compare business insurance policy quotes with one easy online application. Start an application today to find the right insurance coverage at the most affordable price for your business.
RELATED POLICIES FOR YOUR BUSINESS