Ohio workers' compensation insurance
Workers' compensation insurance covers the cost of work-related injuries. It's required for all Ohio businesses that have employees, unless they are self-employed or qualify for an exemption.
Who needs workers' compensation in Ohio?
Each state has different workers' compensation laws, and in Ohio, workers' compensation insurance is mandatory for all employers, with a couple exceptions.
It's crucial that employers correctly classify individuals as employees or independent contractors. If the employer manages working hours, materials, travel routes, and quality of performance, then the worker is an employee and the business owner is required to provide workers' comp coverage.
One exception is domestic workers, such as housekeepers, babysitters, and gardeners, who earn less than $160 per calendar quarter. If the worker is paid more than that amount during a 13-week period, then the employer is required to have workers' comp coverage.
Volunteers are also not required to be covered by workers' comp insurance, unless their work is for a public employer, such as a volunteer firefighter or emergency medical technician.
Out-of-state workers are subject to workers' compensation laws in their own states. Ohio employees working in other states may need additional coverage.
Do Ohio business owners need to carry workers' compensation?
A sole proprietor or member of a limited liability company or partnership must carry workers' compensation insurance for any employees of the business, but it is optional for owners to have insurance for themselves. However, it's still a good idea to buy coverage for yourself.
Without workers' comp, you may end up paying for expensive medical bills out of pocket, as personal health insurance plans often won't cover work-related injuries. Workers' comp also pays for part of the wages you miss out on while recovering, which can be a huge loss if an injury sidelines you for an extended period.
Is workers' comp mandatory in Ohio for part-time employees?
Ohio employers are required to carry workers' compensation insurance for part-time employees. However, if an injury occurs, the part-time employee's benefits would be calculated according to a specific formula that takes into account how many hours the person usually works.
How much does workers' compensation coverage cost in Ohio?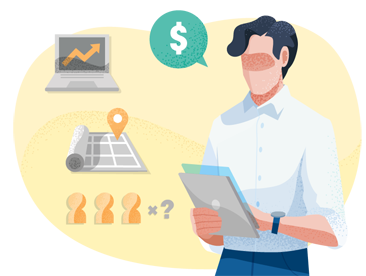 How does workers' comp work in Ohio?
Workers' compensation covers medical and hospital expenses resulting from a workplace injury. It can also cover partial wage replacement if the employee is unable to work because of an impairment.
Workers' compensation benefits for injured employees in Ohio include:
Medical benefits
Temporary total disability benefits
Scheduled loss awards
Permanent total disability benefits
Change of occupation awards
For example, if an IT tech or software developer is diagnosed with carpal tunnel syndrome due to keyboard overuse, your workers' comp policy would pay for their medical bills, including long-term medication and physical therapy.
Or, if an employee at your IT consulting firm trips in the office stairwell and suffers a concussion, then your workers' comp policy would pay for their ambulance ride and emergency room visit.
Workers' compensation in Ohio is a no-fault system, which means that employees are eligible for benefits regardless of who's responsible for the injury.
Compare workers' compensation quotes for Ohio businesses
How to buy workers' compensation coverage in Ohio
Ohio is a monopolistic state when it comes to insuring employees against job-related injuries and illnesses. This means you can't buy workers' comp coverage from a private insurance company. Instead, you must buy it from a state-run workers' comp plan.
Workers' compensation insurance in Ohio must be purchased through the Ohio Bureau of Workers' Compensation (BWC). In limited cases, businesses can qualify for self-insurance.
If an employee suffers a workplace injury or develops an occupational disease, the BWC pays for medical care and lost wages. The employee can see any doctor for their first visit, but then must choose a medical provider certified by the BWC.
Any Ohio workers' compensation claims go through the BWC or the Ohio Industrial Commission (IC).
Does Ohio workers' compensation protect against employee lawsuits?
What are the penalties for not having workers' comp insurance in Ohio?
The Ohio BWC closely monitors and enforces workers' compensation law. Ohio has strict penalties for businesses that fail to comply or that allow coverage to lapse.
It's up to the BWC to set a premium for each employer every year. It will then send the employer a payment schedule. These premiums are based on a company's estimated payroll, which is then re-evaluated each July and adjusted to reflect the actual payroll amount. Employers pay premiums directly to the BWC.
If a company allows coverage to lapse by not paying premiums, or if it does not submit a payroll report on time, penalties are assessed as follows:
Failure to file a payroll report on time is 1% of the premium due ($3 minimum to $15 maximum).
Failure to pay a premium on time would result in a $30 flat fee, along with a charge of up to 15% of the premium due, depending on how late it is received.
The BWC would file assessment liens for nonpayment of premiums and claim costs when there is a lapse in coverage.
If an accident occurs and a policy has lapsed, the employer can be sued by the injured worker for all damages and expenses or file a workers' comp claim. The Ohio BWC would then require that the employer reimburse it for the entire cost of the claim.
Workers' compensation settlements in Ohio
An employer can clear itself from further time and costs by participating in a workers' compensation settlement. Ohio, like other states, accepts settlements as closure of a claim and the employee is not allowed to request additional benefits. Generally, a settlement is paid in a lump sum or a structured settlement, with the total sum paid out over time in increments.
There are four workers' compensation Ohio requirements that must be met to have a claim lead to a settlement:
There must be an employer / employee relationship that establishes that the individual was rightfully entitled to benefits and was not an independent contractor
The injury was "accidental in character and result," which means that an employee must have been following workplace protocol and procedure and was not failing to follow rules, lacking common sense, or inattentive when the injury occurred
The injury was in the course of employment, which essentially means that it happened on the job
The injury arose out of the employment, which means that the injury was caused by a risk or hazard directly related to employment. Often, when the issue is something like toxic exposure, repetitive motion injuries, or similar, there can be disputes as to whether the job and work environment directly led to the injury
A partial settlement could also be awarded to a claim, which is when the employee would settle disability and wage loss benefits but would retain the right to receive future medical treatment.
Workers' compensation statute of limitations in Ohio
According to state law, the workers' compensation statute of limitations is one year from the date of injury. If the worker has an occupational disease, the statute of limitations is two years from the date it was discovered.
Get free quotes and compare policies with TechInsurance
If you are ready to explore workers' compensation coverage options for your Ohio business, TechInsurance can help small business owners compare business insurance policy quotes with one easy online application. Start an application today to find the right insurance coverage at the most affordable price for your business.
Updated: August 30, 2022
RELATED POLICIES FOR YOUR BUSINESS