New Mexico workers' compensation insurance
Workers' compensation insurance covers the cost of work-related injuries. It's required for all New Mexico businesses that have three or more employees.
Who needs workers' comp insurance in New Mexico?
Each state has different workers' compensation laws, and in New Mexico, workers' compensation insurance is mandatory for all employers with three or more employees.
What determines the number of employees for the "three employees or more" benchmark? The state considers every individual who performs the business entity's work to be an employee. If you're a business owner and work in the business, then you are considered an employee for meeting the "three or more" test.
Business owners must also count part-time workers, seasonal workers, and out-of-state workers in the coverage requirement. Once you have three part-time employees, they must receive workers' comp coverage. Construction businesses of any size are required to carry coverage.
Which workers are excluded from workers' comp requirements?
New Mexico strives to maintain near-universal workers' comp coverage. This means that all employees working in the state must be covered by workers' comp insurance, except for:
Household workers
Real estate salespeople
Federal employees covered by the Federal Employees' Compensation Act or other federal programs
The state of New Mexico encourages employers to voluntarily purchase insurance even when it's not required. This will protect their companies from lawsuits.
To secure voluntary coverage, employers in an exempt category must first file an Election to be Subject form [PDF] with the State of New Mexico Workers' Compensation Administration (WCA).
Compare workers' compensation quotes for New Mexico businesses
Are nonprofits exempt from New Mexico workers' comp requirements?
Nonprofits and religious organizations aren't exempt. The coverage requirements are identical to all other employees, and employers should adhere to the same safety practices as any other employer.
Do New Mexico business owners need to carry workers' compensation?
It depends on what type of business owner you are. Here's how New Mexico business owner requirements work:
Sole proprietors and partners can opt out, with approval. They can elect to include themselves in their firm's insurance policy should they find it beneficial.
Corporate officers are also exempt. This applies to executives serving as chairman of the board, president, vice president, secretary, treasurer, or other executive officer and only to those owning 10% or more of the corporation's stock. To activate an exemption, corporate officers must file an Executive Employee Exemption form [PDF] with the New Mexico Workers' Compensation Administration.
Members of a limited liability company (LLC) also qualify for a workers' comp exemption, as long as they own 10% or more of the LLC.
Even though owners and executives can qualify for an exemption, they must be counted as employees to determine whether their firm must provide workers' comp to its other employees. For example, in a firm with one owner and two other employers, the owner must provide workers' comp to the two employees.
Regardless of their exemption status, business owners are strongly encouraged to buy workers' comp for themselves for the financial protection it provides.
For example, a sole proprietor's health insurance provider could deny a claim for a work-related injury, leaving them to pay for expensive medical bills. Workers' comp helps pay for treatment and also supplies part of the wages lost while recovering and unable to work.
How much does workers' compensation coverage cost in New Mexico?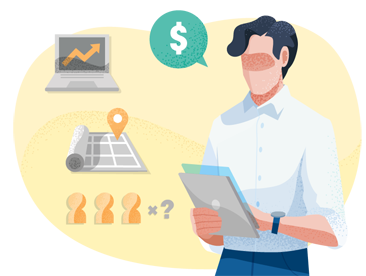 How does workers' comp work in New Mexico?
Workers' compensation insurance covers the cost of medical care for employees who suffer a workplace injury or occupational disease. In addition, it provides indemnity benefits for employees who miss out on wages due to injury or impairment.
The New Mexico Workers' Compensation Act provides benefits to injured workers regardless of who was at fault. Workers' compensation benefits include:
Medical benefits (compensation for all medical bills related to the injury)
Temporary total disability benefits
Temporary partial disability benefits
Permanent total disability benefits
Permanent partial disability benefits
For example, if an IT tech or software developer is diagnosed with carpal tunnel syndrome due to keyboard overuse, your workers' comp policy would pay for their medical bills, including long-term medication and physical therapy.
Or, if an employee at your IT consulting firm trips in the office stairwell and suffers a concussion, then your workers' comp policy would pay for their ambulance ride and emergency room visit.
Policies usually include employer's liability insurance, which helps cover legal expenses if an employee blames their employer for an injury. However, the exclusive remedy provision in most workers' comp policies prohibits an employee from suing their employer if they accept workers' comp benefits.
How is workers' comp coverage purchased in New Mexico?
New Mexico business owners can compare quotes and purchase a policy from private insurance companies. TechInsurance offers this service with its online insurance marketplace.
If your firm's high-risk status makes it impossible to purchase workers' comp insurance through the voluntary market mentioned above, you can purchase coverage from the New Mexico assigned risk pool. Many new small businesses buy this coverage until they have a track record to apply for insurance in the commercial market. However, assigned risk workers' comp is more expensive than voluntary-market insurance.
The National Council on Compensation Insurance (NCCI) manages New Mexico's assigned risk insurance pool, serving as the state's workers' comp provider of last resort.
New Mexico employers who qualify can self-insure their workers' compensation claims. This means they'll pay for their own workers' comp claims rather than submit them to an insurance company.
To qualify for self-insurance, you must file an application with the New Mexico Workers' Compensation Administration and receive written approval from the WCA director.
Alternatively, firms in the same or similar industries can band together in a group self-insurance arrangement. This normally occurs under the auspices of an industry association. As with individual-firm self-insurance arrangements, the WCA director must approve the formation of any group self-insurance programs.
What are the penalties for not having workers' comp insurance in New Mexico?
The consequences of failing to comply with New Mexico's workers' compensation rules include:
The WCA's Employer Compliance Bureau will contact you and request voluntary compliance
If you remain noncompliant, you will be summoned to a Director's Hearing. In this meeting, a designated hearing officer will hear evidence showing your business is required to provide workers' compensation insurance coverage
WCA staff will take that evidence to a district court judge to potentially issue a restraining order against your business. This will allow New Mexico law enforcement to shut down your business
Workers' compensation settlements in New Mexico
A workers' compensation settlement is an agreement between the injured employee, employer, and insurer that resolves a workers' compensation claim. This benefits both the employee and the employer.
In New Mexico, many workers' comp claims end in settlements. This means the parties to the claim – the injured employee, the company, and the insurer – must agree on a lump-sum payment in return for the employee (or the employee's survivors) agreeing to forgo future payments.
Employees who wish to enter into an agreement to take a lump-sum payment in lieu of future benefits, including their right to future medical treatment, must file a Petition for Lump Sum Payment form [PDF]. However, the state only grants this petition in a few specific situations.
The New Mexico Workers' Compensation Administration must approve all settlements.
Workers' compensation statute of limitations in New Mexico
In New Mexico, employees must file a workers' comp claim within one year after the employer's insurance provider has started (or failed) to pay them.
Get free quotes and compare policies with TechInsurance
If you are ready to explore workers' compensation coverage options for your New Mexico business, TechInsurance can help small business owners compare business insurance policy quotes with one easy online application. Start an application today to find the right insurance coverage at the most affordable price for your business.
RELATED POLICIES FOR YOUR BUSINESS