New Hampshire workers' compensation insurance
Workers' compensation insurance covers the cost of work-related injuries. It's required for all New Hampshire businesses that have employees, including part-time workers.
Who needs workers' compensation in New Hampshire?
Each state has different workers' compensation laws, and in New Hampshire, workers' compensation insurance is mandatory for all employers with one or more employees, including part-time employees and family members.
New Hampshire strives to maintain near-universal workers' comp coverage. However, a limited number of employee types are exempt from coverage, including:
Railroad employees involved in interstate commerce whose rights are defined under the Federal Employers' Liability Act
Direct sellers
Qualified real estate brokers, agents, or appraisers
Individuals who provide services related to the residential placement of disabled people
Do New Hampshire business owners need to carry workers' compensation?
According to New Hampshire workers' compensation law, it depends on the type of business owner:
Sole proprietors, partners, and self-employed individuals are exempt from buying workers' comp insurance for themselves. However, they may purchase it if desired. Given the high cost of medical expenses, that can be a smart business decision, especially for high-risk professions.
Sole proprietors who operate as subcontractors under a general contractor, but who have no employees, may need to buy insurance if required to do so by their general contractor.
Officers of a corporation or members of a limited liability company (LLC) are exempt as long as their business entity has three or fewer executives or members. However, once a fourth executive or LLC member joins the business, workers' compensation insurance is required.
Any entity with employees, regardless of the number of executives or members, must have workers' compensation coverage for those employees.
Are independent contractors required to have workers' comp coverage?
How much does workers' compensation coverage cost in New Hampshire?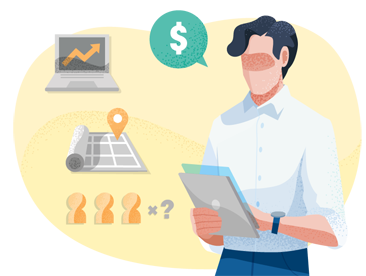 How does workers' comp work in New Hampshire?
When an employee suffers a workplace injury or develops an occupational disease, workers' compensation insurance covers reimbursement for medical bills, from emergency care to medication and physical rehabilitation. It also provides weekly disability payments while the employee recovers.
Workers' compensation benefits for injured workers in New Hampshire include:
Medical benefits (all medical care related to the injury)
Temporary total disability benefits
Permanent total disability benefits
Temporary partial disability benefits
Permanent partial disability benefits
Permanent impairment award
Vocational rehabilitation
For example, if an IT tech or software developer is diagnosed with carpal tunnel syndrome due to keyboard overuse, your workers' comp policy would pay for their medical expenses, including long-term medication and physical therapy.
Or, if an employee at your IT consulting firm trips in the office stairwell and suffers a concussion, then your workers' comp policy would pay for their ambulance ride and emergency room visit.
Policies usually include employer's liability insurance, which can help cover legal expenses if an employee blames their employer for an injury. However, the exclusive remedy provision in most workers' comp policies prohibits an employee from suing their employer once they accept workers' comp benefits.
Compare workers' compensation quotes for New Hampshire businesses
How is workers' comp purchased in New Hampshire?
New Hampshire employers can compare quotes and purchase a workers' comp policy from private insurance companies. TechInsurance offers this service with its online insurance marketplace.
If your firm's high-risk status makes it impossible to purchase an insurance policy through the voluntary market mentioned above, you can purchase coverage from the New Hampshire assigned risk pool.
The National Council on Compensation Insurance (NCCI) manages New Hampshire's assigned risk insurance pool, serving as the state's workers' comp provider of last resort.
The final way to secure workers' compensation insurance is to self-insure your workers' comp claims. This means your company will pay for its own workers' comp claims rather than submit them to an insurance company.
To become self-insured, you must first file an application [PDF] with the New Hampshire Workers' Compensation Division. You must also:
Provide a financial guarantee, such as a surety bond
Purchase excess insurance coverage for claims that exceed your guarantee amount
What are the penalties for not having workers' comp in New Hampshire?
Violating New Hampshire's workers' compensation statute is a serious concern. If you fail to provide required coverage to your employees, you may be liable for a one-time fine of $2,500 and a fine of $100 per employee for each day you failed to provide coverage.
The state may also suspend your ability to conduct business in the state if you remain noncompliant with its workers' comp requirements.
Workers' compensation settlements in New Hampshire
A workers' compensation settlement is an agreement between the injured employee, employer, and insurer that resolves a workers' compensation claim. This benefits both the employee and the employer.
In New Hampshire, many workers' comp claims end in settlements. This means the parties to the claim – the injured employee, the company, and the insurer – must agree on a lump-sum payment. In return, the employee (or the employee's survivors) agree to a suspension of future benefit payments.
Employees who wish to enter into an agreement to take a lump-sum payment in lieu of future benefits must secure the permission of the New Hampshire Workers' Compensation Division.
Workers' compensation statute of limitations in New Hampshire
In New Hampshire, employees must file a workers' comp claim within two years from the date of injury or illness.
In cases in which an occupational injury or illness emerged slowly and the employee didn't immediately notice it, the person must file a claim as soon as they become aware of the problem (or should have become aware by virtue of reasonable diligence).
Get free quotes and compare policies with TechInsurance
If you are ready to explore workers' compensation coverage options for your New Hampshire business, TechInsurance can help small business owners compare business insurance policy quotes with one easy online application. Start an application today to find the right insurance coverage at the most affordable price for your business.
RELATED POLICIES FOR YOUR BUSINESS