Montana workers' compensation insurance
Workers' compensation insurance covers the cost of work-related injuries. It's required for all Montana businesses that have employees, including part-time workers.
Who needs workers' compensation insurance in Montana?
Each state has different workers' compensation laws, and in Montana, workers' compensation insurance is mandatory for all employers with one or more employees, including part-time, seasonal, and occasional employees.
Certain employees are exempt from having workers' comp insurance, including:
Household or domestic workers
Real estate, securities, or insurance salespeople paid by commission
Newspaper carriers
Freelance writers paid by the article
Licensed barbers or cosmetologists working via contract with a cosmetology firm
Ministers of a church or member of a religious order
Do Montana business owners need to carry workers' compensation?
Under the regulations of the Montana Workers' Compensation Regulations Bureau, the following owner types are exempt from workers' comp coverage:
However, all of the above may choose to purchase workers' comp. This can be a smart business decision, as your health insurance provider could deny a claim for a work-related injury, leaving you with expensive medical bills.
Family members who work as employees of sole proprietors and partners are exempt as long as the business owner claims them on a federal tax return.
Are independent contractors required to have workers' comp coverage?
How much does workers' compensation coverage cost in Montana?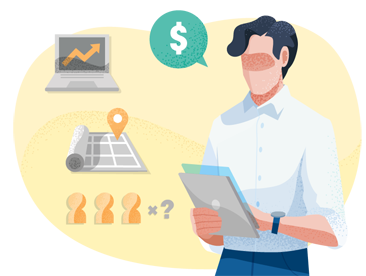 How does workers' compensation work in Montana?
Workers' compensation insurance covers the cost of medical care for work-related injuries and occupational diseases. It also provides wage-loss benefits while the injured worker recovers, typically equal to two-thirds of their gross wages.
Workers' compensation benefits [PDF] in Montana include:
Medical benefits
Temporary partial disability benefits
Temporary total disability benefits
Permanent partial disability benefits
Permanent total disability benefits
Rehabilitation benefits
For example, if an IT tech or software developer is diagnosed with carpal tunnel syndrome due to keyboard overuse, your workers' comp policy would pay for their medical treatment, including long-term medication and physical therapy.
Or, if an employee at your IT consulting firm trips in the office stairwell and suffers a concussion, then your workers' comp policy would pay for their ambulance ride and emergency room visit.
Policies usually include employer's liability insurance, which can help cover legal expenses if an employee blames their employer for an injury. However, the exclusive remedy provision in most workers' comp policies prohibits an employee from suing their employer if they accept workers' comp benefits.
Compare workers' compensation quotes for Montana businesses
How is workers' comp purchased in Montana?
Montana business owners can compare quotes and purchase a policy from private insurance companies. TechInsurance offers this service with its online insurance marketplace.
If your firm's high-risk status makes it impossible to purchase workers' comp insurance through the voluntary market mentioned above, you can purchase coverage from the Montana State Fund.
The final way to secure workers' compensation insurance is to self-insure your workers' comp claims. Having self-insurance means your company will pay for its own workers' comp claims rather than submit them to an insurance company.
To become self-insured (generally limited to large firms), you must first secure permission from the Montana Workers' Compensation Regulations Bureau.
What are the penalties for not having workers' comp in Montana?
If you fail to comply with Montana's workers' comp laws, you may be forced to pay double the amount of what you would have paid for insurance. The minimum such penalty is $200, but if the uninsured period is lengthy, the penalty amount can be substantial.
Workers' compensation settlements in Montana
A workers' compensation settlement is an agreement between the injured employee, employer, and insurer that resolves a workers' compensation claim. This benefits both the employee and the employer.
In Montana, many workers' comp claims end in settlements. This means the parties involved in the case must agree on a lump-sum payment amount. In exchange, the employee (or the employee's survivors) must agree to the insurer stopping future benefit payments.
Employees who wish to enter into an agreement to take a lump-sum payment in lieu of future benefits must file an application with the Workers' Compensation Court. If a settlement can't be reached, employers and employees must first engage in mediation before requesting a hearing with Montana's Workers' Compensation Court.
Workers' compensation statute of limitations in Montana
In the state of Montana, employees must file a workers' comp claim within one year from the date of the injury or illness, or within two years if the employee can prove not knowing about the injury.
Get free quotes and compare policies with TechInsurance
If you are ready to explore workers' compensation coverage options for your Montana business, TechInsurance can help small business owners compare business insurance policy quotes with one easy online application. Start an application today to find the right insurance coverage at the most affordable price for your business.
Updated: September 19, 2022
RELATED POLICIES FOR YOUR BUSINESS