Minnesota workers' compensation insurance
Workers' compensation insurance covers the cost of work-related injuries. It's required for all Minnesota businesses that have employees, including part-time workers.
Who needs workers' compensation in Minnesota?
Each state has different workers' compensation laws, and in Minnesota, workers' compensation insurance is mandatory for all employers with one or more employees, including part-time workers.
Although nearly all Minnesota employees must be covered by employer-provided workers' compensation insurance, some worker categories are exempt. These include:
Household employees in a private home who are making less than $1,000 over a three-month time span
Farm workers who don't exceed certain income thresholds, as well as the farmer / employer's immediate family members (spouse, parent, or child)
Casual employees not working in normal operations of the business or working just once or infrequently, not permanently or regularly
Do Minnesota business owners need to be covered by workers' compensation?
Minnesota business owners aren't required by law to carry workers' compensation coverage. This includes:
The following requirements apply to the prior exceptions:
For sole proprietors, immediate family members of the owner can also be excluded from the workers' comp plan. Once a non-immediate family member is hired, you must provide workers' comp coverage
For partnerships, workers' comp coverage isn't necessary when every worker is a partner or an immediate family member of a partner
For corporate officers, you must own 25% or more of a closely held corporation with 10 or fewer employees and less than 22,880 hours of payroll in the prior year. A spouse, parent, or child of a corporate officer is exempt. However, employees who are more distantly related to an officer may file a written exclusion request
For LLC members, the requirements are similar to those for corporate officers of closely held corporations
If you are a sole proprietor or one of the above exempt individuals, it's still a good idea to carry workers' comp coverage. If you're injured on the job, there's a chance your health insurance provider could deny the claim, leaving you with expensive medical bills.
How much does workers' compensation coverage cost in Minnesota?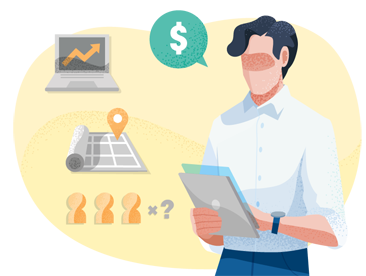 How does workers' comp work in Minnesota?
Workers' compensation covers the cost of medical treatment and provides wage-loss benefits for employees who are injured on the job or who develop an occupational disease.
Workers' compensation benefits for injured workers in Minnesota include:
Temporary total disability benefits (TTD)
Temporary partial disability benefits (TPD)
Permanent total disability benefits (PTD)
Permanent partial disability benefits (PPD)
Medical benefits (surgery, prescriptions, physical therapy, and other medical expenses)
Vocational rehabilitation services
For example, if an IT tech or software developer is diagnosed with carpal tunnel syndrome due to keyboard overuse, your workers' comp policy would pay for their medical expenses, including long-term medication and physical therapy.
Or, if an employee at your IT consulting firm trips in the office stairwell and suffers a concussion, then your workers' comp policy would pay for their ambulance ride and emergency room visit.
Most policies include employer's liability insurance, which helps cover legal expenses if an employee blames their employer for an injury. However, the exclusive remedy provision in most workers' comp policies prohibits an employee from suing their employer if they accept workers' comp benefits.
Compare workers' compensation quotes for Minnesota businesses
How to buy workers' compensation coverage in Minnesota
Minnesota business owners can compare quotes and purchase a policy from private insurance companies. TechInsurance offers this service with its online insurance marketplace.
If a business is unable to qualify for insurance from a private company, a business owner can buy it from the state's assigned risk residual market, the Minnesota Workers' Compensation Assigned Risk Plan. This is the insurance plan of last resort for high-risk Minnesota employers.
Minnesota employers also have the ability to self-insure [PDF] their workers' compensation claims. This means they'll pay for their own workers' comp medical and rehabilitation costs rather than submit them to their workers' comp insurer.
What are the penalties for not having workers' comp in Minnesota?
If you fail to meet Minnesota workers' comp insurance requirements, you may be ordered to not hire employees until you secure insurance.
You also may be ordered to pay a fine of up to $1,000 per employee / per week in which you failed to provide workers' compensation insurance.
If one of your employees suffers a job-related injury or illness during the time you lacked insurance, you may be ordered to pay the person's workers' comp benefits back to the state, along with a penalty of 65% of those benefits.
Other penalties may apply, as well.
Workers' compensation settlements in Minnesota
A workers' compensation settlement is an agreement between the involved parties that will resolve a workers' compensation claim. This benefits both the employee and the employer. A settlement in a Minnesota workers' compensation claim falls into two categories:
To-date settlements: Resolve the case up to the settlement date, but leave open the possibility of further action after the settlement date
Full and final settlements: Close the case completely, but may leave open the right to continue submitting medical claims
All settlements are subject to the approval of a workers' compensation judge at the Minnesota Office of Administrative Hearings.
Workers' compensation statute of limitations in Minnesota
Get free quotes and compare policies with TechInsurance
If you are ready to explore workers' compensation coverage options for your Minnesota business, TechInsurance can help small business owners compare business insurance policy quotes with one easy online application. Start an application today to find the right insurance coverage at the most affordable price for your business.
Updated: September 27, 2022
RELATED POLICIES FOR YOUR BUSINESS