Michigan workers' compensation insurance
Workers' compensation insurance covers the cost of work-related injuries. It's required for all Michigan businesses that have employees, based on specific criteria.
Who needs workers' compensation insurance in Michigan?
Each state has different workers' compensation laws, and in Michigan, workers' compensation insurance is mandatory for all employers with employees, based on a specific set of criteria.
An employer must carry workers' compensation insurance in Michigan if:
It employed one or more people for 35 hours or more per week for 13 weeks or longer during the preceding 52 weeks (or one year)
It is a private employer that regularly employs three or more people at a time (this includes part-time employees)
It is an agricultural employer that employs three or more employees for 35 hours or more per week for 13 or more consecutive weeks
It is a household that employs domestic servants for 35 hours or more per week for 13 weeks or longer during the preceding 52 weeks
It is a public employer
Do Michigan business owners need to be covered by workers' compensation?
It depends on the type of business owner:
Sole proprietors: Since a sole proprietor is not employed by another person, they are not required to have workers' compensation insurance. However, if that person employs other people, workers' comp coverage would be required
Partnerships, limited liability companies (LLCs), or small corporations: If a business is a partnership, LLC, or small corporation, employees must be covered by workers' comp insurance. Michigan uses the IRS-20 Factor Test [PDF] for determining whether workers are classified as employees who need workers' comp or independent contractors
Michigan workers' comp law indicates that in some cases, partners and corporate officers who are also shareholders of small companies might be exempt. If all of a company's employees are also partners or owners in a small business, it is possible to obtain an exemption certificate from the Insurance Compliance Division.
Even when workers' comp isn't required, it's a good idea to buy this coverage. Your health insurance might deny a claim for a work-related injury, leaving you to pay expensive medical bills. Workers' comp also provides part of the wages you miss while recovering from a work injury, which could save your business if you're unable to work for an extended time.
How much does workers' compensation coverage cost in Michigan?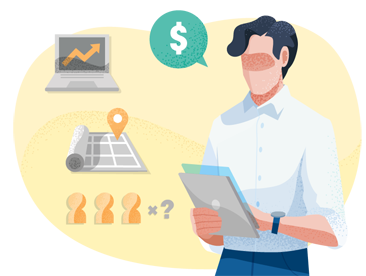 How are workers' compensation rates determined in Michigan?
Michigan offers a competitive marketplace for insurance, which means that insurers are able to set their own rates and business owners can compare workers' compensation insurance quotes before purchasing a policy.
The cost of workers' comp insurance varies significantly depending on the risk of each occupation at a business. People who have occupations that are considered to be lower risk (desk jobs, for example) will cost less to insure than those with occupations that are inherently riskier (like contractors or roofers).
Occupational risk is determined with a National Council on Compensation Insurance (NCCI) class code assigned to each occupation.
How does workers' comp work in Michigan?
When an employee suffers a workplace injury or develops an occupational disease, workers' compensation covers the cost of their medical bills. It also provides disability benefits while the employee is recovering and unable to work.
Workers' compensation benefits [PDF] for injured workers in Michigan include:
Medical care, from emergency treatment to physical rehabilitation
Wage loss benefits for temporary or permanent disability
Specific loss benefits (amputation involving bone loss, loss of vision, total loss of hearing, or death)
Vocational rehabilitation benefits, including retraining for a new career
For example, if an IT tech or software developer is diagnosed with carpal tunnel syndrome due to keyboard overuse, your workers' comp policy would pay for their medical expenses, including long-term medication and physical therapy.
Or, if an employee at your IT consulting firm trips in the office stairwell and suffers a concussion, then your workers' comp policy would pay for their ambulance ride and emergency room visit.
Compare workers' compensation quotes for Michigan businesses
What are the penalties for not having workers' comp in Michigan?
The Michigan Workers' Disability Compensation Agency (WCA) enforces the Workers' Disability Compensation Act.
If an employer is not providing the correct insurance coverage required by the Workers' Disability Compensation Act, the Workers' Disability Compensation Agency can petition the court to seek an order that prohibits the company from employing anyone else until the right coverage is secured.
The employer could also be subject to a fine of $1,000 or imprisonment of between 30 days and six months. Every day that the employer is uninsured is a separate offense. The business could also face legal action from the employee in civil court.
Workers' compensation settlements in Michigan
Most workers who are injured on the job are able to pursue a workers' compensation settlement. Michigan closes a worker's rights to additional benefits once a workers' compensation claim is settled, with a few exceptions.
If the worker has injuries that require ongoing medical treatment, the insurance company will occasionally continue to pay for that treatment. Usually, however, a claim will result in either a lump sum or structured settlement.
Lump sum settlements: When a lump sum settlement is reached, it means that the insurance company will make a single payment that resolves the entire workers' comp claim. Sometimes, the insurer will make a voluntary payment, which means that it will pay the worker a certain amount of payments, but the worker could still demand additional benefits in the future
Structured settlements: A structured settlement would exist in lieu of a lump sum. Instead of a single payment by the insurance company, it will make periodic payments according to a set schedule (monthly, annually, etc.). This is still a settlement that closes the case to future benefits, even though it is paid over the course of time
To close workers' compensation settlements in Michigan, any settlement needs to be heard before the Michigan Workers' Disability Compensation Agency.
Workers' compensation statute of limitations in Michigan
According to Michigan workers' compensation laws, an injured worker must give notice to the employer within 90 days of the injury, either verbally or in writing. It's then the worker's responsibility to file a claim within the workers' compensation statute of limitations. State law requires that a claim is made within two years of the date of injury.
Get free quotes and compare policies with TechInsurance
If you are ready to explore workers' compensation coverage options for your Michigan business, TechInsurance can help small business owners compare business insurance policy quotes with one easy online application. Start an application today to find the right insurance coverage at the most affordable price for your business.
Updated: September 30, 2022
RELATED POLICIES FOR YOUR BUSINESS