Louisiana workers' compensation insurance
Workers' compensation insurance covers the cost of work-related injuries. It's required for all Louisiana businesses that have employees, including part-time and seasonal workers.
Who needs workers' compensation in Louisiana?
Each state has different workers' compensation laws, and in Louisiana, workers' compensation insurance is mandatory for all employers with one or more employees, including part-time workers, seasonal staff, and minors.
Although nearly all employees in the state of Louisiana must be covered by employer-provided workers' compensation insurance, some worker categories are exempt. These include:
Domestic employees
Real estate salespeople
Individuals who volunteer for nonprofit organizations
Select musicians and performers
Some public officials
Any professions covered under federal law, such as railroad workers
Employers may also be required to provide coverage if they hire uninsured contractors or subcontractors to perform work. Louisiana offers an online test to help determine whether a contractor should be considered an employee and therefore would be entitled to workers' comp coverage.
Do Louisiana business owners need to be covered by workers' compensation?
If a Louisiana business is owned by a sole proprietor or independent contractor, and the company does not have employees, those owners aren't required by law to carry workers' comp coverage.
It is still recommended that exempt individuals carry workers' compensation insurance, as in the event they are injured on the job, there's a chance their health insurance provider could deny the claim and leave them with expensive medical bills.
How much does workers' comp insurance cost in Louisiana?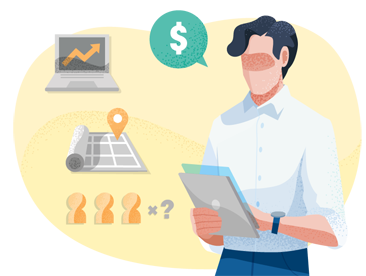 How does workers' comp work in Louisiana?
Workers' compensation covers the cost of medical treatment and provides wage-loss benefits for employees who are injured on the job or who develop an occupational disease.
Workers' compensation benefits for injured workers in Louisiana include:
Medical benefits (surgery, prescriptions, physical therapy, and other medical care)
Permanent partial disability benefits (PPD)
Permanent total disability benefits (PTD)
Temporary total disability benefits (TTD), which is usually two-thirds of the average weekly wage
Catastrophic injury benefits
Vocational rehabilitation services
For example, if an IT tech or software developer is diagnosed with carpal tunnel syndrome due to keyboard overuse, your workers' comp policy would pay for their medical expenses, including long-term medication and physical therapy.
Or, if an employee at your IT consulting firm trips in the office stairwell and suffers a concussion, then your workers' comp policy would pay for their ambulance ride and emergency room visit.
Most policies include employer's liability insurance, which helps cover legal expenses if an employee blames their employer for an injury. However, the exclusive remedy provision in most workers' comp policies prohibits an employee from suing their employer if they accept workers' comp benefits.
Compare workers' compensation quotes for Louisiana businesses
How to buy workers' compensation coverage in Louisiana 
Louisiana businesses have a few different options when it comes to buying workers' comp insurance:
Business owners can compare quotes and purchase a policy from private insurance companies. TechInsurance offers this service with its online insurance marketplace
If a business is unable to qualify for insurance from a private company, a business owner can buy it from the state fund. Louisiana operates a competitive state fund operated by the Louisiana Workers' Compensation Corporation (LWCC)
Louisiana employers also have the ability to self-insure their workers' compensation claims. This means they'll pay for their own workers' comp medical and rehabilitation costs rather than submit them to their workers' comp insurer. To self-insure, employers must meet requirements and fill out an application [PDF] with the Louisiana Office of Workers' Compensation Administration
What are the penalties for not having workers' comp in Louisiana?
If a business fails to meet Louisiana workers' comp insurance requirements, they could be served an injunction requiring that it stop doing business until the correct workers' compensation policies are obtained.
They may also be ordered to pay a fine of up to $250 per employee for the first violation, and potentially $500 per employee for each subsequent violation, up to a $10,000 maximum fine.
Employers can also be charged with a criminal violation for willfully failing to provide workers' comp insurance, or for providing false information to the Louisiana Workforce Commission.
Workers' compensation settlements in Louisiana
A workers' compensation settlement is an agreement between the involved parties that will resolve a workers' compensation claim. This benefits both the employee and the employer. In most Louisiana workers' compensation cases, the insurer will pay the injured worker a lump sum.
Once a settlement is agreed upon, it includes disability benefits and medical coverage, and the worker can no longer make claims against the insurance company or the employer related to that accident or injury. Louisiana workers' compensation laws encourage benefits to be paid over an ongoing basis rather than as a lump-sum payment.
If an employee is already receiving workers' compensation benefits, they can obtain a commutation, which means that the weekly benefits could be added up and discounted to the present value (up to an 8% reduction per year), and then get paid out as a lump sum. This avoids a full and final settlement.
Workers' compensation statute of limitations in Louisiana
The statute of limitations for workers' comp claims in Louisiana is one year from the date of injury or illness, or one year from the date that a disability was diagnosed. It can be no longer than two years following the date of the injury event.
The employer must report injuries with a First Report of Injury form within 10 days from the point that they learn about an injury or illness that resulted in more than one week of lost time at work.
Workers' comp claim disputes are mediated by the Louisiana Office of Workers' Compensation Administration.
Get free quotes and compare policies with TechInsurance
If you are ready to explore workers' compensation coverage options for your Louisiana business, TechInsurance can help small business owners compare business insurance policy quotes with one easy online application. Start an application today to find the right insurance coverage at the most affordable price for your business.
RELATED POLICIES FOR YOUR BUSINESS