Iowa workers' compensation insurance
Workers' compensation insurance covers the cost of work-related injuries. It's required for most Iowa businesses that have employees, unless they are self-employed or qualify for an exemption.
When are you required to carry workers' comp in Iowa?
Each state has different workers' compensation laws, and in Iowa, workers' compensation insurance is mandatory for all employers, with a few exceptions.
In Iowa, almost every business that has employees is required to purchase workers' comp. However, employees that fall under specific categories are exempt from workers' compensation coverage.
Exemptions include:
Casual or domestic employees earning less than $1,500 from their employer for 12 months prior to getting injured
Agricultural employees working for businesses with a cash payroll of less than $2,500 for 12 months prior to getting injured
Individuals working for a relative
Exchange labor in agriculture
The president, vice president, secretary, or treasurer of a family farm corporation and their spouses, along with the parents, brothers, sisters, children, stepchildren, and their spouses of either the officers or their spouses
Firefighters and police officers who are entitled to any benefits under a firefighter pension fund
Employees who are entitled to any benefits under the rule of any liability or method of compensation, for federal employees, established by the U.S. Congress
Do Iowa business owners need to include themselves under a workers' compensation insurance policy?
Workers' comp requirements for business owners and sole proprietors depends on the individual's ownership status. For example:
Additionally, the president, vice president, secretary, and treasurer of a corporation (other than a family farm corporation) are allowed to exempt themselves from workers' comp coverage. But, no more than four corporate officers are allowed to exempt themselves. These individuals must also file a Rejection of Workers' Compensation or Employers' Liability Coverage [PDF] report with Iowa Workforce Development.
Even when not required by law, however, it's still recommended that any individual purchase a workers' compensation policy for the added protection that it offers. Health insurance providers may decline claims for work-related injuries, so it may be a good idea to carry this policy for yourself, especially if you work in an environment that involves a lot of physical labor.
Can exempt employees and owners voluntarily join their firm or organization's workers' comp plan?
While LLC members, business partners, and sole proprietors, are not categorized employees in the The State of Iowa, they may elect to participate in a workers' comp plan if they desire to do so.
Businesses that have exempt employees are able to include these individuals in their workers' comp program by adding them to their workers' compensation policy.
How much does workers' compensation insurance cost in Iowa?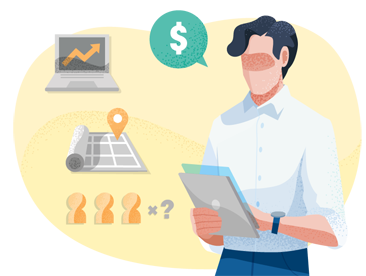 How does workers' comp work in Iowa?
If an employee becomes injured during the course of their employment through a company, workers' comp can help cover the cost of their medical care, as well as provide disability benefits for any injured workers while they are recovering or who have suffered a permanent impairment.
Policies usually include employer's liability insurance, which covers legal costs if an employee sues their employer over an injury. The exclusive remedy provision in most workers' compensation policies prohibits an employee from filing a lawsuit once they accept workers' compensation benefits.
Benefits for workers' comp in Iowa include:
Health and medical treatment for an injury
Temporary partial disability benefits
Temporary total disability benefits
Permanent partial disability benefits
Permanent total disability benefits
Benefits during a healing period
Vocational rehabilitation benefits
Death benefits
For example, if an IT tech or software developer is diagnosed with carpal tunnel syndrome due to keyboard overuse, your workers' comp policy would pay for their medical expenses, including long-term medication and physical therapy.
Or, if an employee at your IT consulting firm trips in the office stairwell and suffers a concussion, then your workers' comp policy would pay for their ambulance ride and emergency room visit.
For additional details, please visit the Iowa Division of Workers' Compensation (DWC) FAQ.
How do business owners buy workers' compensation insurance in Iowa?
Iowa business owners can compare quotes and purchase a policy from private insurance companies. TechInsurance offers this service with its online insurance marketplace.
If they're unable to get insurance from standard-market insurers, they can buy
If you're unable to purchase workers' comp insurance through the private market because you own a high-risk business, you can purchase it from the Iowa Assigned Risk Pool, which is administered by the National Council on Compensation Insurance (NCCI). Businesses are able to access this "last-resort" coverage through a local insurance broker after providing written proof of declinations from two insurance companies.
Employers in Iowa who qualify can self-insure their workers' compensation claims. This means they'll pay for their own workers' comp claims rather than submit them to an insurance carrier.
To become a workers' compensation self-insurer, a business must:
Submit proof to the insurance commissioner that they have the ability to pay the required benefits for any worker that is eligible for workers' comp payments
Hold a security in trust so that it is available should any worker make a claim for benefits
Businesses must also provide occasional proof that they still have the financial resources to follow through on their workers' compensation obligations.
What are the penalties for not having workers' comp insurance in Iowa?
Violating the Iowa workers' compensation law could result in severe penalties. If an employer fails to maintain workers' comp coverage or pay any required benefits from its self-insurance account, the state may pursue multiple civil penalties against the business, including:
Civil injunctions
Revocation of any insurance and self-insurance privileges
An assessment of up to $1,000 payable to the Second Injury Fund of Iowa for not properly filing employee injury reports
An assessment payable to the Second Injury Fund of Iowa for habitually failing to begin paying weekly benefits within 11 days following a claim
An employee award of up to 50% of additional benefits for the delaying or denial of weekly benefits
Compare workers' compensation quotes for Iowa businesses
Workers' compensation law for settlements in Iowa
A workers' compensation settlement is an agreement between the injured employee, employer, and insurer that will benefit both the employee and the employer and close out a workers' compensation claim.
In Iowa, settlements can take two forms:
An agreement settlement
A compromise settlement
An agreement settlement occurs when the parties involved determine the amount and extent of compensation due related to the incident. Once they agree on the amount, they submit the details to the Iowa Workers' Compensation Commissioner, who confirms the compensability of the claim and preserves the employee's future rights to benefits.
A compromise settlement happens when there's a dispute about whether the employee deserves compensation. Once the parties agree on a settlement amount, it is submitted to the state's Workers' Compensation Commissioner. Following approval, both parties give up any future rights to further compensation for the settled injury.
Workers' compensation statute of limitations in Iowa
According to Iowa code, employees with injuries must file a workers' compensation claim no later than two years after the injury occurred, or three years after the payment of their last benefit.
The time limit for filing a First Report of Injury form is within four days of injury notice or knowledge of an injury that causes an employee to lose at least three days of work, permanent injury, or death.
Compare free workers' comp quotes and compare policies with TechInsurance
If you are ready to explore workers' compensation coverage options for your
Iowa business
, TechInsurance can help small business owners compare business insurance policy quotes with one
easy online application
. Start an application today to find the right insurance coverage at the most affordable price for your business.
RELATED POLICIES FOR YOUR BUSINESS