Florida workers' compensation insurance
Workers' compensation insurance is required for all Florida businesses with four or more employees. Construction businesses must have coverage for every employee.
Who needs workers' comp insurance in Florida?
Each state has different workers' compensation laws, and in Florida, workers' compensation is required when a business has four or more employees, either full- or part-time.
Florida law states that special considerations are in place for certain employees, including corporate officers:
Sole proprietors and partners are excluded from the Florida workers' compensation law, but they are able to purchase coverage by filing for an election of coverage.
Construction businesses are required to carry workers' compensation coverage for each employee, including contractors. They are allowed to exempt up to three corporate officers if each of those officers have ownership of at least 10% of the company. In addition, contractors are responsible for ensuring that their subcontractor provides coverage for their workers.
Agricultural businesses with six or more year-round employees and/or 12 or more seasonal employees that work longer than 30 days are required to provide workers' comp coverage.
Unless part-time employees fall into one of the three exceptions above, then they will need workers' compensation. On the other hand, independent contractors are not considered employees, and employers are not required to carry workers' compensation insurance for those individuals unless they are in the construction industry.
Why is workers' compensation insurance important for businesses?
Workers' compensation is a crucial part of small business insurance because it can cover medical bills, recovery costs, and partial missed wages if an employee is injured at work. It can also cover funeral costs and benefits to an employee's family in the event of a fatality on the job.
By mandating this insurance coverage, Florida officials provide an incentive for businesses to keep employees safe and reduce the risk of lawsuits against business owners. That means that your small business insurance can:
Cover medical expenses and lost wages if an employee is injured
Pay legal expenses if an employee files a lawsuit related to a work injury or illness
Comply with applicable workers' comp laws
TechInsurance helps a variety of industries compare quotes and buy Florida workers' compensation insurance policies. Whether you own a photography studio, computer repair service, or something altogether different, we can help you find a policy to meet your business needs.
Compare workers' compensation quotes for Florida businesses
Do you need workers' compensation if you are self-employed? 
Whether or not a self-employed person is required to have workers' compensation insurance depends on the nature of the work being performed.
The State of Florida requires that even self-employed workers in the construction industry carry workers' compensation insurance. If you're in an industry that has less risk of workplace injuries and you have no employees, you might still decide that it's a good idea to have coverage.
Even though you have medical insurance, if you get injured on the job, workers' compensation coverage can help with lost wages and other expenses that would not be covered under your regular medical policy.
How much does workers' compensation insurance cost in Florida?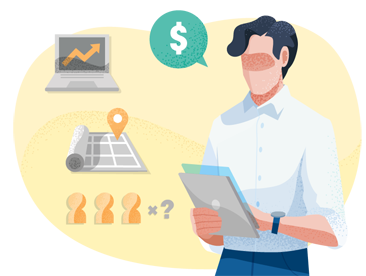 How do workers' compensation benefits work in Florida? 
Each state has certain nuances to its workers' comp law, and Florida workers' compensation is no exception. However, there are some general concepts as to how the process works.
If an employee is injured on the job, it's likely that costs will be incurred that need to be covered by workers' comp insurance. Costs could include:
Hospital or other ongoing medical bills
Ambulance transportation
Temporary total disability payments
Permanent disability payments
After a work-related injury or illness, the employee can make a claim against the employer's workers' compensation insurance policy. If accepted by the insurance company, the employee could receive funds to cover medical expenses and a disability payment plan.
For example, if an IT tech or software developer is diagnosed with carpal tunnel syndrome due to keyboard overuse, your workers' comp policy would pay for their medical bills, including long-term medication and physical therapy.
Or, if an employee at your IT consulting firm trips in the office stairwell and suffers a concussion, then your workers' comp policy would pay for their ambulance ride and emergency room visit.
What are the penalties for not having workers' compensation in Florida?
Employers that operate without the required workers' comp coverage risk civil penalties. Usually, that means that the business would be subject to a stop-work order that requires all operations to stop until it complies with the law and pays a penalty. The fee is typically equal to twice the insurance premium the employer would have paid for the preceding two-year period.
If the employer does not comply with a stop-work order, the action could result in criminal charges. You could also be subject to a stop-work order if:
Payroll is understated or concealed
Employees' duties are misrepresented or concealed
There is any attempt to avoid paying workers' compensation premiums
Workers' comp settlements in Florida
In some cases, an employee might try to negotiate for a larger workers' comp settlement.
If an injured employee decides to escalate a claim to a larger settlement negotiation, the employer should remain involved in that discussion to reduce liability in a lawsuit if one arises.
Before an insurance company will settle a claim, it will ask the employee and his or her attorney to calculate the total amount of anticipated related expenses.
The insurance company won't simply pay a settlement based on all of these calculations. Often, the insurance company and the employee's attorney will spend some time negotiating before reaching a settlement that is agreeable to all parties. If they can't reach an agreement, there could be a hearing or lawsuit.
Statute of limitations for workers' compensation claims
Statutes of limitations are designed to protect against claims that are filed too long after an injury has occurred. Florida laws state that an employee cannot claim benefits, receive medical treatment, or sue for lost wages if the period is more than two years from the date of injury.
There are a few exceptions to the two-year statute of limitations:
If the injured worker is a minor
If the injured worker is mentally incompetent
If the worker was misled by the employer about coverage entitlement
If the insurance carrier did not properly inform the worker of his or her rights
There is no statute of limitations in Florida for care associated with medical prosthetic devices
The primary regulatory agency for Florida workers' compensation claims is the Division of Workers' Compensation, which is a part of the office of Florida's Chief Financial Officer.
Get free quotes and compare policies with TechInsurance
TechInsurance helps small business owners compare business insurance policy quotes with one
easy online application
. Start an application today to find the right insurance coverage at the most affordable price for your business.
Updated: June 9, 2022
RELATED POLICIES FOR YOUR BUSINESS