Alaska workers' compensation insurance
Alaska requires that any business with one or more employees to purchase workers' comp insurance, unless the employer has received approval to self-insure their workers' compensation claims.
Who needs workers' compensation insurance in Alaska?
Each state has different workers' compensation laws, and in Alaska, almost every employee in the state must be covered under a workers' compensation policy. Workers' compensation benefits help pay for the medical treatment of any ill or injured employees when the cause of their ailment or disability is work-related.
Employees who perform certain jobs are excluded from this, including:
Part-time babysitters
Noncommercial cleaning employees
Anyone hired to harvest crops and similar transient or part-time employees
Sports officials working during amateur events
Contracted entertainers
Workers involved with commercial fishing
Contracted taxi drivers
Individuals receiving temporary state assistance benefits and are performing required work activities
Professional hockey players and coaches, provided that they own health insurance
Contracted real estate agents
Drivers for transportation companies
Are special-case employees eligible for workers' comp in Alaska?
The workers' comp statute under Alaska state law requires that employees to be covered by worker's compensation under special circumstances, which include:
Work-study high school students are to be treated as state employees and receive worker's comp.
Volunteer emergency medical technicians (EMTs) are to be treated as state employees.
Special public safety officers recognized by the Commissioner of Public Safety should receive state workers' comp protection.
State board and commissions members are to be treated as state employees.
Volunteer firefighters should receive coverage as though they were employees of local fire departments.
Civil defense and disaster relief workers should receive state workers' comp benefits.
Anyone called into active duty by the Alaska State Defense Force should receive state workers' comp coverage.
Are contractors and subcontractors required to have worker's comp in Alaska?
Any Alaska employers who hire independent contractors or subcontractors must provide workers' compensation coverage for them, unless the contractor is able to provide proof of insurance.
If a contractor or subcontractor is hired that lacks workers' comp insurance, you may be liable for their medical expenses through your own workers' comp policy should they get injured on the job.
Compare workers' compensation quotes for Alaska businesses
Do business owners in Alaska need workers' compensation insurance coverage?
Workers' compensation coverage requirements for Alaska business owners depends on their ownership status.
Sole proprietors and independent contractors are not required by law to purchase workers' comp insurance for themselves. However, they must comply with state law for covering their employees. The same logic applies for any partners in a business partnership structure.
Limited liability company (LLC) members who have at least a 10% ownership interest in the company are exempt from a worker's comp coverage requirement.
Executive officers of municipal or religious organizations are exempt from coverage, unless their corporation wants to cover them. The same applies for executive officers of legally registered nonprofit corporations.
Executive officers with at least a 10% ownership share are exempt from workers' comp coverage.
Although these individuals are eligible to opt out of their firm's workers' comp plan, they must maintain coverage for all of their employees, including relatives or friends who work with them (subject to the exceptions listed earlier). They are also able to elect to participate in a workers' comp plan if they think it would be beneficial to them.
How much does a workers' compensation insurance policy cost in Alaska?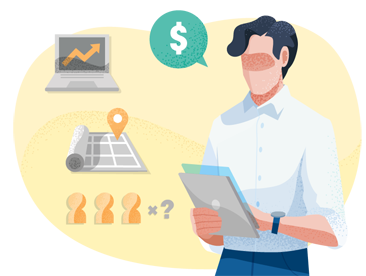 Workers' compensation employer rates Alaska are estimated to be around $2.25 per $100 in covered payroll. Your cost is based on a number of factors, including:
Payroll
Location
Number of employees
Industry risk factors
Coverage limits
Claims history
How does workers' comp work in Alaska? 
Business owners in Alaska can compare quotes and purchase a worker's compensation policy from private insurance companies. TechInsurance can offer this service with an online insurance marketplace.
In the event that two nonaffiliated commercial insurers decline your workers' compensation application, you would be eligible to purchase coverage from the Alaska Assigned Risk Pool, which is guided by the National Council on Compensation Insurance (NCCI).
A second option for acquiring workers' comp is to provide payment for your own claims, more commonly known as self-insurance. In order to qualify for this, employers in Alaska must:
Have operated in state for a minimum of five years
Employ 100 or more workers
Maintain at least $10,000,000 in net worth
Have the financial resources to meet both current and future obligations as highlighted in the Alaska workers' compensation law
Successfully implement a safety/loss program
Provide claims handling either through their own employees or via independent, licensed adjusters operating within the state of Alaska
Post any required security bond(s)
If the employer meets these conditions, they are able to apply for a certificate of self-insurance by completing application Form 07-6129 and submitting it to the Alaska Department of Labor and Workforce Development's Division of Workers' Compensation. The application is required to be accompanied by a number of supporting documents.
What are the penalties in Alaska for not owning workers' comp insurance?
Alaska employers who fail to obtain workers' compensation insurance for their employees will be subject to a number of civil penalties, including:
Fines of up to $1,000 per employee, for each day in which they fail to provide workers' comp coverage
Having their business shut down by the state (via a stop-work order)
Being required to pay $1,000 in additional penalties for each day they violate a stop-work order
Inability to pursue job contracts with the state of Alaska
Personal liability to pay any benefits for sick or injured workers who should have been covered by workers' comp at the time of their workplace injury or illness
Potential criminal fines of up to $10,000 and one year in prison
Workers' comp settlements in Alaska
A workers' comp settlement, also known as a "compromise and release," resolves a disputed workers' comp claim. In this situation, employees agree to give up some or all of their claimed benefits from worker's comp in exchange for an agreed-upon sum.
Lump-sum payments of permanent total disability benefits, which the Alaska workers' compensation board has granted, are not permissible unless the affected employee can establish that it is in their best interest.
If the state does approve a settlement, employees are also able to consider receiving the payment in the form of a structured settlement. This settlement involves dividing the payment into a series of installments over time.
Alaska state law presumes that it is not in the person's best interest to waive any future vocational rehabilitation or medical care benefits to which a worker is entitled. However, Alaska will allow any waivers of future rehab or medical benefits if an employee can prove that it is in their best interest.
Workers' compensation statute of limitations in Alaska
Statutes of limitations are designed to protect against claims that are filed too long after an injury has occurred.
Other than claims relating to occupational disease, the maximum allotted time for filing a workers' comp claim in Alaska is four years from the date of injury.
Get free quotes and compare policies with TechInsurance
TechInsurance helps small business owners compare business insurance policy quotes with one
easy online application
. Start an application today to find the right insurance coverage at the most affordable price for your business.
Updated: July 6, 2022
RELATED POLICIES FOR YOUR BUSINESS