Alabama workers' compensation insurance
Workers' compensation insurance covers the cost of work-related injuries. It's required for all Alabama businesses that have employees.
Who needs insurance, according to Alabama workers' compensation law?
Workers' compensation insurance requirements vary based on location, and according to Alabama state law, workers' comp is only mandatory for employers that have five or more employees. However, Alabama business owners should still consider workers' compensation coverage to help provide financial and legal protection in the event an employee is injured on the job.
All full-time or part-time employees are considered an "employee," as are the officers of a corporation or S corp, or the associated members of a limited liability company (LLC).
A few examples of companies that are not required by law to provide workers' comp coverage include anyone that hires:
Domestic workers
Farm laborers
Casual workers
Municipalities having a population of fewer than 2,000 residents (based on the most recent U.S. Census)
While Alabama employers are not required to include any employees who fall into the above categories in their workers' compensation program, they all do have eligibility to be covered by workers' comp.
Workers' comp for construction contractors in Alabama
Workers' comp is an important policy for industries in which workers face a higher risk of injury, such as construction and the building trades. For this reason, any contractors in Alabama that are working on the construction of detached single-family dwellings must also carry this coverage.
Any business where workers face a risk of injury should strongly consider buying workers' compensation insurance, even when it's not required.
Do Alabama business owners need to be covered by workers' comp?
Sole proprietors and independent contractors are strongly encouraged to consider purchasing a workers' comp policy, even when it isn't required for them.
A workers' comp policy can provide coverage for your medical expenses and recoup part of any lost wages in the event that you experience temporary disability from a related job injury.
If you submit a claim to your personal health insurance provider that an injury you sustained is related to your work, you claim may be denied, and it would be up to you to pay these bills out of your own pocket.
How much does workers' compensation insurance cost in Alabama?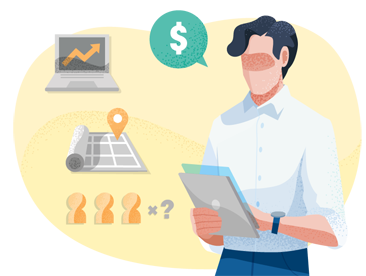 How does workers' comp work in Alabama? 
Alabama business owners can compare quotes and purchase a policy from private insurance companies. TechInsurance can help business owners find quotes for workers' compensation coverage with our free online application.
If you're unable to acquire insurance from two commercial insurers, you should be able to purchase it from the Alabama Assigned Risk Pool, which is administered by the National Council on Compensation Insurance (NCCI). Through this pool, you can access "last-resort" coverage via a local insurance broker after providing written proof of two declinations for insurance coverage.
Assigned-risk coverage in Alabama is approved by the state courts and is also guaranteed by the Alabama Insurance Guarantee Association.
Alabama employers who qualify for this coverage can provide self-insurance for their workers' compensation claims. In other words, you would pay for your own workers' comp claims as opposed to submitting your claim to an insurance company.
In order to qualify for self-insurance, Alabama employers must meet the following requirements:
A net worth of at least $5 million
A ratio of 1 or higher for current assets/liabilities
Positive net income for their business in each of the prior three years
What do workers' comp benefits include in Alabama?
Following any workplace injuries to an employee, Alabama workers' compensation law states that an employer must provide coverage for any medical treatment and part of the employee's lost wages for missed days of work following a three-day waiting period.
Workers' compensation benefits include:
Paid medical bills for an occupational disease or job injury
Payment of two-thirds of an employee's wages while they recover
Temporary total disability benefits
Temporary partial disability benefits
Permanent partial disability benefits
Permanent total disability benefits
Vocational benefits (covered training for other suitable employment)
Death benefits in the event of a fatal incident
Workers' compensation policies usually include employer's liability insurance, which helps cover any legal expenses in the event that an employee holds their employer responsible for an injury. However, there is an exclusive remedy provision within many workers' comp policies which prohibits an employee from suing their employer if they choose to accept workers' comp benefits.
To receive these benefits, a First Report of Injury form must be filled out 15 days following the date of the injury or from the date that the employer was notified of the injury. You can find out more through the Workers' Compensation Division of the Alabama Department of Labor.
What are the penalties for not having workers' comp insurance?
If your business is required to have workers' compensation insurance in Alabama, and you it is learned that you do not have the proper coverage, you could face a fine of $1,000 per employee for every day in which you failed to provide this required coverage. Potential additional penalties include:
An order to close your business until you and your business are compliant with the state's workers' comp requirements
Criminal penalties, which includes additional fines, jail time, or a combination of both
Compare workers' compensation quotes for Alabama businesses
Workers' comp settlements in Alabama
A workers' compensation settlement is defined as an agreement between an injured employee, the employer, and the insurer as an event that will bring a workers' compensation claim to a close. This event will benefit both the claimant and the employer.
In Alabama, these settlements typically come in the form of a lump-sum payment. However, some settlements are paid over time, if the injured worker lacks sufficient income to survive.
Workers' comp settlements in Alabama vary from the rest of the U.S. in that they do not necessarily avoid the possibility of providing future medical benefits. The state will allow the reopening of an injured worker's claim if the person's condition continues to worsen within a span of four years.
Workers' comp settlements in Alabama can be reached with or without a formal hearing.
Statutes of limitations for workers' compensation claims
The statute of limitations for workers' comp claims in Alabama is that they are to occur within two years of the date of the injury or of the last voluntary payment of disability income benefits, whichever comes later.
Get free quotes and compare policies with TechInsurance
TechInsurance helps small business owners compare business insurance policy quotes with one
easy online application
. Start an application today to find the right insurance coverage at the most affordable price for your business.
Updated: June 16, 2022
RELATED POLICIES FOR YOUR BUSINESS