General liability vs. workers' comp insurance
General liability insurance and workers' compensation insurance both cover injuries at your business, but they apply to different people and situations. Learn the benefits and differences of each policy, and why you may need each of them.
What is general liability insurance?
A general liability insurance policy protects your business against common business risks, such as a customer's bodily injury, damage to a customer's property, copyright infringement, and advertising injury.
Most general liability policies also include product liability coverage, or you can add this coverage as an endorsement to your general liability policy. Product liability insurance can help cover your legal expenses if someone claims that a product you sold, made, or distributed caused an injury or property damage
A general liability insurance policy would protect your small business in the following situations:
A customer has a slip and fall injury at your business.
You or an employee cause property damage to a customer's home or business while visiting their property.
Someone sues your business for libel or slander over something you post on social media, your company website, or an advertisement.
A rival business sues your company for a claim of copyright infringement.
A customer claims they were injured using one of your products and files a product liability lawsuit.
What is workers' compensation insurance?
Workers' compensation insurance covers your employee's medical costs when they experience work-related injuries and illnesses, as well as any resulting legal expenses you may face.
In most states, workers' compensation laws require small businesses to carry workers' compensation insurance coverage if they have one or more employees.
Regular health insurance is unlikely to cover a personal injury or illness that happens on the job, and would instead be handled by workers' compensation claims.
Workers' comp coverage includes:
Employee medical expenses and recovery costs (such as physical therapy) for work-related injuries and illnesses.
An employee's lost wages if they're unable to work because of a work-related injury or illness.
Employee death benefits and dependent support payments in case of a fatal injury at work.
Employer's liability expenses, such as legal fees and settlements, in case an injured employee sues your business over a workplace injury.
What are the key differences between general liability and workers' comp?
General liability insurance covers third-party business risks, including your cost of dealing with a customer injury at your business.
General liability typically isn't required by state laws, although some states require it for certain professional licenses such as real estate agents, general contractors, and the medical field. You might also need this coverage to qualify for contracts or leases.
Workers' comp insurance covers work-related employee injuries and illnesses, along with your legal costs in case an employee sues you over such an injury or illness. This coverage is required in most states for any business with one or more employees.
Do technology professionals need both general liability and workers' comp?
You may need both types of coverage to fully cover your risks. You'll likely need workers' comp insurance if you have one or more employees.
Some sole proprietors and independent contractors also buy workers' comp for its medical benefits and lost wages coverage, in case they're injured on the job and unable to work. Your health insurance company is unlikely to pay your medical bills for a work-related mishap.
As mentioned above, general liability is typically only mandated for licensing requirements in certain professions. Many small business owners buy general liability coverage even when it's not required, because it insures against so many risks.
General liability insurance is recommended for your small business if you:
Have customers and other non-employees visit your business.
Use third-party locations for your business activities, such as visiting someone else's property.
Promote your business through social media or regular advertising.
Find the right liability insurance for your business
How much does general liability and workers' compensation cost for small businesses?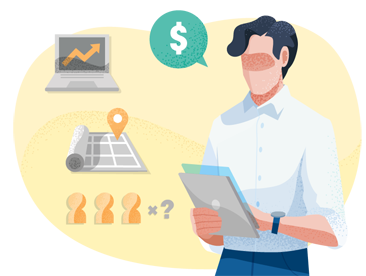 Among TechInsurance customers, the average insurance cost of general liability insurance is $42 per month and the average cost of workers' comp insurance is $45 per month.
Your own exact premiums for both policies will depend on several factors, including:
The type of business you have and industry risks.
The size of your business operations.
How many employees you have.
Your policy limits and deductibles.
Protect your business with the right small business insurance
TechInsurance is a trusted insurance expert for all small businesses owners, with extensive knowledge of the IT sector. We help you compare quotes on business insurance policies from top-rated providers, buy policies, and manage coverage online.
By completing TechInsurance's easy online application today, you can compare free quotes for many types of insurance from top-rated U.S. carriers. TechInsurance insurance agents are available to help answer any questions you may have on the small business insurance policies your business needs.
Once you find the right policies for your small business, you can begin coverage in less than 24 hours and get a certificate of insurance for your small business.
RELATED POLICIES FOR YOUR BUSINESS