What is the difference between general liability and errors and omissions insurance?
Errors and omissions insurance (E&O) and general liability insurance are types of liability insurance that protect your business in different ways. Let's look at why so many small business owners buy both types of insurance coverage.
What is liability insurance?
A liability insurance policy covers the costs of civil lawsuits, such as attorney fees, court costs, judgments, and settlements. The different types of coverage insure against different types of claims. That's why most small business owners need more than one type of liability policy for their risk exposures.
Errors and omissions coverage and general liability insurance both protect you from third-party lawsuits (lawsuits from non-employees). The difference is what triggers the policy.
What is errors and omissions insurance?
Errors and omissions insurance covers lawsuits brought by clients who claim you were negligent in the professional services you provide. Depending on the industry, you may see this coverage referred to as professional liability insurance or malpractice insurance.
The term errors and omissions insurance is typically used by IT professionals, real estate agents, tax preparers, and insurance agents. Accountants, architects, consultants, engineers, and healthcare professionals refer to this policy as professional liability coverage.
Even a frivolous lawsuit could wind up costing you a fortune in attorney's fees and court costs. E&O coverage can protect your business if a client claims that your business:
Lost their data
Failed to complete a project
Made coding errors
Forgot to update their software
Breached a contract
What is general liability insurance?
General liability insurance covers lawsuits brought by third parties who claim your business caused a bodily injury, property damage, or other personal injury. General liability can cover lawsuits concerning:
A customer's slip-and-fall accident at your office
Accidental damage to a client's laptop, smartphone, or other client property
An advertising injury, such as slander, libel, or copyright infringement
A general liability policy is often the first type of business insurance that small business owners need. This is especially true for workplaces open to clients or the public, as opposed to home-based businesses, as it covers risks associated with visitors.
Find small business insurance quotes
Why should my business carry both policies?
An expensive lawsuit can endanger both your business and personal assets. That's why so many small business owners choose both E&O and general liability insurance, for the financial protections they offer. And in some situations, these coverages are required.
Why carry errors and omissions insurance?
E&O insurance doesn't just protect your business from financial loss, it's often required to qualify for a contract or a license. This policy demonstrates to potential clients that you'll be able to compensate them if your business makes a professional error.
You could save money on an E&O policy by bundling it with cyber insurance, also known as cyber liability insurance. This bundle, known as tech E&O, can benefit a wide range of businesses in the tech sector who could wind up in court over a mistake.
Why carry general liability insurance?
General liability insurance covers the cost of third-party property damage and compensates clients or visitors who are injured on your commercial property. Some states require this coverage as part of their licensing requirements for construction contractors or developers.
If you rent your workspace, your landlord may require that you carry general liability insurance. If you own your own workspace, it can protect your assets.
General liability coverage will often help pay the immediate medical expenses of a person who is injured at your business location, which can help you avoid a lawsuit altogether.
To save money on insurance for your office, purchase a business owner's policy (BOP) that includes both commercial property insurance and general liability insurance.
How much does business liability insurance cost?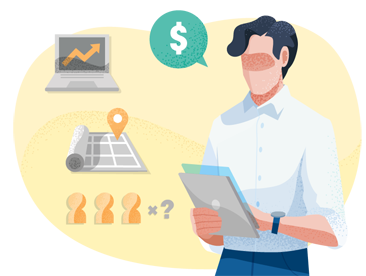 TechInsurance customers pay an average of $42 per month for general liability insurance, and $61 per month for errors and omissions insurance.
The cost of E&O and general liability insurance for tech professionals and other businesses depends on several factors, such as:
Your type of business and the work you do
Your location
Number of employees
Deductible
The policy limits you choose
Your claims history
Get free quotes and buy online with TechInsurance
By completing TechInsurance's easy online application today, you can compare free insurance quotes from A-rated U.S. insurance carriers to find the best insurance rates on all types of small business insurance. TechInsurance insurance agents are available to help answer any questions you may have, what your business needs are, and help you find the right coverage.
Once you find the right policies for your small business, you can begin coverage in less than 24 hours and get a certificate of insurance for your small business.
Updated: August 25, 2023
RELATED POLICIES FOR YOUR BUSINESS