South Dakota workers' compensation insurance
Workers' compensation insurance is optional for South Dakota businesses. However, many small business owners choose to get coverage because it's a cost-effective option that can help you save money in the long run.
Who needs workers' compensation in South Dakota?
South Dakota is different from most other states because it does not require workers' compensation insurance.
Though South Dakota state law doesn't mandate worker's comp for any employers, it does recommend it. A lawsuit brought by an injured worker could bankrupt a small business.
Employers who opt for coverage in the South Dakota Workers' Compensation program gain legal protection against claims that their negligence caused an employee injury.
Workers' compensation covers the cost of medical expenses and partial lost wages for work-related injuries and occupational diseases. It also provides lost wage benefits for temporary or permanent disability.
Do South Dakota business owners need to carry workers' compensation?
Sole proprietors, independent contractors, and other self-employed individuals are strongly encouraged to buy workers' comp insurance even when it's not required. In fact, their clients might require them to carry this coverage.
If you get injured on the job, a workers' compensation policy can help pay for medical costs and provide part of the wages you lose during your temporary disability.
Your personal health insurance provider might deny your claim if your injury is related to your work, which would leave you paying these bills on your own.
How much does workers' compensation coverage cost in South Dakota?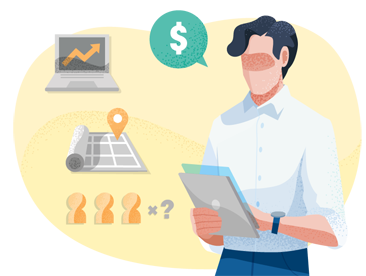 How does workers' comp work in South Dakota?
The South Dakota Department of Labor & Regulation regulates and administers South Dakota workers' compensation laws.
Workers' compensation benefits for injured workers in South Dakota include:
Medical care, including the cost of surgery, hospitalization, and prosthetics
Temporary total disability benefits, equal to two-thirds of the employee's average weekly wage
Temporary partial disability benefits, if the employee is released to light duty
Permanent total disability benefits, in the case of total disability
Permanent partial disability benefits, if the injury causes permanent impairment
Mileage reimbursement, for travel costs related to the injury
Job retraining, if the employee cannot return to their former duties
For example, if an IT tech or software developer is diagnosed with carpal tunnel syndrome due to keyboard overuse, your workers' comp policy would pay for their medical bills, including long-term medication and physical therapy.
Or, if an employee at your IT consulting firm trips in the office stairwell and suffers a concussion, then your workers' comp coverage would pay for their ambulance ride and emergency room visit.
Compare workers' compensation quotes for South Dakota businesses
How is workers' compensation insurance purchased in South Dakota?
South Dakota business owners can compare quotes and purchase a policy from private insurance companies. TechInsurance offers this service with its online insurance marketplace.
If your firm's high-risk status makes it impossible to purchase workers' compensation coverage through private insurers, you can purchase coverage from the South Dakota assigned risk market. The National Council on Compensation Insurance (NCCI) manages this insurance pool, serving as the state's workers' comp provider of last resort.
South Dakota employers who qualify can self-insure their workers' compensation claims. This means they'll pay for their own workers' comp claims rather than submit them to an insurance company. To qualify for self-insurance, they must file an application with the South Dakota Department of Labor & Regulation.
Workers' compensation settlements in South Dakota
A workers' compensation settlement is an agreement between the injured employee, employer, and insurance carrier that resolves a workers' compensation claim. This benefits both the employee and the employer.
In South Dakota, many workers' comp claims end in settlements. This means the parties to the claim – the injured employee, the company, and the insurer – must agree on a lump-sum payment in return for the employee (or the employee's survivors) agreeing to forgo future payments.
The South Dakota Department of Labor & Regulation must approve all workers' comp settlements. Your workers' comp insurer and the employee must file settlement paperwork with the department. If the department doesn't respond within 20 days by sending an official disapproval notice, the settlement will be considered approved. Once a settlement application is approved in South Dakota, it's a final decision.
Workers' compensation statute of limitations in South Dakota
In South Dakota, employees must file a workers' comp claim within one year after the accident date. The deadline can be extended if your firm provided medical treatment for the injury or if the employer is able to keep working.
Get free quotes and compare policies with TechInsurance
If you are ready to explore workers' compensation coverage options for your South Dakota business, TechInsurance can help small business owners compare business insurance policy quotes with one easy online application. Start an application today to find the right insurance coverage at the most affordable price for your business.
Updated: July 18, 2022
RELATED POLICIES FOR YOUR BUSINESS