Common workplace injuries for tech businesses
Repetitive motion injuries and slip-and-fall injuries can happen at any tech company. Keeping yourself and your employees safe at work helps you maintain low workers' comp rates.
Tech workers are susceptible to common injuries
Handling objects like heavy boxes is ranked as the leading cause of injuries at work. Though IT and office workers are unlikely to overexert themselves at work, several of the top 10 causes of disabling workplace injuries are as likely to occur in a tech office as in any other workplace.
1. Slips, trips, and falls
One misconception we hear from IT business owners is that they don't need workers' compensation insurance because they aren't at risk for workplace injuries. But slips, trips, and falls are among the leading causes of workers' comp claims in the United States.
If you and your team work in close quarters, the trip risk may be even higher as small spaces tend to be harder to navigate. Another risk factor is winter weather. Icy sidewalks outside and water tracked in on boots increase the likelihood of workplace accidents.
How can you keep your team safe so you don't have to make a claim on your workers' compensation policy? Take these precautions:
Keep a mop handy to take care of puddles and spills as they happen.
Tape down cords and wires to prevent tripping.
Eliminate clutter, loose rugs, and other hazards.
Replace burned-out light bulbs promptly.
2. Repetitive motion injuries and poor posture
Repetitive motion injuries rank eighth for the most common reasons business owners make claims on their workers' compensation policies. Awkward postures rank fifth. If you and your team spend most of your time on computers and mobile devices, you're probably top candidates for carpal tunnel syndrome and similar conditions.
Again, a little prevention can go a long way:
Invest in ergonomic chairs, desks, keyboards, and mice.
Talk to your team about preventing these types of injuries. Some of the responsibility is on the person and their posture.
Encourage employees to come to you at early signs of pain. Often, a small investment in preventative measures (like a wrist rest) can reverse early complications.
Compare small business insurance quotes for your company
Workers' compensation coverage for IT businesses
IT businesses aren't immune to needing workers' compensation coverage, and that's true regardless of your risk for on-the-job injuries. Workers' compensation is the only type of business insurance that's regulated at the state level and that your business might be legally mandated to buy. (You may also need commercial auto insurance for business-owned vehicles.)
The laws vary widely from one state to the next. Depending on where you live, your coverage needs might be affected by:
How many employees you have
Whether you're the only person in your business
Whether you work as a consultant or contractor for a larger business
Whether you use subcontractors or 1099 workers
If you are a consultant spending a lot of time in other people's offices, their contracts may specify whether you need to carry a workers' compensation policy.
To make sure you're covered, check your paperwork and consult with your insurance agent. That way you can make sure you and your team are protected in a worst-case scenario.
You may also like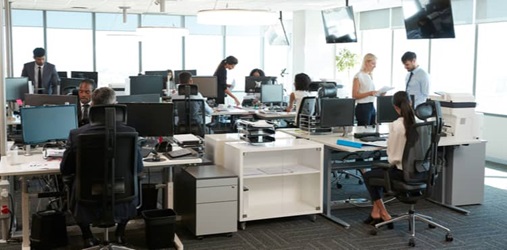 What office insurance does your small business need?
Buying or renting an office is a big step for a small company – so you'll want to make sure to protect your investment with office insurance. While commercial property insurance pays for damage to your building and belongings, you'll likely need other policies as well.
Go to article
Get free quotes and compare policies with TechInsurance
TechInsurance helps IT and tech business owners compare business insurance quotes with one easy online application. Start an application today to find the right policy at the most affordable price for your business.
RELATED POLICIES FOR YOUR BUSINESS