Business owner's policy vs. general liability insurance
General liability insurance is included in a business owner's policy (BOP), a cost-saving bundle designed for low-risk businesses. General liability covers bodily injuries, damage to a customer's property, and advertising injuries. A BOP provides the same coverage, along with commercial property insurance.
What is general liability insurance?
General liability insurance protects your small business from third parties who do not work for you. It covers lawsuits involving:
Bodily injuries on your business premises
Property damage caused by you or your employees
Advertising injuries / personal injuries such as slander, libel, using someone's image without their permission, or copyright infringement
When you face a third-party lawsuit, your general liability insurance helps you pay for defense costs, settlements, or judgments, up to your policy limit. Even a frivolous lawsuit can be expensive, which is why so many small business owners have this coverage.
What is a business owner's policy?
A business owner's policy combines general liability coverage, commercial property insurance, and business interruption coverage in one policy. It's usually less expensive than buying each type of insurance separately.
A BOP typically includes:
General liability insurance: Covers common business risks, such as customer injuries on your property, or damage to a customer's property.
Commercial property insurance: Covers your business assets in case they're lost or damaged by fire, theft, or windstorms. This coverage is required for most commercial leases.
Business interruption insurance: Reimburses you for lost income when a covered event forces you to temporarily halt business operations. It's also called business income insurance.
Get quotes for general liability insurance and a business owner's policy
How are general liability and BOP insurance different?
One of the biggest differences between a BOP and a standalone general liability insurance policy is with a BOP you can save money on small business insurance. It lets you cover multiple risks at less cost than buying individual policies separately. A general liability policy only covers certain types of third-party liabilities, and does not protect your business property.
Additionally, a BOP is not available to all businesses. While any business can buy general liability insurance, BOPs are typically limited to businesses that are considered low risk. If you work in an industry that is known for expensive lawsuits, a BOP might not be available to you.
How are a general liability policy and BOP insurance similar?
A general liability policy and a BOP both offer financial protection from standard business risks such as premises liability, property damage liability, and advertising liability claims.
Because a BOP already includes general liability coverage, you would only need to purchase one of these two policies.
You can customize either policy with additional coverage endorsements. You could add commercial auto insurance or product liability insurance to either a general liability policy or a BOP.
Who qualifies for a business owner's policy?
Though a BOP is an affordable way to expand your small business insurance coverage, it's not available to every type of business. To qualify for a BOP, you must:
Own a small business (your premises are small, and you have fewer than 100 employees)
Work in a low-risk industry
Need no more than 12 months of business interruption coverage
Is there a coverage gap between a BOP and general liability insurance?
General liability insurance covers liabilities involving other people and their property. It doesn't cover the cost of a business shutdown or your business property, such as the building itself, your computers, and other equipment.
If you damaged someone else's business or property, it would be covered by your general liability policy.
However, if your business suffered a property loss of its own equipment from theft, vandalism, fire, or an extreme weather event the loss would not be covered by your general liability policy. This type of coverage also wouldn't cover your financial losses from having to temporarily close your business after such an event.
That's why BOPs are so popular among small business owners. They protect against several risks, while saving money on premiums. A BOP would also meet a commercial landlord's requirement to have property insurance in order to sign a lease.
What other coverages do I need beyond general liability insurance and a BOP?
Beyond a BOP or commercial general liability policy, you may need additional coverage to fully protect your business.
Other common types of business insurance include:
Who needs general liability insurance or a BOP?
A general liability policy covers common risks, which is why it's typically the first policy bought by small business owners. You may need a BOP instead because:
You need property insurance coverage to sign a lease.
Any damage or loss of your computers, offices, and business property would be a tremendous hit to your profitability.
You can't afford a temporary business shutdown without insurance.
How much does general liability insurance cost vs. a BOP?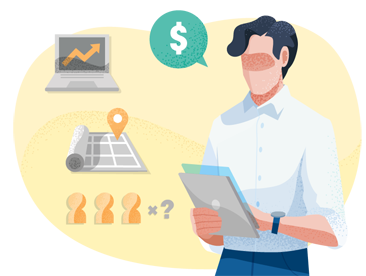 For TechInsurance customers, average premiums are:
With a BOP, TechInsurance customers can save an average of $52 per month on premiums, or about $624 per year, while gaining all the benefits offered by general liability and commercial property coverage.
Get free quotes and buy online with TechInsurance
TechInsurance helps you compare business liability insurance and property insurance quotes with one easy application. Start an application today to find the right coverage for your business at an affordable price. Our licensed insurance agents can help answer any questions and explain your coverage options.
RELATED POLICIES FOR YOUR BUSINESS