Business insurance for startups
Your tech startup could be the next big thing. To take your company to the next level and protect you, your investors, and your team, secure your dream with the right startup insurance.
Why you need startup business insurance
When you're founding a startup, you're already taking a financial risk to find out whether your idea will find customers and eventually turn a profit.
But your emerging business could be vulnerable to threats from employees, clients, and online hackers. Insurance limits those risks while you work to build your business.
Whether your funding is from a small business loan or different source, having the right startup business insurance (also called commercial insurance) will help secure the future of your company.
Here's an overview of the types of insurance recommended for tech startup small business owners.
The right business insurance for startups
Running a tech company requires some of the same policies other small businesses carry, but the tech sector comes with its own unique risks and business needs. General and niche startup business insurance policies your new venture might need include:
Errors and omissions insurance coverage
For startups, errors and omissions insurance (E&O) is vital for guarding against legal defense costs, court-ordered judgments, and settlements covering alleged oversights or mistakes made by your company. It's typically bundled with your cyber liability coverage.
Some insurance companies refer to E&O as professional liability insurance. These terms are interchangeable.
Cyber liability insurance
A cyber liability insurance policy is crucial for protecting tech startups from data breach and cyberattack expenses. This liability policy comes in two forms:
First-party cyber liability insurance: This coverage protects your company from cybercriminals and data breaches. It covers the costs associated with notifying customers about data exposures, purchasing credit monitoring services, and investigating the source of the data breach.
Third-party cyber liability insurance: This policy protects your company from legal costs if you're blamed for failing to prevent a data breach or cyberattack on a client's business. It can cover expenses like attorney's fees, court costs, and damages.
Fidelity bonds
Fidelity bonds compensate your clients if one of the employees at your startup steals from them. Securing a bond shows clients that your company is trustworthy. Some clients may even request this coverage.
Business owner's policy
Small, low-risk startups are usually eligible for a business owner's policy (BOP). This option combines the following two policies at a lower cost than buying them separately:
General liability insurance: This policy protects startups from the most common business lawsuits, including those related to bodily injury, property damage, and advertising injuries.
Commercial property insurance: This coverage protect your office space and the belongings within it from fire, vandalism, burst pipes, and other types of damage or loss.
You may also like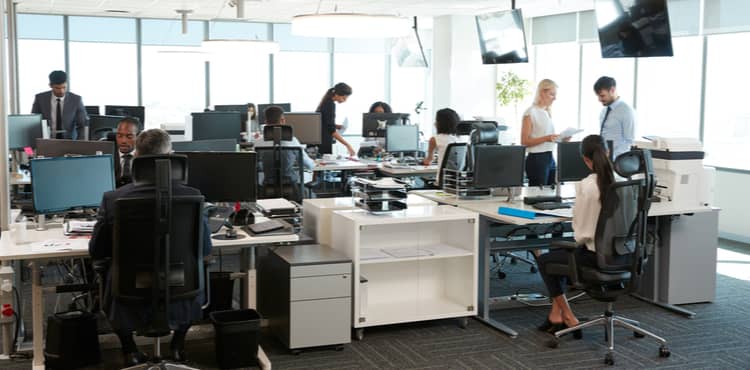 What office insurance does your small business need?
Buying or renting an office is a big step for a small company – so you'll want to make sure to protect your investment with office insurance. While commercial property insurance pays for damage to your building and belongings, you'll likely need other policies as well.
Go to article
Workers' compensation insurance
Depending on where you live, your state may require you to carry workers' compensation insurance. It's generally a good policy to have since it covers medical expenses associated with work injuries.
Directors and officers insurance
Securing directors and officers insurance (D&O) will protect your company leaders from lawsuits related to decisions they made on behalf of the company.
Startups seeking venture capital funding, talented employees, or an IPO should discuss this policy with an insurance agent. Some venture capital firms require startups to have D&O coverage before receiving funding.
Employment practices liability insurance
Once your startup begins hiring employees, there's a chance they could sue over issues such as harassment, discrimination, or other rights violations. Employment practices liability insurance (EPLI) protects against legal fees and judgments for these lawsuits.
Compare small business insurance quotes for your company
How much does startup business insurance cost?
Get free quotes and compare policies with TechInsurance
TechInsurance helps IT and tech business owners compare business insurance quotes with one easy online application. Start an application today to find the right policy at the most affordable price for your business.